Posts tagged
book review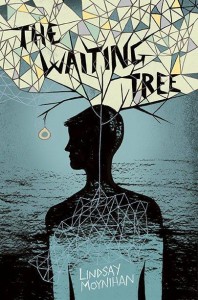 The Waiting Tree by Lindsay Moynihan
Every teenager on the planet deals with it — Drama. School drama, family drama, relationship drama, and it's all dramatic. But in the debut novel The Waiting Tree by Lindsay Moynihan, Simon Peters's drama is anything but typical. Thankfully, it's not dramatically cliche, and is instead dramatically hopeful
When Simon's parents are suddenly killed in a traffic accident, he and his older brothers can't find a way to keep their lives on the smooth path that now has a rift. Paul, the oldest, takes on the nickname of The Captain but cannot find a way to steer his younger siblings back into smooth waters. Luke is forced to give up his pre-med plans, taking on a job as a local mechanic and as family peacemaker. Simon drops out of school to enter the working world of Stop 'n Save as well as the role of caregiver to his mute twin brother, Jude. What holds the family together is the house in which they grew up and where they gather each day to harass each other as brothers do, to argue over money, to discuss Jude's needs, and to remind each other that they have to continue to grow up faster than any of them had planned.
Outside of the house, Simon's world isn't much calmer or any clearer. Simon met his best friend Stephen years ago; through concise flashbacks, Moynihan does a wonderful job of just letting the boys easily and calmly fall in love. It's cute and sweet, beautiful and simple. Their relationship secretly moves on without a long, drawn out, dramatic, questioning sexual revelation built on internal and external drama which makes this novel so refreshing. Moynihan makes a point of making the aftermath of coming out the crux of the novel, not the coming out story itself.
When Stephen's father finds the two boys in a compromising position, their small Louisiana town shuns them. While Stephen's exile is physical and he is shipped off to the Waverley Christian Center, Simon deals with emotional exile from his oldest brother as well as a casting out from his own church. Simon has to tow the line at home, which means getting job to help with the bills and taking over his mother's job of taking care of Jude. Paul makes it clear that it's his way or the highway for the twins, forcing Simon to choose between keeping the family together and making himself happy.
But Simon misses his old life. He misses Stephen the most, feeling him slipping away in the censored letters he writes from the Center. He misses his freedom, dreading his shifts at the store, even though he works with Tina, a young woman battling her own demons who tries to help Simon fight his. He misses his mother who always knew how to reach Jude through his silence. Simon also misses his church although his internal struggle to reconcile his sexuality with his religion is minor. He hopes God still listens to his prayers, even tries to find another church to accept him when the family church rejects him a second time.
When Simon accepts that he deserves happiness and love from his family, his boyfriend, and his church, he goes after it. He gets tired of waiting for forgiveness and for acceptance. Simon goes after reconciliation and closure, not realizing that it also means more loss. There's also a little drama (would it be a YA novel without it?) but Moynihan uses it convincingly and realisitically. Simon's journey isn't easy. But, then again, love and family and life never is.
Meg Shea first became a bookseller in May 2001. This is her first review on GayYA, her first time posting on WordPress, and her first time reading a novel from NetGalley. It was also her first experience with a Kindle but she has always loved first-time authors — congrats, Ms. Moynihan!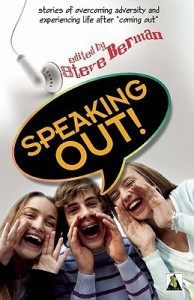 Speaking Out: LGBTQ Youth Stand Up
anthology edited by Steve Berman
Bold Strokes Books, 2011
Source: review copy provided by publisher
Review by Lydia Sharp
SPEAKING OUT is a diverse collection of short stories about teens who must speak up and take a stand, either for themselves or someone close to them. The stories feature gay teens, lesbian teens, bi teens, and transgender teens, all with different backgrounds and facing different obstacles.
I was especially intrigued by the variety of parental views highlighted in the stories. For example, in the opening story, "Lucky P" by Rigoberto Gonzalez, the main character, Pedro, has already had "the talk" with his parents that he is bisexual. His parents are outwardly supportive of him, but it becomes clear as the story progresses that they don't really understand him.
In the very last story, "All Gender U" by Sandra McDonald, we see a completely different parental perspective. The main character's mother has believed, since the day he was born, that he is the reincarnation of her dead sister. He–or more accurately, she–grew up not only feeling that she is a girl born with the wrong parts, but is also a very girly-girl who wears dresses and has long hair and everything that goes into maintaining that, not the least of which involves constant waxing. I loved the viewpoint in this story. Lin is a girl inside of a boy's body, but her sexual orientation is fluid, open to either boys or girls. It's a good example of how gender identity is not the same thing as sexual identity.
Touching on something entirely heartbreaking, Dia Pannes' story, "The Spark of Change", offers a unique perspective from a girl whose father works as a volunteer fireman. He gets a call about a fire in the area, but no one responds to it (including him) because the home belongs to a lesbian couple. This particular passage highlights how some people, sadly, view others in their very own town.
"People like that should stick to their own. New York. San Francisco. The cities. Where they already have their own community, and they can look out for each other."
"So if Ms. Gibbs was black, you'd still sit here and let her house burn down? We don't have no black people up here."
"That's different."
"How is that different?"
"People can't help being black."
"And they can help being gay?"
If you're in the mood for tears, that's the story for you.
"Duet: A Story In Haibun" by Charles Jensen is one of those stories you want to read over and over again to savor the beautiful prose. So it's a bonus that the story itself is just as inviting. Abbott and Lancaster have a wonderfully intimate relationship that goes far beyond the physical. They also come from different family upbringings, which affects their outward actions in opposite ways. The musical imagery and infusion of poetry throughout made this story a favorite for me. It reads like a work of art.
If you prefer characters with grit, then you'll enjoy "Subtle Poison" by Lucas J.W. Johnson as much as I did. The story is told through the viewpoint of an alcoholic gay teen who has a crush on his friend's boyfriend. While dealing with this inner conflict he also must stick up for his transgender friend who has recently decided to go public as a boy. This story is uncomfortably crass, intellectually complex, and at times, genuinely tender. It's the kind of mix I personally love to see in YA.
And as much as I hate to play favorites, I have to admit that my personal favorite of all the stories is "Captain of the World" by Alex Jeffers. This is the story of Burak, a teen who is not only fighting against sexual prejudices for being gay, but also racial and religious prejudices for being a Turkish Muslim. Add to this that he's the captain of his high school's soccer team–a confident leader in this particular arena–and at the same time totally insecure about his relationship with a certain someone. He's afraid of ruining their friendship by acknowledging his crush, and the inner conflict here is refreshingly realistic. His characterization is nothing short of awesome. Burak is the kind of person I would've loved to have had as a close friend in high school.
The entire story takes place over the course of a single soccer game. The taunts from a specific player on the opposing team become harder to ignore as the game rolls on, until finally, Burak has no choice but to speak up for himself. Loud and unmistakably clear.
And that's what this whole anthology is about, really, taking a stand for yourself and others. Because no matter the immediate consequences, seemingly good or bad, in the long run it's the right thing to do. Always.
_____
About the editor:
Steve Berman sold his first short story at the age of seventeen, so he's always considered himself a young adult author. His novel, Vintage, was a finalist for the Andre Norton Award for Young Adult Science Fiction and Fantasy as well as named to the GLBT Round Table of the American Library Association's Rainbow Project Book List, which is recommended reading of queer books for children and teens. He has edited the young adult fantasy anthology Magic in the Mirrorstone (a Parade Magazine Pick), as well as Lambda Literary Award finalists Charmed Lives (co-edited with Toby Johnson) and Wilde Stories. He regularly writes queer spec fic short stories for teens—his most recent being a lesbian retelling of the Swan Lake story for The Beastly Bride and a gay vampire tale for Teeth. He has spoken about queer and young adult fiction at numerous conferences around the nation but always returns to New Jersey, as his cat Daulton demands it so.
_____
Full table of contents:
"Lucky P" by Rigoberto Gonzalez
"Day Student" by Sam Cameron
"Gutter Ball" by Danielle Pignataro
"Captain of the World" by Alex Jeffers
"The Proximity of Seniors" by L.A. Fields
"Subtle Poison" by Lucas J.W. Johnson
"Forever Is Composed of Nows" by Will Ludwigsen
"The Spark of Change" by Dia Pannes
"The Trouble With Billy" by Jeffrey Ricker
"Only Lost Boys Are Found" by Steve Berman
"Waiting to Show Her" by Ann Tonsor Zeddies
"Duet: A Story In Haibun" by Charles Jensen
"All Gender U" by Sandra McDonald

Thanks to Dennis Upkins for allowing us to reprint his review of Witch Eyes by Scott Tracey.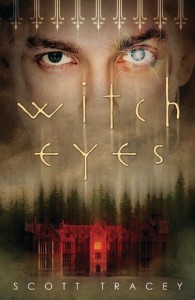 A boy who can see the world's secrets and unravel spells with just a glance.
Braden's witch eyes give him an enormous power. A mere look causes a kaleidoscopic explosion of emotions, memories, darkness, and magic. But this rare gift is also his biggest curse.
Compelled to learn about his shadowed past and the family he never knew, Braden is drawn to the city of Belle Dam, where he is soon caught between two feuding witch dynasties. Sworn rivals Catherine Lansing and Jason Thorpe will use anything—lies, manipulation, illusion, and even murder—to seize control of Braden's powers. To stop an ancient evil from destroying the town, Braden must master his gift, even through the shocking discovery that Jason is his father. While his feelings for an enigmatic boy named Trey grow deeper, Braden realizes a terrible truth: Trey is Catherine Lansing's son . . . and Braden may be destined to kill him.
I've been hearing a lot about this novel and I actually had it on pre-order. However yours truly has peepuls and was able to procure an ARC (hat tip to E).
Ladies & gentlemen, it's a wrap. The gauntlet has been thrown, the bar has been raised, the standard has been set. THIS is how it's done! I haven't been this excited about a novel featuring a gay protagonist since Perry Moore's Hero.
Braden proves to be a strong protagonist. He's a three-dimensional character. He makes mistakes, he's fallible, he's human and sympathetic. And even when he gets himself into trouble, this is still a character you can root for. While there's angst aplenty, he has more than enough legtimiate reasons for said angst (which keeps him sympathetic) and Tracey does an excellent job not allowing said angst to pummel and warp Braden's characterization and development. Tracey also avoids making him stilted and obnoxious like a lot of writers do with their characters.
Tracey's description and prose is quite impressive. It didn't overburden you with filler and purple prose. Between the descriptions and the first person narrative, you could easily place yourself in Belle Dam and easily visualize the town and its inhabitants. The mythos and the plot immediately sucked me in and I was dying to find out what happened next. Many of the characters have secrets and agendas, and you're eagerly awaiting them to show their hands. And more than once I got impatient with intel the audience finds out early on and was wanting to scream, REVEAL ALREADY. The anticipation was killing me.
Forgive the vagueness of this review but I'm trying to keep this as spoiler free as possible.
And can I stress how much I love the book cover?
Braden's orientation was also handled as-a-matter-of-factly, with nuance, with insight and respect. Witch Eyes could've easily have worked with Braden being a heterosexual and it was a relief to read a story that wasn't a formulaic coming out tale or a tragic gay angst tale or Braden being the formulaic gay guy whose sole raison d'entre revolves around his orientation.
What was also a relief was that the romance didn't overwhelm the story like you see too often in countless YA, gay novels, and urban fantasy books. The romance was one (albeit important) part of the complex and interwoven plot. The romance was well-executed, as was the mystery, the action and the drama. But it was all well-balanced which made the story that much stronger and that much more enjoyable.
And speaking of romance and love interests, Trey's a dick. Braden is too good for him and can do so much better. I'm down for Team Somebody Else. And that objective analysis has nothing to do with the fact that Trey reminds me of my ex. Nope, not at all.
[shakes head solemnly]
When it comes to storytelling, Tracey proves that he knows his craft and I found myself having to pace myself with the story because I didn't want the book to end too soon. There isn't much resolution at the end which I initially found distressing. But said distress was quickly relieved when I found out that Witch Eyes is the first of a series and the next book is scheduled to be released next year. Thank God. From what little I've researched, it appears that Witch Eyes only answered a few questions only to unlock more mysteries. Shorthand, to quote Jim Ross, business is about to pick up.
And if Tracey is this impressive in his debut novel, I can't wait to see what he accomplishes next.
It saddens me that it took three years for me to find another enjoyable book that features a queer male protagonist. The last one I read was Hero. When you stop and think about the number of books that get churned out each year which feature cis straight white protagonists, it's all the more infuriating.
But hopefully Witch Eyes is a sign of things changing. We still have a long ways to go obviously but maybe novels like this will lead to more.
Witch Eyes will be available on Sept. 8.  PREORDER IS YOUR FRIEND!!!!!