Maria
This user hasn't shared any biographical information
Posts by Maria
When I approached Mark Probst, owner of Cheyenne Publishing, about releasing a young adult book for charity, I did so with no clear idea of what to expect—only a vision of the end result as my guide. To my delight, Mark was enthusiastic: if I could organize the authors, he would take on the book at Cheyenne.
Just the one snag. Organize the authors. If you work in the arts, you've heard it before: "Will you donate your time/talent for … ?"
Now it was my turn to ask, with nothing but a pretty-please and assurance that they would be contributing to a fantastic cause (supporting The Trevor Project). I had to find three young adult authors who were not only gifted writers and already active in LGBT-themed fiction for teens, but who also believed in our cause. Believed enough to say yes.
The final book would be an anthology of YA novellas, one each capturing a story of lesbian, gay, bisexual, and transgender youth. With a publisher ready and waiting, myself as the fourth author, and an amazing nonprofit working 24/7 to assist in crisis situations and prevent suicide among LGBTQ youth to benefit, the journey to build Awake began.
I started sending emails—wondering if I could ever get this project off the ground. Authors are incredibly busy, incredibly hardworking, often taken for granted artists. How could I expect them to go above and beyond in their own writing schedules with a long piece of fiction they could not profit from?
How foolish of me.
After some months, through many emails and discussions, I learned that there can be few groups of people as generous with their time, as welcoming, as committed to their work as the authors of LGBT fiction for young adults. I received the most genuine and gracious letters back, soon finding not only three amazing writers willing to embrace this project with us, but a foreword as well.
Nancy Garden, author for kids and young adults of classics like Annie on My Mind before there was such a thing as LGBT YA, would write our L story.
Robin Reardon, author of A Secret Edge and Thinking Straight, among other YA novels, would take G. Her newest book, The Revelations of Jude Connor, was just released in April, 2013.
Jordan Taylor, myself, would pen B, so underrepresented in literature.
Brian Katcher, author of Almost Perfect and Playing with Matches, would write T.
And the foreword to Awake would be created by multi-talented YA and adult author Kathe Koja, known in YA for Buddha Boy and Straydog, among others.
Now, to write. Many months later, each of these amazing authors had turned in their work ahead of schedule. All had done an outstanding job, leaving me again taken aback by the magnanimous nature of these people: giving of their precious time and talents for a charity book.
With the help of our editor, Tracey Pennington, completed cover art, and press releases, Awake was released by Cheyenne Publishing in the summer of 2011, only a little over a year after Mark and I first discussed the project.
It's been two blindingly brief years now and Awake is as fresh, as new, as exciting as it was the first moment I held the paperback. The novellas within are both modern and timeless, the messages powerful, while the emotion for the reader, from laughter to anger to tears, remains the driving force behind this book. The cause itself makes this remarkable experience all the more powerful.
Every copy of Awake sold means funds sent directly to The Trevor Project—for one more crisis prevention, one more suicide prevention. Each copy read, given as a gift, donated to a library, along with each passing day, brings us closer to a time when organizations like The Trevor Project are no longer needed. When LGBTQ youth are no more prone to depression or suicide than any other demographic. The day every child, every teen, regardless of gender identity or whom they love, regardless of where or who they are in the world, no longer fears being bullied, abused, shunned, or rejected.
A remarkably giving, talented, wonderful group of people made Awake possible. The readers, the greatest gift of all, continue to make the mission of Awake possible. Each and every one of you has turned a dream into a dream come true.
Thank you.
Jordan Taylor
Awake online:
www.amazon.com/Awake-Tracey-Pennington/dp/0982826761
The publisher and organization:
www.cheyennepublishing.com
www.thetrevorproject.org
The authors' sites:
www.nancygarden.com
www.robinreardon.com
www.jordantaylorbooks.com
www.briankatcher.com
www.kathekoja.com
I was having a conversation with an author whose first book comes out next year, and he was worried that his book, written from a female point of view, wouldn't be well received because he's a man.  We got onto the topic of writing gay characters and having gay protagonists, and he said something that echoed exactly how I felt before my debut in 2010.  He didn't want to be labeled a "gay author."
I didn't write Oliver Travers, my horny, teenage narrator from The Deathday Letter as heterosexual because I was worried about being a gay author, I wrote him that way because that's how he popped into my head.  However, as the book neared publication and I started working on other book ideas, I did worry about being pigeonholed.  I wrote a gay character's totally boring coming out into Deathday as a nod to my own painless coming out, but it was such a minor part of the book that I didn't think most people would even notice.  It was the next couple of books I wrote that I worried about.
Before settling on FML, I wrote drafts for a few other ideas.  All of them included gay and lesbian characters in some form.  Best friends, secondary characters, parents even.  But none of them were protagonists.  Back then, I told myself that it was because the YA publishing world wasn't ready for a gay protagonist in a story that wasn't about coming out.  I think the truth was that I wasn't ready to be a gay author. In the same way that literature about women or African Americans is often relegated to separate shelves in bookstores, I worried that my books would be thought of as gay first and everything else second.
I did take a step in the right direction.  FML features the hijinks of an awesome gay couple.  Ben and Coop are cute, loving, and accepted by their peers.  Their storyline revolves around their quest to find a place to have sex for the first time.  No one at Simon Pulse questioned my decision. My editor loved the couple, and I loved writing them.  But I still felt like I wasn't being true to myself.
I don't write for teens.  I write for me.  I write the stories I would have wanted to read as a teen (and that I would have read as an adult if I hadn't been the one writing them).  So why hadn't I written a book with a gay protagonist?  The climate was right.  Publishers and readers were asking for more books with characters who weren't heterosexual.  Books with gay, lesbian and transgender characters were starting to pop up more often.  Something was holding me back.
It wasn't that I was ashamed of being gay.  In fact, I began to wish that I'd embraced my own uniqueness sooner. It was the fear that my story would be dismissed.  That some people wouldn't be able to get over a gay protagonist and appreciate the story.  It was my fear of being a gay author.  Except, I was a gay author, uniquely qualified to write a story featuring a gay protagonist.  It was time to write a story that embraced that.
I sold The Five Stages of Andrew Brawley to Simon Pulse in March and it comes out in 2015.  It tells the story of Drew, a young man who secretly lives in a hospital and falls in love with another boy who has secrets of his own.  It's my first book featuring a gay protagonist, and the book I'm most proud to have written.  It's not a story about coming out or about how difficult it is to be gay.  It's a story about secrets and loss, about grief and guilt, about how difficult it is to be a human being.
I think readers are ready for more books that feature gay protagonists in regular stories.  Action books and magic books and paranormal books.  Leading men and women who don't fit the mold, kicking ass and being fabulous.  I'm pretty happy that I get to share one of those stories with you.
I'm sure some people will label me a gay author.  I'm sure some readers will refuse to read it because Drew is gay.  I'm totally okay with that.  The Five Stages of Andrew Brawley is a special book for special people.  You don't have to be gay to read it, you just have to be awesome.
Guest Post by Foxglove Lee
I want to tell you about a certain birthday dinner prepared by a certain special girl, which went on to become a certain YA comedy short called Happy Birthday, Klutzface!  I want to tell you about it because it was about as far from perfection as any celebration could possibly be.
We all want our lives to run smoothly, am I right?  Smooth is, after all, the path of least resistance.  Rocky terrain is fine for hiking, but we don't want our relationships to be jagged or unstable.  That goes double (triple… quadruple!) for special occasions.  Home-cooked birthday dinners, for instance.  Everything needs to be perfect.
My sweetie pie and I usually go out to eat, especially if we're celebrating something.  This year, when my birthday came around, I opted for a meal at "home."  Like Mila in Happy Birthday, Klutzface! I happened to be housesitting on my birthday.  As a result, I had access to an amaaaazing kitchen: gas stove, granite countertops, stainless steel appliances.  So much more luxurious than my kitchen the size of a postage stamp, or Dee's broken down, peeling-vinyl place.
Dee has cooked for me before.  Girl's got talent, so I had high expectations.  I was really looking forward to my birthday dinner.  She arrived at my (borrowed) house after work, loaded up with bags of groceries, marinating meat in a cooler, and a black forest cake in a white bakery box.
It was all downhill from there.
I won't go into tremendous detail, since I superimposed my life directly onto Happy Birthday, Klutzface! but I will say this: when you're fanning an ear-splitting fire alarm with a tea towel while your girlfriend curses burnt meat (alongside cries of, "It's not my fault! I've never cooked with gas!") and all you can think is, "This is gonna make a great story!"… well, that's a pretty good sign you were born to be a writer.
Fiction becomes a filter for life. Stories like this one, which is so close to lived experience that I can still taste the lopsided birthday cake, become a way of processing weird stuff that happens.  Things don't always go as planned.  We know that.  Stuff gets screwed up, one thing gets overthrown by another, she cuts her finger, the cat throws up… and you always have the option of getting worked up about it.
I have a history of becoming… oh, let's say "irritated" when things don't go my way.  At times, I've had trouble acting maturely when plans didn't work.  I could be juvenile, not as compassionate as I wanted to be, not as charitable or as understanding.
But being a writer has helped me to see the big picture, even while the house is filling with smoke.  This too shall pass.  Whatever it is, we'll get through it.  In the moment, we deal.  When the moment has passed, we realize it wasn't so terrible after all.  After a while, we laugh.
That birthday dinner was terrible.  The worst!  But I didn't stress about it.  I knew, even in the midst of catastrophe, that it would make a funny story.
Foxglove Lee is a former aspiring Broadway Baby who now writes queer fiction for young adults.  She tries not to be too theatrical, but her characters often take over. Follow Foxglove on Twitter @foxglovelee or stay tuned to her blog (foxglovelee.blogspot.com) for exciting announcements!
I recently read Ask the Passengers by A.S. King. Before I'd even finished, I knew it was that book for me ― the book I wished I'd had as a teen. The book that would have validated what I was feeling at that time in my life. It would've shown me that it was okay to spend time figuring out my sexuality, that I didn't have to define myself by someone else's rules. That it was acceptable, even good, to think outside the lines when it comes to identity and where you fit within a community.
YA books with gay characters did exist when I was a teen ― in small numbers ― but I didn't know that at the time. I cannot even begin to express how happy it makes me that today's 14-year-olds will get to read Ask the Passengers, and The Miseducation of Cameron Post, and The Difference Between You and Me, and Adaptation, and ― you get the idea.
When I think back to the books I did read in my MG and YA years, there are many that were amazing and that made a huge impression on me. And I can't help thinking ― what if those books had been about gay characters? I already related strongly to these protagonists, but if they'd been queer I'd have identified with them on an entirely separate level.
So I made a list of some books I'd love to have seen LGBTQ versions of. It's not that I wish these books themselves had had gay protagonists ― it's that I wish I could've had the experience I had reading these books, and the experience of reading about a queer lead character.
Most of these are books I read growing up, but some of them are newer releases that I'm sure I'd have read as a teen if they'd come out back before I got all old and stuff. And with one or two exceptions, I adore all of these books.
What are the kids' books you want a gay version of?
I'd love to know which books would make your list. Please let me know in the comments or via Twitter (you can tweet me at @robin_talley)
Here's my list:
Are You There God? It's Me, Margaret by Judy Blume. Arguably the most iconic teen/preteen book of all. In between shopping for Teenage Softies and being treated like a religious science experiment by the adults in her life, Margaret somehow finds time to develop a crush on a 14-year-old named Moose who cuts her lawn and long for kisses from the big man on her elementary school campus, Philip Leroy. ("It's not so much that I like Philip as a person, God, but as a boy he's very handsome.") Margaret is also captivated by a girl in her class, Laura, who had the misfortune to develop early. A book where Margaret longed for kisses from Laura instead of Philip would've been an entirely different book ― and one I'd have worshipped.
Harry Potter (entire series) by J.K. Rowling. What if the close three-way friendship at the center of this series had been that much more complex? What if The Chosen One, the 11-year-old kid anointed to save the world, had another secret to wrestle with? I know, I know ― there's fanfic for that. But what if it weren't just on the Internet? What if it right there on the pages of a set of books read by millions of kids around the world? What could that have done for an entire generation?
Twilight by Stephenie Meyer. I didn't personally relate to the romance in this book (and not just because it was heterosexual), but clearly a lot of people did. In fact, it seems to have defined romantic ideals for a substantial chunk of the reading population, teens and adults alike. What if there were an equally popular book with a gay romance at its center that tapped into readers' emotions in the same way? How cool would that be?
Anastasia Krupnik by Lois Lowry. Oh, Anastasia, the great love of my childhood. You were such a lovable, bespectacled, intellectual, poetry-writing daughter of hippies. You had crush after crush on such a seemingly random collection of boys (and a lone female P.E. teacher) that I wonder if perhaps you would indeed have grown up to like the ladies. The only thing that would've made you better would've been if I'd gotten to read a book about you in which that actually happened.
The Westing Game by Ellen Raskin. You know who kicked ass? Turtle Wexler kicked ass. She kicked ass all over Sunset Towers and then some, swinging her braids around, making thousands on the stock market and soaking her toothache in bourbon because she's just that awesome a chick. And then she grew up to be an awesome lawyer married to an awesome writer who was also that one guy in the book who… wait, what? Turtle married a guy? You've got to be kidding me. She was way too cool to be straight.
Anyway, here are a few more YA/MG/classic/beloved/etc. books I'd love to have read gay-protag-versions of:
Their Eyes Were Watching God
Little Women
Gone with the Wind
A Northern Light
The Babysitters Club
Sweet Valley High
Fear Street
The Book of Three
The Great Gatsby
The Cat Ate My Gymsuit
The White Mountains
The Fault in Our Stars
The Sisterhood of the Traveling Pants
So, what books do you wish there were a gay version of? Tell us in the comments!
Robin Talley's first book, Lies We Tell Ourselves, will come out in 2014 from Harlequin Teen.
Recently, fellow author and friend, Brigid Kemmerer and I were discussing how we've both gotten some reviews on our books that included something along the lines of: "I hadn't realized there was gay material in this book. I wish I had been warned."
Warned. Okay. Right-o.
Nevermind everything else in the book that should be a lot more astonishing. There are people who are unhappy because two people of the same gender locked lips.
This was particularly puzzling when it happened to me with HUSHED. When review copies went out, the blurb went along with it. The blurb for HUSHED is pretty straight-forward about what you can expect. A same-sex relationship, murder, abuse, and very dark themes. Overall, not a book you'd give to your ten year old.
A few reviewers wrote back to my editor stating, "I didn't realize this was a male/male book! I'm not interested in reading it." This was baffling considering they had the blurb to begin with. No complaints about the hetero sexual content, or the violence and blood and the moral grayness of Archer, the main character. Because his love interest was a guy…that suddenly made the book unreadable.
Don't get me wrong. While, ideally, everyone in all the world would be a-okay with homosexual relationships presented in our books, television, movies, etc., that isn't how it is. I understand this as being a (very sad) fact of life. I understand certain people do not have an interest in reading a book with a homosexual character, especially a main protagonist.
What I will loudly protest, however, is slapping a book with a very low rating and bitching about it simply because it had something you, personally, did not like as a topic, likely without even finishing the book. Oh, this has a rape scene? Automatic one star. This has an abusive relationship? One star, I can't stand that. Gay protagonist? Ugh! One star, I'm not reading this crap.
I mean, really, what?? That's like going to see a comedy and then complaining that there were too many jokes! It's one thing to complain about how something was executed, but that isn't what these people are doing.
I know as a YA and NA author of LGBT fiction, these are just the kinds of hurdles we all face. It's not a perfect world, and not everyone is as accepting as we'd like them to be, even within the book industry. I will forever appreciate those who step out of their comfort zones to read my books, and I know they exist. I've had numerous reviews saying they had never read a gay protagonist in a book before HUSHED, and that they truly enjoyed it and will read more in the future. This statement makes me so ridiculously happy.
The point of this post being: chin up! Writing—or even reviewing, reading, whatever—gay fiction, especially of the YA variety, is not an easy path to travel. But it's so immensely worth it. A few months back, I received an email from someone who is gay, and lives in a country where that is very much not okay, and they told me they've considered suicide at times and that reading SUICIDE WATCH really helped them and touched a chord with how they felt. To think that something I wrote was capable of having that effect on someone was truly amazing.
That, my friends, is a huge perk to doing what I do. And despite the hate and judgment I sometimes get, I wouldn't trade it for anything.
by: Shaun Hutchinson 
Books have come a long way when it comes to gay characters.  About A year ago I read John Donovan's book, I'll Get There. It Better Be Worth the Trip.  Written in 1969, it was one of the first, if not the first young adult book to deal with the issue of homosexuality.  When I finished, I found myself underwhelmed.  I'd expected more. The themes were danced around but never addressed.  I'm not even sure if they used the word "gay" at all. But I tried to put it into context, imagining how a kid in 1969 might have reacted. Back then, gay characters were not taken seriously. They were a punch line. However, Donovan's book, for all its subtlety, was groundbreaking for how honestly it treated its characters.
I've read quite a few books that deal with gay themes.  J.H. Trumble's Don't Let Me Go, Emily Horner's A Love Story Starring My Dead Best Friend, A.S. King's Ask the Passengers, Christopher Rice's A Density of Souls.  There are a ton more, more than I can list. The thing most of them have in common is that they're about being gay, meaning the plots featuring gay characters could only happen to those gay characters.  If they weren't gay, there would be no conflict and no story.
I'm not saying these types of books aren't necessary. Ask the Passengers is one of my favorite books of all time, and gay readers deserve characters that they can relate to. While straight readers can sympathize with a character who comes out, only gay readers can fully understand the terror of coming out, of the sleepless nights spent wondering if it will make their parents stop loving them. We will always need these stories, but they're not the only stories to tell. Gay characters should also be allowed to simply…be. To have stories that are universal, that every reader can relate to.
When I was writing FML, I knew that Ben and Coop were going to be Simon's best friends.  I knew from the beginning that they were going to be a couple and in love.  Ben is crazy and Coop is rational and together they compliment each other perfectly.  However, I didn't want them to just be sideline characters. I didn't want stereotypes.  From the moment I began writing them, I knew that they were special and deserved better.
It would have been easy and recognizable to write a "gay couple bullied at a party" storyline and show them overcoming that obstacle.  I could have written that honestly and passionately since I know plenty of gay folk who have been there.  But I wanted readers to see a fully-functioning gay couple who were accepted and liked and didn't have any gay angst.  It's important to me for both gay and straight teens to see that being gay doesn't have to make your entire life about being gay.  I wanted to show readers a couple just like any other couple.  I also wanted to make the conflict in their story something to which everyone—gay, straight, or in between—could relate.  That's why their story is about the first time they have sex.
The set up is this:  It's the party of a lifetime.  Simon is convinced he's going to tell the girl he's loved for years how he feels about her at this party, which happens to be a barter party.  As Simon is doing this, Ben and Coop have decided that this is the night they're finally going to do it.  But, of course, nothing goes as planned, and they both begin to examine their relationship, what it means to be together, and whether they're even ready to take the plunge.
The greatest thing in the world is that I doubt I would have been able to publish this five years ago, despite the fact that the theme of two young people losing their virginity has been the source of movie comedy for as long as I can remember.  The only difference between every John Hughes geek ever written for the screen and Ben and Coop is that Ben and Coop are gay.  But the exploration of what it means to be ready for sex, and how it can change a relationship are ideas that every single young person on the planet can relate to.
When I was writing Ben and Coop, I didn't feel like I was writing a gay story about gay characters.  I felt like I was writing something universal.  Ben and Coop's fears are every kid's fears.  Gay, straight, bi, queer, transgendered, girl, guy, we're all afraid of the same things.  Ben and Coop could be Betty and Coop or Betty and Kate.  It wouldn't matter. They'd still be in love and they'd still be trying to figure out whether they're ready for sex and what it might mean if they're not.  To me, the biggest victory is that I can write stories about gay characters that aren't about them being gay.
Almost 45 years after Donovan wrote I'll Get There. It Better Be Worth the Wait, we've come a long way. We can have gay characters in stories without having to resort to coded language to describe their feelings. We can have books about gay teens dealing with gay issues that gay readers can identify with.  Or we can have two gay guys in a book have problems that have nothing at all to do with being gay.  I think Donovan would have approved.
Q: Which is worse, being called a 'nigger' or a 'faggot'?
1.
Rehearsal was late that night, 10 pm on a Saturday night in Georgetown. I had only one line in the play, but I didn't care. It was fun to see the play come together, the actors, and the scenery and the special effects. Prospero and Caliban and Ariel came to life on that haunted island now inhabiting the school auditorium. The sodium yellow lights spilled onto the night-time scape of Georgetown at night, its red brick sidewalks, and antique shops.  I went to the bus stop to await the 32 that would take me home. Though I was alone, I felt grown-up for my 14 years. I was buzzing from the feeling that I was a part of a tribe of creative people. For the most part, I was a loner. So, I had finally found my group. Even though I was one of the few African-American students. So, the night was magical.
The spell was quickly broken, though. A car full of older teenagers (maybe college students) zoomed through Wisconsin Avenue, heading toward the heart of the neighborhood. There were three or four of them in the car. As they sped by, they took a look at me. The majority of them yelled out "Nigger!" as they sped by, in a rush of exhaust, fumes and hatred. One two-syllable word and I was the Other.  The word that my parents had been called in Jim Crow south, the word that been hammered in to me as the ultimate evil word, was flung at me in a cavalier way. I watched as the car faded into the distance. I felt as if I'd been thrown out of the human race.
2.
A year later, I went on a school trip to New York City. There were five of us, plus the teacher in a borrowed SUV. The plan was to do all of the touristy things in the Big Apple: visit museums, the Statue of Liberty, Central Park, etc. At that time, the early 80s, Manhattan was still gritty. Graffiti crawled across any available apartment building wall, underpass, and subway seat. Entering the city, we saw street corners and sidewalks teeming with homeless people. The awake ones pushed shopping carts brimming with odds and ends, as if they were Dickensian tinkers. Others slept beneath mounds of foam and soiled comforters.
The trip is kind of a blur now. I remember the freak show of the Village, with its neon-maned punks and street corner artists. The stately high-rises of Central Park West, where millionaires lived, perched above the city. Late night cafes and restaurants, and bustling crowds. Miles upon miles of endless stores, displaying everything from couture clothing, chocolates, exotic animals and books. Honestly, I thought I had died and gone to Heaven. We caught a Broadway show, and ate in Jewish deli which ignited my love of corned beef.
One evening, we went to a movie, where we saw Annie. After the movie, we decided to stop somewhere for ice cream. In a West Village ice cream shop, I started doing my Carol Burnett impressions. (Burnett starred in the movie). There were a few local kids in the line in front of us.  One of them must have heard me, because he started talking loudly to his friends about "that faggot" in line behind them. I cringed; of course they were talking about me. I just hoped that my friends from school hadn't heard. I immediately stopped doing my Carol Burnett impressions, but it was too late. As I placed my order, the kid who had called me out stepped far, far away from me, muttering "faggot" beneath his breath. The look on his face devastated me. The word "hatred" doesn't quite encompass that glare. Not at all. He looked at me as I were a diseased thing, something barely human. After that, my joy at being in the City That Never Sleeps ended.
3.
In many ways, my novel Bereft was written for that young boy (and others like him) who must deal with dual marginalities. The book is about Rafael Fannen, a 14-year old African American boy who wins a scholarship to a prestigious Catholic School. At first, he has to deal with the culture shock of being one of the few students of color at the predominantly white institution. Rafe is also gay and closeted. The novel explores Rafe's journey to reconcile two parts of his emerging identity.
It's a journey I've taken, and it still isn't finished. I'm invisible in both of my nominal communities. Gay = white, in magazines and pop culture. Faces of color in that community are rare, and we are often fetishcized when we do appear. And much of the African American community is rife with the same fire-and-brimstone religious interpretations that poison many sects of Christianity. When I was Rafe's age, I was isolated. There was no-one to talk to, no-one who looked like me. I found that people of color could be homophobic, and gay people could be straight-up racist. As I grew up, I eventual found people who had similar experiences. Now, we have out bisexual black men like Frankie Ocean; when I grew up, there were the works of James Baldwin and Samuel Delany, and an active underground literary scene of writing by black gay men, like Essex Hemphill and Joseph Beam.
LGBT issues are now being explored in YA fiction, something of a renaissance. Bereft  attempts to add a unique perspective in the field. I hope that my book can make a difference.
A: Since they are both essential parts of my identity, they hurt equally. I can't separate/compartmentalize the hurt. And, for the record, I hate that question!
Craig Laurance Gidney writes both contemporary and genre fiction.  Recipient of the 1996 Susan C. Petrey Scholarship to the Clarion West writer's workshop, Gidney has published works in the  fantasy/science fiction, gay and young adult categories.  Gidney's first collection, Sea, Swallow Me and Other Stories was nominated for the 2008 Lambda Literary Award in the Science Fiction/Fantasy and Horror category.  Bereft is his first novel. His website is: http://www.craiglaurancegidney.com
Guest Blog series part 3 of 3
This week I wanted to take my blog post in a different direction than the last two have gone and talk about everyone's favorite subject, sex.  I say it's everyone's favorite subject, because sex and sexuality is ubiquitous in U.S. culture, and there is no escaping its grasp.  I'd also go so far as to say that just about everyone of age has an opinion on, or feelings about sex.  Well, here's mine…
I've been reading YA fiction since I was in elementary school, and graduated to adult books when I was in early high school.  But then, as I grew older, I moved back down into YA because I noticed that a lot of the author's of 'regular' fiction were overly sexual in their books.  I'm all for characters getting together and expressing feelings through sex, or even an occasional romp for fun with an otherwise unknown partner.  But when the books became descriptions of one sex scene after another, with little else taking place, I got to the point where I was tired of reading.
Moving into YA fiction again I found a wonderful world of literature that still dealt with real issues, even sex and sexuality, without falling into the trap of being overly sexual.  That was years ago, and now as I read YA fiction, LGBTQ or otherwise, I've found that sex has taken center stage once more.  There are books that are sex positive, which I appreciate, and books that warn about the dangers of unsafe practices, which are helpful.  But there are also books that pour on the sexuality way too thick, and I find myself reading quickly or simply skimming to get to the end of that scene.
I'd like to point out here that I am definitely a sex positive person, and I am not blind to the fact that teens and young adults engage in sexual activity.  I do not have a problem with it, but the detailed descriptions of it are, in my opinion, better left out of YA fiction.  Not too long ago I read a post by a YA author who said his book was not allowed in school libraries because his book discussed sex.  This is taking things too far, and I would never suggest limiting access to books based on sexual content, I just think it could be turned down a little bit in some cases.
It's gotten to the point now that when I search "Teen Gay Fiction" or even "YA LGBT Fiction" in most online bookseller search bars I am bombarded by erotica.  There's nothing wrong with those books being out there, but I would love to see more options.
The funny thing about my opinion on sexuality is that it seems to maybe be in the minority.  When I released my book, Awakened, I got a lot of feedback that my characters should have had sex, or that in the next book they needed to be more physical.  One reader went so far as to tell me how to pair my teen protagonist with an early twenties character without having the teen's love interest finding out.  I'm not sure what will happen in my next book, but I do know that there won't be gratuitous descriptions of sex between anyone.  Maybe that makes me a romantic, or maybe just behind the trend that is moving through YA fiction.  Whatever it makes me, I hope there will be a balance struck between plot and sex, where neither one is completely destroyed for the sake of the other.
I am often asked where I get my ideas for my books. I am not Stephenie Meyer; as lovely as it would be, I do not have dreams that direct my writing, word for word. For me, Fighting Gravity was a response to several social phenomena surrounding my life. It was a knee-jerk reaction to wanting to protect the young people in my bubble of the world and wanting to show others the vast rainbow of diversity in their worlds: high schools, relationships, families. The novel became my personal handbook to compassion. I wanted it to be honest, funny, and pleasurable to read, while also bringing up those important questions that every person has to answer for him or herself as an adult.
I remember watching an old episode of Oprah where three mild-looking men were discussing how they met and "groomed" young children for inappropriate relationships. I recall being both disgusted and amazed at how these men got away with such vast amounts of alone time with children, as certainly my children would never be allowed such freedoms, but they did. Somehow, their parents were unaware that grown adults shouldn't want such time with children, or they were fooled by their titles: coach, clergy, neighbor. What I then recognized, and later saw on an episode of 20/20, was that meeting a teenager online would be an easier task than prying a younger child from a parent's side (at least my partner and I's helicopter sides). I knew this to be true because, as a young person (and also a thirty-five year old woman) who had been obsessed with her own looks/weight/popularity, I would have given just about anything to find my soulmate.
People are often driven by emotion, and I think this is the most honest, enviable way to live—but also the most dangerous. A young girl with self-esteem issues, running away from an uncomfortable home situation, would hardly have to be lured at all if she thought the person she was speaking to was another young person, and one who wanted to love and accept her, protect her. I was pregnant with my second child and had a young niece at the time that I wrote this book; my niece was a curious teenager like any other, and worried about her looks and the way people saw her, just as I had. This understanding of my niece as a maturing person grew into Calliope. Calliope is isolated in many ways by her social status as an "unpopular" girl, or so she believes. She, also, finds herself in a tattered relationship with her mother, is torn in her want to relate to her "new" father or run from him, and is uncomfortable with her grandmother's illness and that impending loss; she is incredibly vulnerable. She is also beyond brave. She is who, perhaps, each of us would be in the same situations.
Once I had the idea for a book about a high school student looking for love online, much of the rest was simply picking and choosing from social belief systems I held. I believe, whole-heartedly, that all men and women are created equal. This is not just a tired phrase from a yellowing document signed by old, dead white men. I wanted to show that equality on a high school level, so I sifted through "outcast" stereotypes. My first thought was to tackle homophobia, because I am a gay mom. My partner and I never want our children to be judged on our choices; it is one of our greatest fears as parents. So I wanted to create a gay character who not only helped others selflessly, but also really cared about the world despite her own, inner demons. I didn't feel comfortable making Calliope gay on top of all of her other difficulties, both because I didn't want to lose my reader in melodrama and because even my three year old would have seen the writing on the page. So I birthed Farrah. I wanted readers to respect Farrah even if they had a discomfort for whom I believe she was born to be. I think physical differences are particularly hard in high school, too, so I wanted to add a differently-abled character. Again, this character had to be "real," thus Lynn's submissive reactions to popular boys, and also her heroic side, her saving of the boy on the bus: balance. I sewed in images of different faith systems: Farrah's Christian parents, who are generally good people who want the best for their daughter, and Gandhi, and the hero at the end of the story, the Jewish woman who feeds and drives Calliope to her home after her captivity, are all loving, yet flawed and scarred, people despite deity. Calliope's uncles are gay men who want to parent; they defy stereotypes in many ways. Calliope's father is not the "typical" man, either; he is incredibly sensitive, overtly emotional. He wanted to be a father to his daughter. He was deeply hurt by the initial deception, despite his physical and string-less relationship with Calliope's mother that perhaps society would see as a gift for a young man who played the sexual field.
The idea of the cyber bullying incident happened slowly. Bullying in high school, of course, is not an unusual topic. Technology is used both for good, and to cause pain, with all age groups. Humans who are unsupervised and feeling insignificant might use technology to harm other humans without the courage of signing a name, or standing in front of their victims. We've seen this in the news with high schoolers and college students, alike. We've seen grown adults humiliate children in this way. I wanted to make a stand with Heather's character; she did not deserve to be belittled, no one does, and yet that is even our protagonist's, Callie's, first response to her. In order to change, I think we need to see that those seeds live within ourselves; we are, after all, human. Literature is a safe way to explore our own weaknesses and, hopefully, vow to change them.
I wrote this book because I went to high school and the experience was less than an award-winning cinematic one. I once worked as a high school English teacher and fell in philosophical love with kids who were strong, proud, struggling to find themselves. I believe that young people have the ability to change our world for the better, and I want to support them in that awesome endeavor. I wrote this book because I was a gay teenager, and one who took 19 years to be able to say, Yes, I am gay, in the mirror of my college bedroom. I wrote Fighting Gravity because the Internet is a scary tool, and bullying is rampant, and "slut shaming" hurts our entire society. I have written and edited all of my books because I believe in the general goodness of people, and I want to remind all of my readers of their own Buddha natures and their inherent value in this—my—world. My hope is that my readers will find their own power in reading about my characters and their struggles, and use that power to "Be the change [they] wish to see in the world" (Gandhi). My greatest joy is hearing from readers who are on that journey, who are surviving.
Brittany Fonte has an MFA in Creative Writing, Fiction. She has three books out: Buddha in My Belly, Fighting Gravity, and she co-edited the new queer spoken word and poetry anthology Flicker and Spark. She teaches writing at the university level, has two wonderful children and a supportive not-yet-legal wife. She is currently working on a boys' chapter book about an adopted zombie. You can find Brittany on Facebook (she will absolutely be your friend!), and also on Twitter @PoetBFonte.

By: Sarah Deimer
I'm twenty, at a party with people mostly older than me.  Everyone's drinking around the bonfire, and I'm sipping my glass of water, talking and laughing, mostly about ridiculous, nerdy things.  It's the beginning of summer, the scent of wood and smoke in the air, the insects buzzing a melody.
"I've gotta talk with you…" says one of my friends, her hand at my elbow.  She leads me away from the fire, beer sloshing out of her plastic cup.  "I've been thinking a lot about it.  You," she says, waving her hand over me under the pine trees.  "And I wanted to tell you that I don't think you're normal."
My stomach tightens.  Where is this coming from?  What the hell is she talking about?
"What…" I begin, but her eyes are narrowing, and she's staring at me angrily.
"What you're doing with Jenn.  Being a lesbian.  It's sick."
I feel like I'd been punched.  All the air leaves me.  I'd known this woman for two years, we'd laughed and cried together, we'd helped one another.  When she'd had a car accident, I'd held her while she wept for hours.  When I'd lost my dog, she'd made me tea, hugged me tightly while I sobbed.
"You've known I was gay this whole time," I splutter, and then I shut up, because she's not done talking.  She's rubbing at her eyes–I can see in the firelight they're red.
"I've thought a lot about this, and I needed you to know what I thought.  It's disgusting, and it isn't natural or normal.  And I wanted you to know what I thought of it," she says, sniffing.  And then, as an afterthought:  "I can still be your friend."
I can still be your friend.
I don't think.  I just speak the first thing I know.  "I'm not normal," I tell her, breathing out.  "And neither are you."
"Yes I am," she splutters, and I take a step forward.
"No.  No one's normal.  We came up with that stupid word as something to measure everyone against.  I'm at peace with who I am, that I'm different.  Are you?"  She shakes her head, waves her arm at me, walks away.
She says later that she was drunk.  That she's sorry this sort of stuff came out.  But that, as a Christian, she has to stick with the Bible, and that's the way she's thought all along.  We stop being friends.  It breaks my heart.  But it's not the first time–or the last time–I'll lose someone because I'm gay.
But I meant what I said, and I said what I meant, that night in the dark by the fire.  I'm not normal, and I never have been.  And neither are you.  Everyone's always afraid of being different, that people will point at them and laugh, or that they'll become what people talk about behind their hands.
Is it liberating to say that, yes, totally, these things will happen?  Because they will.  I'm a Pagan, vegan, lesbian, pink-haired, heavily tattooed author chick.  There's at least something in that list that makes you uncomfortable.  There are some things in that list that I've chosen to be as a statement and because they make me happy.  And there's things in that list that I was from birth, that I can't change, that I wouldn't, even if I could.  And living out and openly as all of these things is painful, hurtful and incredibly vulnerable.  Always.
But I know I'm not normal.  And I'm incredibly happy not being normal.  I know the secret:
No one is.
In my just released YA novel, Twixt, I embrace that idea.  There is not a single character in that book who's normal.  The main heroine has a lot of dark secrets, but on top of that, she's falling in love with a girl.  The other characters are trading their hair for an addictive drug.  There's monsters who would take you away, and monsters that would sell your soul, and the only way that things can possibly get any better is realizing that you're completely not normal.  And being okay with that fact.
Because here's the most important part.  The twist, if you will:  Being not normal?  Yeah.  Totally normal.
So kiss your girlfriend and eat that vegan cupcake and obsess about your pen collection without worrying what people will think.  And because it makes you happy.
And if you need a little inspiration, give my newest YA novel, Twixt, a read.  It's a dark fantasy YA novel with a lesbian heroine!
Description: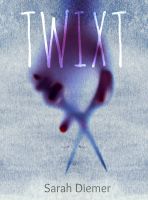 You wake upon the cold ground.  As you struggle to rise, as your breath exhales like a ghost, you know only two things:  You can't remember who you are.  And you're being hunted.
No one sleeps in Abeo City.  The lost souls gather indoors at night as Snatchers tear through the sky on black-feathered wings, stalking them.  But inside the rotting walls of the Safe Houses comes a quieter, creeping danger.  The people of Abeo City have forgotten their pasts, and they can trade locks of their hair to sinister women known only as the Sixers for an addictive drug.  Nox will give you back a single memory–for a price.
Like the other lost souls, Lottie wakens in this harsh landscape and runs in terror from the Snatchers.  But she soon comes to realize that she is not at all like the people of Abeo City.  When she takes Nox, her memories remain a mystery, and the monsters who fill the sky at night refuse to snatch her.  Trying to understand who she is, and how she ended up in such a hopeless place, Lottie bands together with other outcasts, including a brave and lovely girl named Charlie.  In the darkness, and despite the threat of a monstrous end, love begins to grow.  But as Lottie and Charlie plot their escape from Abeo City, Lottie's dark secrets begin to surface, along with the disturbing truth about Twixt: a truth that could cost her everything.
Find TWIXT on Amazon, Barnes and Noble, Smashwords, or as a SIGNED paperback plus free eReader copy on Etsy.
Weekend Giveaway:
To WIN A SIGNED COPY of TWIXT, tweet about it, talk about it on your Facebook, Tumblr or blog, and let Sarah know on her blog post, to be in the running!  http://muserising.com/?p=2095