Our cover reveal today is for the third book in a series, but don't let that deter you! We'll not only be revealing the cover for Jeff Adams's Audio Assault, we've also got an an interview about the series from the author himself! But first, here's the blurb to give you a little idea of what the book is about:
Theo Reese is just like any other seventeen-year-old—with one small exception.
This summer all he wants is to spend time with his boyfriend, Eddie, and work on his MIT research project. His parents have other plans.

An old friend needs the help of Theo's family. Oliver Glenwood is an '80s music star who runs his own label. His wife and his daughter, Sofia, now a chart topper herself, are the targets of kidnappers. Oliver hopes they can eliminate whoever is behind the threat.

When Theo uncovers an even more insidious plot, the covert agency the Reeses work for, Tactical Operational Support, swoops into action.

Song files have been modified to steal personal data from devices and emit a tone that drives listeners into a homicidal rage. Theo and his parents race against the clock to stop this mysterious enemy from releasing the music on an unsuspecting populace and causing worldwide chaos.

Just when Theo thinks the mission couldn't be more complicated, Eddie shows up in New York looking to hang out with his boyfriend.

No one ever said being a teenage secret agent would be easy.
And without further ado,
the cover we've all been waiting for!
.
.
.
.
.
.
.
.
.
.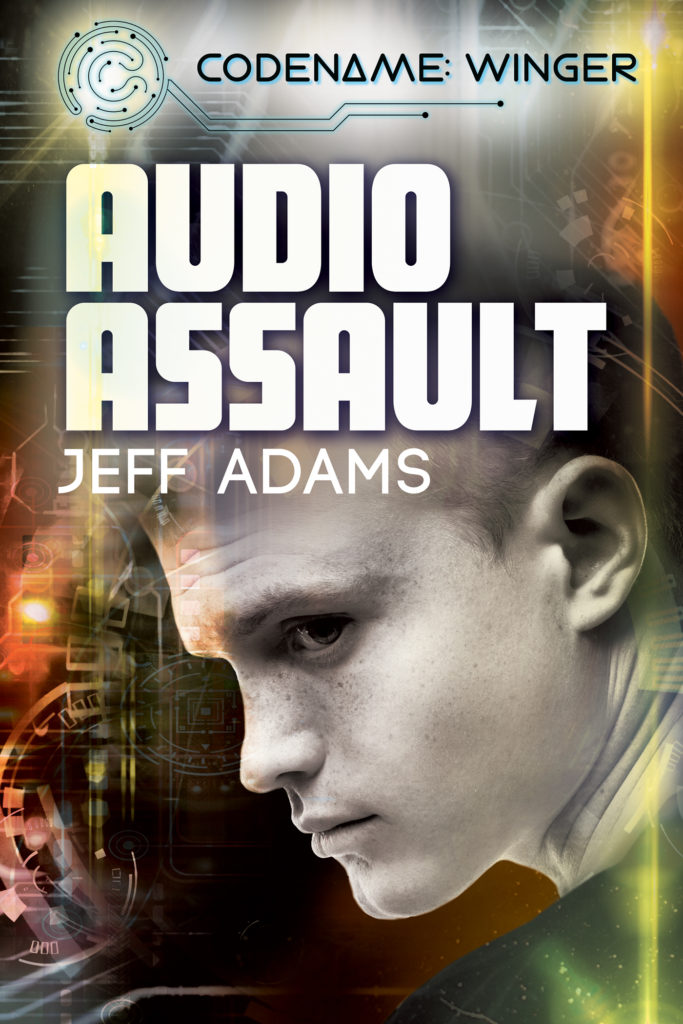 Stuff You Need to Know:

Genre: Mystery/suspense

Length: 190 pages

Identities represented:The main character, Theo, is gay and he's been with his boyfriend, Eddie, for more than a year. They are also athletes and quite smart, though in different ways. This book is #OwnVoices as the author is also gay, has played hockey and is a tech geek (although not nearly as smart and savvy as Theo is).

Content warnings: On-page violence also a scene where a character is drugged.
Audio Assault releases on November 27th!
Don't go yet! We also have an
interview with Jeff…
Audio Assault is the third book in a series. Can you give us a quick summary of what the series is about? 
The Codename: Winger series follows Theo Reese, a high school hockey player and a computer genius who also happens to work for a covert agency. He discovered when he was eleven that his parents were agents because he hacked their phones. Since he'd broken through Tactical Operational Support's security, they wanted him to work for them.
The series kicks off with Tracker Hacker. It's set in the fall of Theo's junior year when he has to leave the the safety of being behind a keyboard and goes on his first field mission to help save his Dad. Schooled moves to the second half of junior year and Theo discovers an evil scheme that unfolds at a computer science competition. In the new book, Audio Assault, it's summer vacation and Theo's plans are derailed when his parents take him to New York City to help a family friend—what they find there is far more than they anticipated.

Who is your main character, and what's your favourite thing about them? 
Theo Reese is so fun to write. He bucks a few stereotypes since he's a jock and a computer geek. He's in a relationship with Eddie—another smart jock—and there's never an issue they're together. The fact he has to handle being a covert agent, sometimes in dangerous situations, makes him all the more interesting. It weighs on him to keep secrets because it often means he lies to his friends. That he lives in two very different worlds gives me a lot to explore as well because sometimes the skilled agent really just needs a hug from his mom. Playing with these kinds opposing elements in Theo's life keeps my creative juice flowing.
Fill in the blanks: if you like ________ and ________, you'll love the Codename: Winger series. 
If you like Disney's Kim Possible and Mission: Impossible or James Bond-style movies, you'll love the Codename: Winger series. 
Part of the origin story of the Codename: Winger series is that I was at a conference and someone's phone had a Kim Possible ring tone and that really started me thinking about a teenage agent because I loved that series and I'm excited that Disney is creating a live action version for 2019. Theo is a little bit Kim and a lot Wade, her friend, computer wiz and gadget maker.
I also love a good spy movie or TV show—M:I, Bond, Kingsman and the TV shows Alias and CSI: Cyber because of the combination of mystery, action and cool tech.
What inspired you to write the Codename: Winger books? 
I wanted to do a YA LGBTQIAP+ story that wasn't a coming out or a romance. The main character also had to be comfortable in his skin where sexuality was concerned. I also created the world as I want it to be—where there's no issue with anyone being LGBTQIAP+.
What are some LGBTQIAP+ books that you would recommend our readers?
How much space do we have for this?
Two books from debut authors have rocked my world this year: Running with Lions by Julian Winters and There Goes Sunday School by Alexander C. Eberhart. I've also recently discovered C.B. Lee's Sidekick Squad series and have fallen hard for that (I totally get all the buzz this series has).
I'm a huge fan of all things Becky Albertalli and Simon vs. The Homo Sapiens Agenda is one of my all-time favorite books.
Some other favorite authors include Bill Konigsberg, Brent Hartinger, David Levithan, John Goode and Martin Wilson. 
What's coming next in the Codename: Winger series.
In addition to Audio Assault coming out November 27, I'm excited to announce that Tracker Hacker will release as an audiobook before the end of this year. I couldn't be happier that Theo's adventures are moving into this format. I'm a huge audiobook fan and I'll admit I'm looking forward to hearing this story brought to life.
In the spring of 2019, Netminder, the final book of the series, will come out and I'll be working the rest of this year with Harmony Ink's editors to get that ready for publication.
I'm also toying with the idea of a Codename: Winger holiday story. One of my favorite Kim Possible episodes is A Very Possible Christmas (alongside A Charlie Brown Christmas, the Grinch and Rudolph, it's something I watch every year). I'd love to figure out the right plot to create A Very Winger Christmas as a short story. Please keep your fingers crossed for me.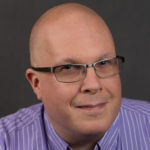 Jeff Adams has written stories since he was in middle school and became a gay romance writer in 2009 when his first short stories were published. Since then he's continued to create both romances and young adult stories, often with a hockey player at the center of the story.
Jeff lives in northern California with his husband of more than twenty years, Will. Some of his favorite things include the musicals Rent and [ title of show ], the Detroit Red Wings and Pittsburgh Penguins hockey teams, and the reality TV competition So You Think You Can Dance. He also loves to read, but there isn't enough space to list out his favorite books.
Jeff is the co-host of the Big Gay Fiction Podcast, a weekly show devoted to gay romance as well as pop culture. New episodes come out every Monday at BigGayFictionPodcast.com.
You can learn more about him at JeffAdamsWrites.com.