Aromantic Spectrum Awareness Week Series: Day 1 
by Laya Rose

I've recently launched my webcomic, Mistlands! It's about an aroace half fey girl from a small New Zealand town who suddenly gets herself and her friends caught up in the world of the sidhe – up until now she's only ever come into contact with smaller harmless fey. It's a combination of some of my favourite things: faeries, LGBTQIA+ characters, and the New Zealand landscape. This story has been in the works for a couple of years and I'm so happy I'm finally starting it!
I'd never really thought about writing my own stories until the last few years – somehow, I'd never thought about the possibility. I always assumed I'd end up illustrating other people's stories (which I'd still love to do!). But then I started making a few OCs for fun, and a few artists who I knew started making their own webcomics and I thought…this could be a thing? It took me quite a while to write the story and the characters (and I'm still figuring it out), but I eventually committed and started actually drawing it. It's been through a lot of changes since my first ideas in terms of the plot, but from the start I've always had a really clear vision of the aesthetic of the art, and the fact that I wanted aromanticism and asexuality to be part of it.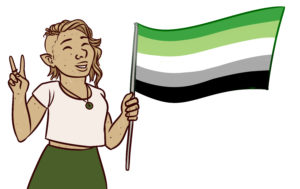 Es, the protagonist is aroace, which will be established pretty early on (in the first chapter, though the actual words aromantic and asexual won't be used until the second).  Two of the other main characters are on the aromantic spectrum, but that won't be canon in-comic until quite a bit later.  In fact, many of the characters are arospec and/or acespec, and pretty much all of them are queer. I'm not sure how much of this will be explicitly in the comic yet, but hopefully as much as I can. Almost all of the main relationships are platonic, and there's only a tiny bit of romance.
You can read the comic on Tapastic or Tumblr, and also find development and extras here.
I've also made a patreon where you can get early updates and extra content!
But enough about me! I also want to talk about other webcomics with aromantic characters. There are so many amazing webcomics out there, and I only read a handful of them… I also realised that there are fewer with aromantic characters than I realised. And most of those are aroace – which isn't necessarily a problem (I'm aroace) – but, most of the time, when a character is aroace, the aromantic representation comes second to the asexuality.
I'm assuming this is because aromanticism is even less known about than asexuality, and also that a lot of people don't known about romantic orientations in the first place. Hopefully more and more comics (and all forms of media) start to address aromanticism explicitly – and some of the comics I've mentioned below do! (The rest are word-of-god). Many of them are also only a chapter or two in, so they may do so yet.
SideQuest: A cute comic about friendship and dodging destiny, by a good friend of mine. All three main characters are aroace!
Ignition Zero: A complete comic about college age kids who get mixed up with local faeries and spirits. One of the four main characters is aromantic.
Griefer Belt: Slice of life about criminals. One of the main characters is grey-aro.
Supernormal Step: This comic has been going for years but I believe it's ending this year! It's about a magic parallel universe and the protagonist is aroace.
Rock and Riot: A cute comic about queer high school gangs in the 50s. One of the major characters was just revealed as aroace recently! There's also another aroace and a demiromantic character.
Let's Celebrate: A group of people with festively themed magical-girl-like powers. The protagonist is aroace.
Les Normaux: A slice of life comic about lots of Supernatural beings living in Paris. There are two aro side characters (one is demiromantic).
Rechargable: A comic about a gang in Australia in the future. One of the main characters is aro and one is demiromantic.
Ambrosia: A comic about an angel exiled on earth who meets a boy hitchhiking across the US. One of them is aro and the other aroace.
Yellow Hearts: A fantasy comic about three childhood friends who did a deal with a demon when they were  kids, and have met again years later. One of the main characters is aroace.
You can find more here, though unfortunately the tag for aromantic and asexual are combined, so it's pretty hard to find the specifically aromantic ones.
—
Laya Rose is an artist and design student who loves books, sci-fi and fantasy, queer characters and drawing fanart for those things. Twitter / Tumblr / Facebook /  Portfolio site