Trans Awareness Week: Day #2 
Previous Posts: Trans Stories Are Human Stories by April Daniels, Center Trans Voices: Introduction to Trans Awareness Week Series by Vee S.)
by Parrish Turner
With each new "trans book," I hold my breath as I read over the summaries and quotes which litter the pages. Without fail, I will see the words "dark secret," "eye-opening," or "change the way you think." I find myself disappointed every time.
The fact is, trans people are still seen as a mysterious other. Through many people's hard work, we are just starting to see books about transgender characters written by trans people, not their therapists or counselors. But even those books still must pass through several hands of well-intended cis people. These people are not experts in the trans experience, and they know it. They hire sensitivity readers, but how much power do these readers have?
The fact of the matter is that there is no one in the room where it happens, so to speak. There are no out transgender people working in the offices which are making these books. And so long as there are no transgender people making these books, we will not be able to move away from these tired narratives.
I spent time interning in a publishing house and was assured that I was not the first transgender intern, but no one could name anyone working full time in the industry. I hadn't noticed this to be odd at first. It wasn't until I watched my friends joke about how they knew all of the other black people working in publishing. They talked about how they all had to know each other and have each other's backs for support. It hadn't even occurred to me that there might be someone who I could connect with about being the other in the room.
I decided to try and seek them out. There are some great organizations which focus activism and community around diverse literature. Organizations such as Latinos in Publishing, We Need Diverse Books, and Lambda Literary do great work, but unlike Latinx people looking to network with others in the industry, I couldn't find a transgender specific group. I reached out to many diverse organizations in hopes that someone would know someone who knew someone. These groups were quick to try and put me in contact with transgender writers. These connections were great, but the experience of being a writer, a largely solitary activity, does not compare to the experience of working at a cubicle in a publishing house.
As I worked, I found my transgender history influenced my viewpoint in more ways that I initially expected. When I was a teenager, I spent time in both girls' only spaces and boys' only spaces. My understanding of gender is nuanced and distinct from those around me. But it is more than just gender. Every person comes with a history of experience which shapes their outlook. And the more we can increase the kinds of experiences people can bring to the room, the more varied and exciting our world will be.
This is not just a feature of trans people. A Muslim American will have insights into the world I cannot even guess at at someone who grew up Catholic post 9/11. The same can be said for Mexican immigrants, black lesbians, Indigenous peoples, etc. I want to see an editorial meeting filled with brilliant, well qualified employees who each bring distinct life experiences to the table. The fact of the matter is, America's classrooms are getting more and more diverse. The US Census Bureau estimates that by 2060, whites will only make up 43% of the population. And that shift can already be seen. And yet, in 2014, mainstream publishing continued to publish 85% of its books by/about white people.
To make a case for increased diversity in publishing is not new. I want to make the case that diversity breeds more diversity. Diverse employees will hire more diverse employees. These diverse employees will acquire diverse books. With the more perspectives allowed in the room, the closer to an honest truth we will be able to get. With no one in the room, who is going to argue for more? Are we aware of those who have not been invited?  
It is easy to forget about the smaller minority groups. We desperately need all children to be able to see themselves in the books they read, but it gets easy to be limited by the numbers. If we are only going to hire one diverse person or one diverse book this year, shouldn't we choose the largest minority group? Diverse book lists are often dominated by black children and white gay boys. This loses sight of smaller groups who are in desperate need of representation and loses sight of the intersectionality of readers. With black transgender women experiencing rates of violence like never before, why do I still struggle to find a book about a black transgender teenager?
We need transgender people in the room where it happens. That's the only way to in order to get more books out that the world desperately needs.
—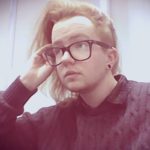 Parrish Turner hails from Georgia. He is a editor and essayist. He was Lambda Literary Fellow in Nonfiction in 2014 and is an MFA candidate at The New School. He currently works with the Lambda Literary Review.