Today we're very lucky to have C.B. Lee answering a few questions about Not Your Sidekick for the official blog tour! All of us at GayYA are SO EXCITED for this book!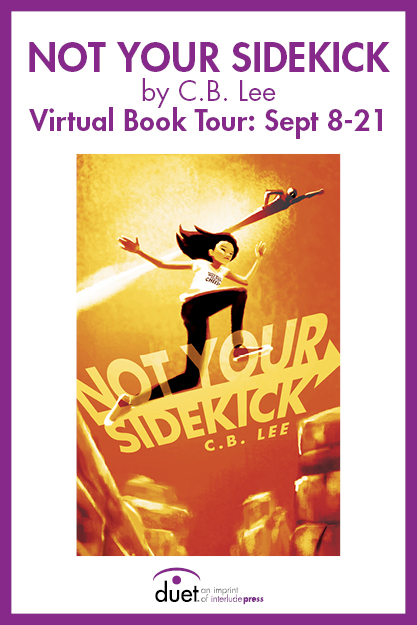 Hi C.B., thank you for agreeing to this interview. Tell us a little about yourself, your background, and your current book.
Hello there! Thank you for having me here today. I'm C.B., a bisexual woman who grew up on the California coast. I'm a first generation Asian American and am very excited to introduce more characters whose backgrounds are like my own. My current novel is Not Your Sidekick, a story about falling in love and what it means to be extraordinary.
Give us an interesting fun fact or a few about your book or series:
Not Your Sidekick and the whole series takes place in the year 2123, after a series of natural disasters and World War III. An interesting thing about the superpowers in the book is that they manifested in our world after a significant solar flare ignited a dormant gene, and I had a lot of fun with this worldbuilding concept.
How did you come up with the title of your book or series?
Not Your Sidekick comes a lot from the plot and how Jess' actions drive her forward; it seems like her place in life, especially without superpowers, deems her as only fit to be a sidekick to the main heroes. The title also comes from my long frustration with seeing Asian Americans in media, often times as side or supporting characters and never the protagonist.
Give us an insight into your main character. What does he/she do that is so special?
Jess is still discovering her strength, but I think she's incredibly relatable as she's insecure and stubborn and still figuring herself out. She faces lots of high expectations from her family, with superhero parents, super older sister and genius younger brother. She learns a lot about what it means to be extraordinary in the novel and values her own strengths here.
What does your family think of your writing?
They're supportive! I'm pretty sure they're relatively entertained by the fact that I'm pursuing this little "hobby" but my parents are proud nevertheless.
What do you think makes a good story?
Emotion. Any story that moves me is a great one. If I finish a story feeling emotionally exhausted because I have ran the gamut of emotions, from heartache to joy to pain to satisfaction, I think it will have been worth it. When something is written with passion, it shows in the text. Those are the kind of stories that stick with us.
Thanks for having us C.B! Don't forget to check out the rest of the tour spots below and enter the giveaway: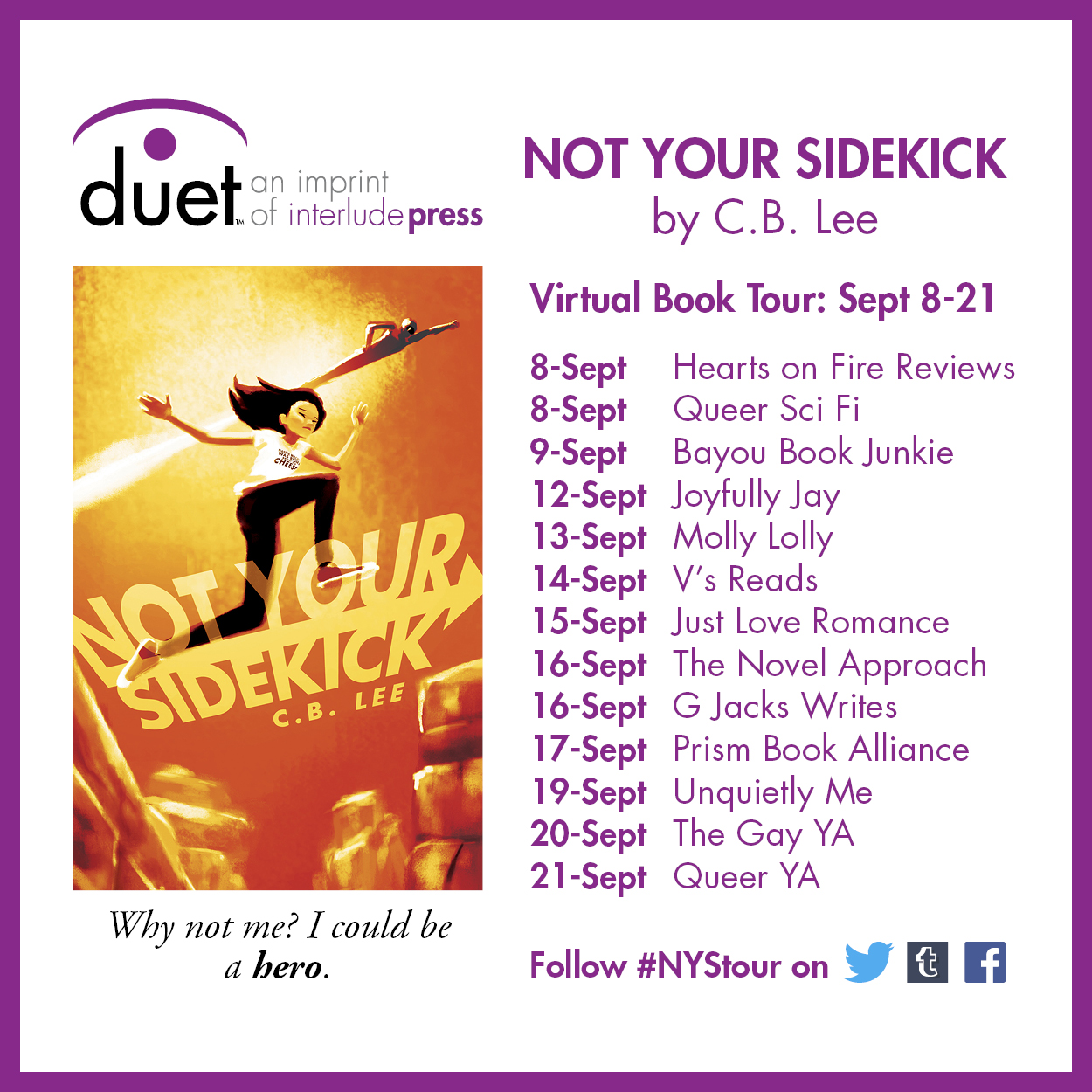 About the Book
Not Your Sidekick by C.B. Lee
Published September 8th 2016 by Duet Books
Welcome to Andover… where superpowers are common, but internships are complicated. Just ask high school nobody, Jessica Tran. Despite her heroic lineage, Jess is resigned to a life without superpowers and is merely looking to beef-up her college applications when she stumbles upon the perfect (paid!) internship—only it turns out to be for the town's most heinous supervillain. On the upside, she gets to work with her longtime secret crush, Abby, who Jess thinks may have a secret of her own. Then there's the budding attraction to her fellow intern, the mysterious "M," who never seems to be in the same place as Abby. But what starts as a fun way to spite her superhero parents takes a sudden and dangerous turn when she uncovers a plot larger than heroes and villains altogether.
Enter the giveaway HERE for a chance to win a Grand Prize $25 IP Gift Card + Multi-format eBook of Not Your Sidekick // Five winners receive NYS eBook