Introducing…..Bi YA Reads bookmarks!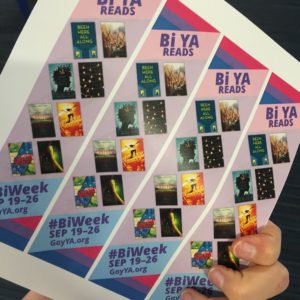 What: rad double-sided bookmarks with 15 of our fave Bi YA books.
Who: anyone is free to use/print these out!
Why: Our main goal for these was to develop a resource that librarians and booksellers can put in their teen section. Bookmarks and other hand outs are a great way to spread knowledge of inclusive books, sometimes even more so than displays. While displays are incredibly important, teens who aren't out may not feel comfortable browsing them. Bookmarks ensure that these teens can be informed & request these books privately, or find an ebook version. In addition, books that cover more than the LG part of the LGBTQIA+ part of the acronym can be hard to find. Many teens actually don't believe they exist, and don't bother looking for them. Spreading the word about these books is SO incredibly important. Bisexuality is a unique and valid identity, and the experiences of bisexual teens can't be lumped in with those of lesbian and gay teens.
The download should include a full color version (pictured above) and a grayscale version. The bookmarks are meant to be double-sided, and should be lined up right for correct printing! Please email vee@gayya.org or tweet us @thegayYA if you have any questions.
Credit for these bookmarks goes to the fantastic Josh Dudley! Follow him on Twitter and visit him online here.
Here is the list of books featured on the bookmarks:
Love in the Time of Global Warming by Francesca Lia Block
The Scorpion Rules by Erin Bow
Labyrinth Lost by Zoraida Córdova
Otherbound by Corinne Duyvis
Young Avengers Vol.1 by Kieron Gillen (writer), Jamie McKelvie (illustrator) and Mike Norton (illustrator)
Been Here All Along by Sandy Hall
The Summer Prince by Alaya Dawn Johnson
Not Your Sidekick by C.B. Lee
About a Girl by Sarah McCarry
Not Otherwise Specified by Hannah Moskowitz
Far From You by Tess Sharpe
A Darkly Beating Heart by Lindsay Smith
All the Feels by Danika Stone
Coda by Emma Trevayne
Shallow Graves by Kali Wallace