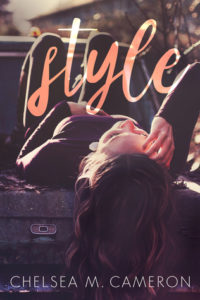 June 1st – Style by Chelsea M. Cameron (L)
Kyle Blake likes plans. So far, they're pretty simple: Finish her senior year of high school, head off to a good college, find a cute boyfriend, graduate, get a good job, get married, the whole heterosexual shebang. Nothing is going to stand in the way of that plan. Not even Stella Lewis.

Stella Lewis also has a plan: Finish her senior year as cheer captain, go to college, finally let herself flirt with (and maybe even date) a girl for the first time and go from there.

Fate has other plans for Kyle and Stella when they're paired up in their AP English class and something between them ignites. It's confusing and overwhelming and neither of them know what to do about it. One thing they do know is that their connection can't be ignored. The timing just isn't right.

But is there ever a good time for falling in love?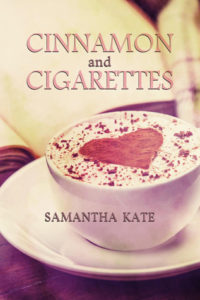 June 1st – Cinnamon and Cigarettes by Samantha Kate (B) (New Adult)
Sara Clarke, recent college grad, is sweet, demure, and cautious in all things, but especially romance—until she meets Moira Estrada, a bold amateur pilot and patron at the library where Sara works. Their intimacy blooms rapidly as they share everything from a sudden medical emergency to Christmas with the Estrada family. With her dashing new girlfriend by her side, Sara learns to overcome some of her greatest fears, whether they be acknowledging her own bisexuality, flying across the sky in a Cessna, or falling in love for the first time.

But Sara's fear of confrontation is harder to conquer. When asked about her relationship, she finds herself lying to her family, pretending to date a man so she can avoid conflict with her straight-laced and image-conscious parents. But her attempts to please everyone cannot last forever and could result in far worse than her parents' disapproval: she might lose the respect of her new friends at the library, or become estranged from her sister—or, worst of all, Sara might lose the only person she's ever truly loved.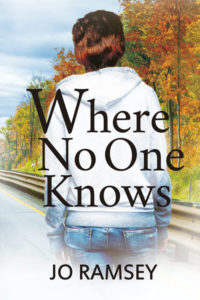 June 2nd – Where No One Knows by Jo Ramsey (T)
Kellan McKee is different, but not for the reasons everyone thinks. He's open about being transgender and grateful to have his mother's support, even if his stepfather disapproves. When Kellan is attacked by one of his stepfather's friends, he's more than capable of defending himself. But doing so comes with a price: Kellan is forced to reveal what really sets him apart—his psychic abilities.

Now Kellan must escape his stepfather's vengeance with only the money his mother can provide. In Denver he meets Shad, a person with powers similar to his own who is willing to help him. The two agree to travel together, and Shad reveals there's a group in Boston where Kellan can find a safe haven and learn more about his gift—and how to control it.

Kellan's respite might be short-lived, however, if his stepfather manages to find him. And not everyone in Boston welcomes him with open arms. Kellan might not be as safe as he'd hoped. (2nd Edition.)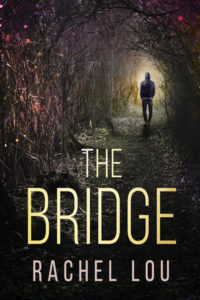 June 2nd – The Bridge by Rachel Lou (G)
Seventeen-year-old Everett Hallman may have been born a witch, but he possesses only low levels of spell-casting energy. He lives with his grandfather in the town of Ashville, near woods with high paranormal activity, and helps guide lost spirits to their respective afterlives. When strange urges lead Everett away from the woods and to a nearby martial arts school, he discovers the residue of paranormal creatures so powerful, he can't help investigating further.

After he discovers he is a Bridge Master, a witch who can cross over to various spirit worlds, complications arise. The powerful witch who is supposed to mentor him goes missing, something is off about the handsome martial artist he befriends, and his energy keeps dipping to dangerous levels. The more he probes, the clearer it becomes that he cannot walk away.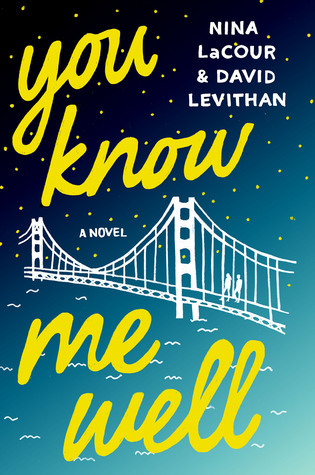 June 7th – You Know Me Well by Nina LaCour & David Levithan (L, G)
Who knows you well? Your best friend? Your boyfriend or girlfriend? A stranger you meet on a crazy night? No one, really?

Mark and Kate have sat next to each other for an entire year, but have never spoken. For whatever reason, their paths outside of class have never crossed.

That is until Kate spots Mark miles away from home, out in the city for a wild, unexpected night. Kate is lost, having just run away from a chance to finally meet the girl she has been in love with from afar. Mark, meanwhile, is in love with his best friend Ryan, who may or may not feel the same way.

When Kate and Mark meet up, little do they know how important they will become to each other — and how, in a very short time, they will know each other better than any of the people who are supposed to know them more.

Told in alternating points of view by Nina LaCour, the award-winning author of Hold Still and The Disenchantments, and David Levithan, the best-selling author of Every Day and co-author of Nick and Norah's Infinite Playlist (with Rachel Cohn) and Will Grayson, Will Grayson (with John Green), You Know Me Well is a deeply honest story about navigating the joys and heartaches of first love, one truth at a time.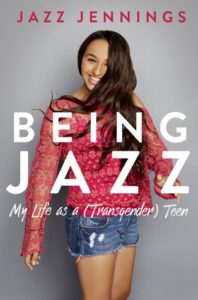 June 7th – Being Jazz: My Life as a (Transgender) Teen by Jazz Jennings (T) (non-fiction)
Teen activist and trailblazer Jazz Jennings named one of The 25 Most Influential Teens of the year by "Time" shares her very public transgender journey, as she inspires people to accept the differences in others while they embrace their own truths.

Jazz Jennings is one of the youngest and most prominent voices in the national discussion about gender identity. At the age of five, Jazz transitioned to life as a girl, with the support of her parents. A year later, her parents allowed her to share her incredible journey in her first Barbara Walters interview, aired at a time when the public was much less knowledgeable or accepting of the transgender community. This groundbreaking interview was followed over the years by other high-profile interviews, a documentary, the launch of her YouTube channel, a picture book, and her own reality TV series "I Am Jazz" making her one of the most recognizable activists for transgender teens, children, and adults.

In her remarkable memoir, Jazz reflects on these very public experiences and how they have helped shape the mainstream attitude toward the transgender community. But it hasn't all been easy. Jazz has faced many challenges, bullying, discrimination, and rejection, yet she perseveres as she educates others about her life as a transgender teen. Through it all, her family has been beside her on this journey, standing together against those who don't understand the true meaning of tolerance and unconditional love. Now Jazz must learn to navigate the physical, social, and emotional upheavals of adolescence particularly high school complicated by the unique challenges of being a transgender teen.

Making the journey from girl to woman is never easy especially when you began your life in a boy's body.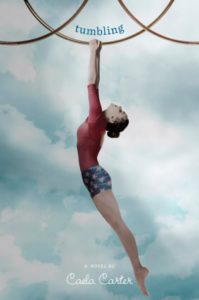 June 7th – Tumbling by Caela Carter (L)
Work harder than anyone.
Be the most talented.
Sacrifice everything.
And if you're lucky, maybe you will go to the Olympics.

Grace lives and breathes gymnastics—but no matter how hard she pushes herself, she can never be perfect enough.

Leigh, Grace's best friend, has it all: a gymnastics career, a normal high-school life… and a secret that could ruin everything.

Camille wants to please her mom, wants to please her boyfriend, and most of all, wants to walk away.

Wilhelmina was denied her Olympic dream four years ago, and she won't let anything stop her again. No matter what.

Monica is terrified. Nobody believes in her—and why should they?

By the end of the two days of the U.S. Olympic Gymnastics Trials, some of these girls will be stars. Some will be going home with nothing. And all will have their lives changed forever.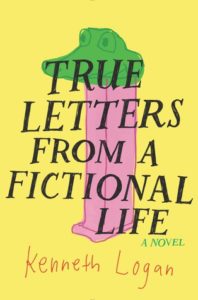 June 7th – True Letters from a Fictional Life by Kenneth Logan (G)
If you asked anyone in his small Vermont town, they'd tell you the facts: James Liddell, star athlete, decent student and sort-of boyfriend to cute, peppy Theresa, is a happy, funny, carefree guy.

But whenever James sits down at his desk to write, he tells a different story. As he fills his drawers with letters to the people in his world–letters he never intends to send–he spills the truth: he's trying hard, but he just isn't into Theresa. It's a boy who lingers in his thoughts.

He feels trapped by his parents, his teammates, and the lies they've helped him tell, and he has no idea how to escape. Is he destined to live a life of fiction?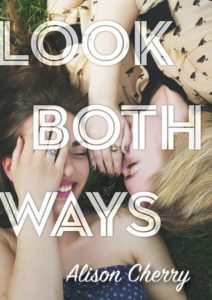 June 14th – Look Both Ways by Alison Cherry (B)
The story of a girl hoping she's found a place to belong… only to learn that neither talent nor love is as straightforward as she thinks.

A summer away from the city is the beginning of everything for Brooklyn Shepard. Her theater apprenticeship at Allerdale is a chance to prove that she can carve out a niche all her own, surrounded by people who don't know anything about her or her family of superstar performers.

Brooklyn immediately hits it off with her roommate, Zoe, and soon their friendship turns into something more. Brooklyn wants to see herself as someone who's open to everything and everyone, but as her feelings for Zoe intensify, so do her doubts. She's happier than she's ever been—but is it because of her new relationship? Or is it because she's finally discovering who she wants to be?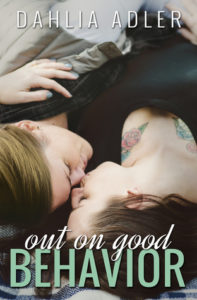 June 14th – Out On Good Behavior by Dahlia Adler (P) (New Adult)
Frankie Bellisario knows she can get anyone she sets her sights on, but just because she can doesn't mean she should—not when the person she's eyeing is Samara Kazarian, the daughter of a southern Republican mayor. No matter how badly Frankie wants to test her powers of persuasion, even she recognizes some lines aren't meant to be crossed.

But when Frankie learns she's been on Samara's mind too, the idea of hooking up with her grows too strong to resist. Only Sam's not looking for a hookup; she wants—needs—the real thing, and she's afraid she'll never find it as long as Frankie's in her head.

Forced to choose between her first relationship and losing the girl who's been clawing her way under her skin, Frankie opts to try monogamy…under her own condition: 30 days of keeping things on the down low and remaining abstinent. If she fails as hard at girlfriending as she's afraid she might, she doesn't want to throw Samara's life into upheaval for nothing. But when neither the month nor Frankie's heart go according to plan, she may be the one stuck fighting for the happily ever after she never knew she wanted.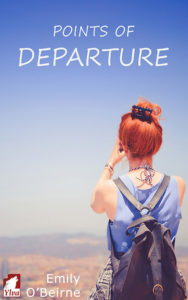 June 16th – Points of Departure by Emily O' Beirne (f/f)
In this young adult novel, to be released June 2016, best friends Kit and Liza have been looking forward to this trip forever.

Five girls, five tickets overseas. It's exactly what they all need after the final slog of high school. But when Kit's suddenly forced to drop out, Liza's left with three girls she barely knows.

There's Mai, committed only to partying. There's Tam, who already has her doubts about leaving her sick father behind. And there's Olivia, so miserable about screwing up exams she's not even sure she wants to get out of bed, let alone on a plane. Meanwhile Kit's stuck working double shifts to pay off a debt, wondering if she'll ever get it together.

All Liza wants from this trip is to discover a new version of herself. She just hadn't planned on doing it without Kit by her side.

And they're all learning that travel isn't just about the places you go, but who you're with at the time.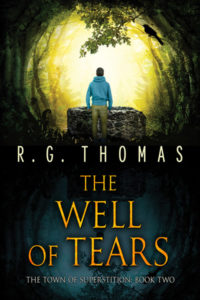 June 16th – The Well of Tears (Book #2) by R.G. Thomas (G)
Thaddeus Cane is on the journey of his life. Having just discovered he is the son of a wizard and witch, he sets off on a quest to find his mother, who was cursed when Thaddeus was just a baby. He is accompanied by his father, Nathan; his new love, Teofil Rhododendron, the garden gnome who lives next door; and Teofil's mother, brother, and sister. Though the world they travel through is familiar to him, they encounter a number of magical beings, some friendly and others quite deadly. When Nathan is gravely wounded, Thaddeus must choose between finding his mother and saving his father's life.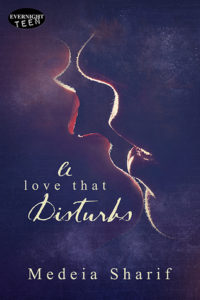 June 17th – A Love That Disturbs by Medeia Sharif (f/f)
Maysa Mazari is alarmed by her mother's talk about arranged marriage. Meanwhile, as a hijab-wearing Pakistani-American, she wants to find love on her own. Her judgmental Muslim clique has protected her from racist taunts, although the leader, Aamal, is turning on her as Maysa strays from the group because of her attraction to Haydee.

Haydee Gomez is a former gang member and juvenile detention student. Now living with a clean-cut aunt, she wants to turn her life around, even though one person will never let her forget her roots—Rafe, her abusive pimp. Haydee attempts to pull away from a life of prostitution when she develops feelings for Maysa, although Rafe isn't willing to give her up too easily.

Finding themselves in danger from Maysa's friends and Haydee's pimp, it's apparent their love disturbs everyone around them as they fight to stay together.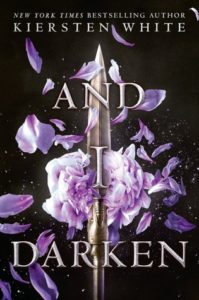 June 28th – And I Darken by Kiersten White (L)
NO ONE EXPECTS A PRINCESS TO BE BRUTAL.

And Lada Dragwlya likes it that way. Ever since she and her gentle younger brother, Radu, were wrenched from their homeland of Wallachia and abandoned by their father to be raised in the Ottoman courts, Lada has known that being ruthless is the key to survival. She and Radu are doomed to act as pawns in a vicious game, an unseen sword hovering over their every move. For the lineage that makes them special also makes them targets.

Lada despises the Ottomans and bides her time, planning her vengeance for the day when she can return to Wallachia and claim her birthright. Radu longs only for a place where he feels safe. And when they meet Mehmed, the defiant and lonely son of the sultan, who's expected to rule a nation, Radu feels that he's made a true friend—and Lada wonders if she's finally found someone worthy of her passion.

But Mehmed is heir to the very empire that Lada has sworn to fight against—and that Radu now considers home. Together, Lada, Radu, and Mehmed form a toxic triangle that strains the bonds of love and loyalty to the breaking point.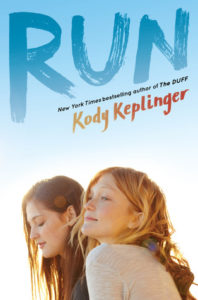 June 28th – Run by Kody Keplinger (B)
Bo Dickinson is a girl with a wild reputation, a deadbeat dad, and a mama who's not exactly sober most of the time. Everyone in town knows the Dickinsons are a bad lot, but Bo doesn't care what anyone thinks.

Agnes Atwood has never gone on a date, never even stayed out past ten, and never broken any of her parents' overbearing rules. Rules that are meant to protect their legally blind daughter — protect her from what, Agnes isn't quite sure.

Despite everything, Bo and Agnes become best friends. And it's the sort of friendship that runs truer and deeper than anything else.

So when Bo shows up in the middle of the night, with police sirens wailing in the distance, desperate to get out of town, Agnes doesn't hesitate to take off with her. But running away and not getting caught will require stealing a car, tracking down Bo's dad, staying ahead of the authorities, and — worst of all — confronting some ugly secrets.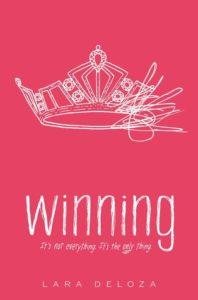 June 28th – Winning by Lara Deloza (L)
House of Cards meets Election in this wickedly entertaining story about an uber-ambitious high school junior.

Whoever said being nice would get you to the top?

Certainly not Alexandra Miles. She isn't nice, but she's more than skilled at playing the part. She floats through the halls of Spencer High, effortlessly orchestrating the actions of everyone around her, making people bend to her whim without even noticing they're doing it. She is the queen of Spencer High—and it's time to make it official.

Alexandra has a goal, you see—Homecoming Queen. Her ambitions are far grander than her small town will allow, but homecoming is just the first step to achieving total domination. So when peppy, popular Erin Hewett moves to town and seems to have a real shot at the crown, Alexandra has to take action.

With the help of her trusted friend Sam, she devises her most devious plot yet. She'll introduce an unexpected third competitor in the mix, one whose meteoric rise—and devastating fall—will destroy Erin's chances once and for all. Alexandra can run a scheme like this in her sleep. What could possibly go wrong?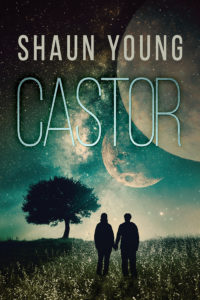 June 30th – Castor by Shaun Young (G)
James Fisher's memories of Earth are distant, replaced by the harsh realities of life on the planet Castor. As a "Half-Adapt," James is one of many who were biologically engineered to survive conditions on Castor—and to labor for the benefit of the ruling class. Indentured to servitude, James has no way to defy or escape the severe caste system… until he meets Vidal Centa, his master's nephew. The draw they feel toward each other is instant, powerful, and maybe even enough to move beyond the unyielding regulations of their society.

But not everyone blindly accepts the absolute power of the oligarchy. The Independence Society fights for freedom and equality, and since James shares in their ideals, he joins their ranks. Soon he's faced with an impossible decision: continue the fight against the oppressors or choose the love of the young man who embodies everything the Society loathes. With a looming conflict threatening to tear the planet apart, James fears he cannot continue to fight if he wants to keep his relationship with Vidal.
–
You can send us comments, suggestions or titles we might have missed at: nadia@gayya.org or tweet us@thegayYA with the info!