I had the INCREDIBLE opportunity to be able to sit down with David Levithan & Nina Lacour when they came to Addendum Books on the You Know Me Well book tour. This was literally one of the best experiences of my life and I am so thankful to the authors for taking the time to do this and to everyone else who had a hand in making this possible. We got to talk about the new narratives You Know Me Well brings to the table of LGBTQIA+ YA, how the collaboration on YKMW began, and what its existence means in the wake of the Orlando shooting. This interview meant SO much to me, and I hope that everyone is able to get something out of watching it! You can also check out my review of You Know Me Well here.
We ended up doing the interview right outside a gym (it was actually one of the quietest places!) so that's where all the background noises are from. 🙂 We will also be adding subtitles as soon as possible!
Lastly… You Know Me Well is GayYA's June Recommendation! We'll be hosting an hour long #GayYABookClub Twit Chat TONIGHT, June 29th, at 8pm EST– come join us! We'll try and keep it spoiler free, so feel free to lurk/participate even if you haven't read the book!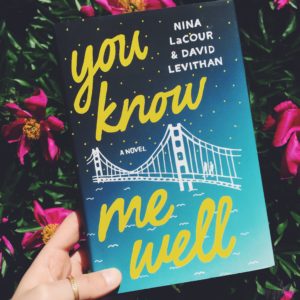 Who knows you well? Your best friend? Your boyfriend or girlfriend? A stranger you meet on a crazy night? No one, really?

Mark and Kate have sat next to each other for an entire year, but have never spoken. For whatever reason, their paths outside of class have never crossed.

That is, until Kate spots Mark miles away from home, out in the city for a wild, unexpected night. Kate is lost, having just run away from a chance to finally meet the girl she has been in love with from afar. Mark, meanwhile, is in love with his best friend Ryan, who may or may not feel the same way.

When Kate and Mark meet up, little do they know how important they will become to each other—and how, in a very short time, they will know each other better than any of the people who are supposed to know them more.

Told in alternating points of view by Nina LaCour and David Levithan, You Know Me Well is a story about navigating the joys and heartaches of first love, one truth at a time.