by Edith Campbell
Back in October 2015 my daughter shared news with me about the book Large Fears by Myles Johnson and Kendrick Daye and I was so excited that I posted about it on FaceBook. I was easily engaged by the artwork and intrigued by the story of a young black boy who daydreamed about escaping to Mars where he could be free to love the color pink. Just above the image of the book, I wrote, "I'm really glad to know about this book! I would say there are so few books for queer black boys, but there are just too few books for all our marginalized young people." My excitement about this self-published book was met with scornful remarks from Meg Rosoff, the person recently named winner of the Astrid Lindgren Award with the committee recognizing Rosoff for "empathizing with young people" and for being "utterly loyal to them".
Rosoff stated
"There are not too few books for marginalised young people. There are hundreds of them, thousands of them. You don't have to read about a queer black boy to read a book about a marginalised child. The children's book world is getting far too literal about what "needs" to be represented. You don't read Crime and Punishment to find out about Russian criminals. Or Alice in Wonderland to know about rabbits. Good literature expands your mind. It doesn't have the "job" of being a mirror."
The public debate that ensued focused on the purpose of children's literature, the need for diversity and on the need for books for queer black boys. Regardless of Rosoff's privileged agenda, we need more LGBTQIAP writers of color who can write from their own experience to develop stories that speak directly to the heart, mind and soul of LGBTQIAP teens while opening a window for cis gendered, heterosexual teens into the lives of people around them.
Rosoff, like too many others consider that anyone can read and enjoy Alice in Wonderland, Pippi Longstockings or other classic pieces of literature and that should suffice. When you constantly see yourself reflected in the Straightness and Whiteness books, you have no idea what it's like for others who don't. You don't realize that seeing a brown child who is free to roam the world, imagine new opportunities and fight monsters will inspire another brown child who has no idea that they can, or should or will. You have no idea what it's like for a brown child to crave flavor and texture they can appreciate, that they can wrap themselves in and feel as though it's meant just for them. So many marginalized authors have written about how much they've always enjoyed reading, but their true enjoyment came when they read a book that matched their ethnic, religious or disability experience. We need to find our home, our place of belonging, when we read.
Queer Native kids and kids of color remain invisible in books for children and teens. Books sound like such a simple and easy place to give identity or even comfort to young people who may not find it elsewhere, but they're not. Books for children and teens are a microcosm of a society dominated by straight white supremacists who feel the need to be careful about children's books; to dominate.
The Library & Book Trade Almanac reported 19,894 YA books published from 2011-2014. Of those nearly 20.000 books the following are the ones I've been able to identify that contained queer protagonists and were written by queer authors who are Native American or of color and published by traditional publishers. (Actually, none were written by Native Americans.) You'll immediately see there is nowhere near hundreds or thousands of them.
.o9% from 2011-2014
I may have missed a few (please add them in the comments) but not enough to significantly change this percentage. There's no accurate way of knowing what percent of teens of color are LGBTQIA, but I'd bet dollars to doughnuts that they're tremendously underrepresented by this paltry .09%. Surely we know that Paul Yee is not the only gay Asian male writer, that there are queer women of color who write young adult books, probably Native Americans too. There's no need for anyone to stretch their imagination to realize how publishers are failing young people as they maintain oppressive policies towards our young people and not exerting the effort, not changing the practices and not rewriting the policies that prevent marginalized authors from getting published. Teens matter too much to make them think they're invisible.
We need more, don't we? More books that allow Native Americans and teens of color to explore gender identity, express sexual expression while letting all readers see the normalcy, complexity and possibilities of being queer.
Indeed, there are too few books for our marginalized young people but don't just throw your hands up and walk away. Read and talk about the queer books you do enjoy. Mention them to your friends, on Twitter or wherever people are talking about books and not just LGBTQIAP books but any books. Ask your local library or bookstore for what you want to read. Do not accept that they don't carry books with queer characters of color because if we don't ask for the books, no one will know we want them.
This isn't just about books; this is about making people visible, about providing dignity and equity to all teens.
"Children's literature serves the important role of mediator between children, cultural knowledge, and socialization by adults. Moreover, because children's literature has long maintained this traditional role in society, it possesses both symbolic and real power." (Harris, 1990)
In asking for safe harbor for brown kids, queer and Native kids in the quiet hidden spaces of books, I long for safe, magical and open real life bathrooms and homes and night clubs and cities where these same brown kids can love and live and dance. It's painful to think of the angels we've gained this month, may they be blessed and may they bless us all.
Thank you, GayYA! While I want to wish you many more years of fighting the good fight, I hope you won't have to do that much longer. May our work turn completely to celebrating good works.
I'm a cis gendered, she/her female who appreciates the opportunity to speak in this space. In my work for diversity in children's books for teens of color, I respect the places where we intersect as much as the places where our identities our unique. We all have so much work to do.
Bogart, Dave, ed. (2015).  Library and Book Trade Almanac. Information Today, Inc,, New Jersey.
Harris, Viola (1990). African American Children's Literature: The First One Hundred Years" Journal of Negro Education, Autumn, 1990.
—
Edith Campbell is a mother, librarian, educator and quilter. She promotes literacy in its many forms to teens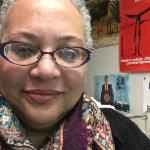 and she does this through her blog, CrazyQuiltEdi and in her work as an Education Librarian at Indiana State University in Terre Haute, Indiana. Edith currently serves as the Indiana State Ambassador for the United States Board on Books for Young People, Guidelines for Selecting Multicultural Materials Task Force of the Association for Library Services to Children and is part of the Digital Public Library's eBook Curation Corps. She is a past member of YALSA's Best Fiction for Young Adults selection committee, the WNDB Walter Award Committee and the CYBILS Nonfiction Awards Committee. She has recently been elected to the 2018 Printz Committee.