by Joseph Jess
Many of us know how hard it is to find queer fiction, that is why we search the depths of the internet for it, blog about it and even write it. If you read enough of the queer fiction out there you will notice that the vast majority of it centers around White characters. We've read and loved these stories and will continue to read and love them but the lack of PoC representation is glaringly apparent. I am a queer Mexican-American who talks (and cries) about books on the internet, with a specific passion for Queer Lit. I'd like to share a bit about myself, about seeing myself in Queer Literature and why I do what I do.
A lot of Queer Lit focuses on the shameful idea of being gay, of the main character struggling with the fact that he is gay and then his family struggling with the same fact. Ironically enough, my life doesn't really reflect that narrative. I've known I was a gay for as long as I could remember and, arguably, so did my family. I mean, when your kid screams Hilary Duff songs every day on the way to school, watches the Selena movie a billion times and confesses to you at the store that they think the lady ahead of you in line has pretty shoes, you gotta have some suspicions. And they did. I came out to my mother first because she was the only person's acceptance I wanted. I told her (while sobbing, despite knowing she'd be okay with it) and her reaction was "Yeah mijo, I know. I love you. Do you have any dirty clothes? I'm doing the laundry." She hugged me for a bit and went on about her day. I've been blessed, and because I have a few other gay cousins in my family, the rest of the coming-out process was pretty uneventful. There's not a day that goes by that I'm not grateful for that, because I know not everyone's coming out was so easy.
The identity I have struggled with is actually my Latino identity. I do not speak spanish very well, despite constant practice, and that has been a major source of me feeling "not Latino enough." On top of that, the lack of gay Latinos in shows or books also irrationally expressed to me something along the lines of "Real Latinos aren't gay and they speak spanish fluently!!!" So instead of being a Proud Queer Latino™, I was just a Proud Queer™. In recent years,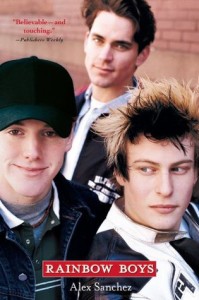 upon speaking with other Latinos and queer Latinos, I've begun to realize that there isn't such a thing as being "Latino enough" and that I am who I am so I need to be proud. Another reason was the Latino queer characters I finally started to find, specifically those in books
As previously stated, the queer PoC representation is not the most extensive (to say the least), which means the amount of Queer Lit that focused on Latinos was even more sparse. It was books by Alex Sanchez that introduced me to Queer Lit and incidentally to queer Latinos. I read his books and was finally able to see bits of my queerness reflected on the pages. There were even queer Latino characters, seeing as Sanchez is a gay Latino himself, but I didn't really begin to appreciate this until way later on in my queer reading adventures. After reading book upon book about White queer characters, I started to yearn for Latinos like myself in these pages. I regretted not appreciating Sanchez's characters for their Latino identities as much as I appreciated them for their queer identities, just how I regretted not appreciating my own Latino identity as much as did my queer one.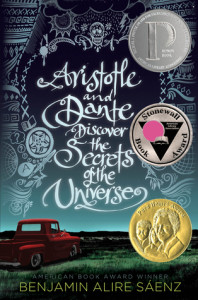 I'd like to think it all finally began to click when I read Aristotle and Dante Discover the Secrets of the Universe by Benjamin Alire Saenz. This book deals with many topics but the character that interested me the most was Dante Quintana. He is told that he is a pocho, "a half-assed Mexican" as Aristotle Mendoza says. Dante, I personally felt, had similar issues with his Mexican identity, while being very comfortable in his Queer one. This was a bit monumental to me, a character who struggled with something very specific that I hadn't seen talked about but knew from first hand experience? Unheard of. I love Dante for that reason, and because he's just such a great character. I knew then that it did matter if I read Latino queer characters in books, because if it didn't then I wouldn't have felt so good after having done so.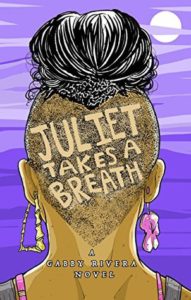 On a more recent note, this past April I read Juliet Takes A Breath by Gabby Rivera and it was another one of those profound and monumental moments for a queer Latino reader like myself. I saw myself in Juliet Palante in ways I hadn't seen myself in any other character, similar to my reaction to Dante but yet completely different. In Juliet's story I saw a young adult who was brown and queer like myself, who knew who she was and was proud, like myself, who was a nerd and from the hood, like myself but also an amazing person, like I hope to be. In her story I saw the queer people of color culture I hadn't really seen yet in books: queer feminist and activists, young QPoC gathering together and loving each other, new queer romances between non-white characters, very raw and real emotions and so much more. This was a very realistic reflection of my perspective of the young queer life as a person of color in a big city and I was so amazingly in love with this story.
If you haven't yet gathered, my point is that it's very important to show many different types of stories when talking about queer narratives. In my case, many different Latino/Latinx stories. I have a newfound determination to not only read more Queer Lit (which I kickstarted in 2015 with my year of only reading books with queer protagonist, aka my Queer Year) but to read more Latinx queer lit. I have already read a few and I have more lined up. Hopefully I will continue to talk about them on the internet, post reviews on my blog and make videos about them on my YouTube channel, to spread the queer joy.
Anytime anyone asks me why I do this, why I read these books or why I talk about them online, I'd just said it's what I enjoy but more recently I found a perfect quote that just about sums it up. It's by someone named Van Binfa and it goes: "A lot of the things that I do are half for myself because I need to do it, and half for other people because I feel there's a need for it out there." I do it for myself, I do it because it's important for me to have all these queer narratives in my soul but I also do it for other people, specifically queer people. I do it for the queer person who happens upon my videos and finds books that resonate with their soul. I do it for the queer people who can't find these books, I do it for the queer PoC who are having an even tougher time finding themselves in Queer Lit. I do it because I want them to know that, despite what they might think or feel, they are not alone.
—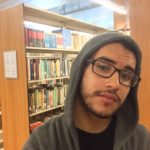 Joseph Jess, known online as The Boy Who Cried Books, is a book blogger, BookTuber, and chili cheese fries fanatic. Aside from witches or queer representation, he loves Buffy the Vampire Slayer and Harry Potter with all his heart, is an avid reader (obviously) and lover of clouds. Currently an English Lit major in Los Angeles, he hopes to one day find a career in a bibliophile field and share his love of books with the world and get a paycheck at the same time. You can find him at theboywhocriedbooks.com and @queerbrujo