by Tristina Wright 
The other day a friend sent me the link to a book review. It was short—maybe a few sentences—but one phrase in particular stood out to me:
"…too diverse for me."
The phrase was in reference to the main character's gender identity, skin color, and sexual orientation. Merely three points of identity. Count them on one hand. Three really isn't much when you think about it. Three pieces of candy. Three slices of pizza. Three books to read.
However, they were three-too-many different from the socially-constructed baseline of white, cisgender, heterosexual, abled, Christian (or similar morality structure) and more often than not, male.
Too much diversity.
It appears in reviews countless times—this idea that there's a default setting, and anything that clicks away from that setting is a step away from "normal" and, therefore, Other. At some point the author crossed the line from Acceptable Other to Way Too Much Other.
And yet, many exist at intersections of identity. For myself: bisexual, disabled, mentally ill. If I put me in a book, would she be labeled as "too diverse" or would she be accepted because she's also cisgender and white?
Queer YA already starts a click or three off the default because it covers gender identity, romantic orientation, and sexual orientation. When authors layer in race, disability, and religion, they end up with a spectrum of characters who represent the world as it actually exists. So why the pushback?
Because we're still defaulting in other ways.
Even with Queer YA growing in all genres across the category, MCs are largely still white and abled and cis. Great books exist, yes, which speak to a number of issues from coming out to navigating first loves and first times, but many of these characters speak to white, abled readers.
Is it because we're all so used to "too much diversity" as a complaint? The supposed understanding of The Default that making them queer is already pushing the boundary enough? Do we unconsciously, as readers and authors, fall into the same trap we espouse against on social media? Is it privilege in action?
I think it's all of them, to be honest.
Write what you know.
We've heard that bit of advice over and over again. But what happens when the majority of authors writing what they know are all white and abled and cis? You get a very monochromatic view of literature—even the queer lit. There's almost this understood "safe zone" when it comes to what queer books and which queer authors get the marketing pushes and the invites to panels and hit the lists and win the awards.
White, gay males. Tragic lesbians.
This is where Intersectionality becomes vitally important. And not just in books—but in authors, agents, acquiring editors, marketing personnel, publicity managers, copy editors, and interns. At publishers from the top down, more people need to be standing at crossroads instead of on the same one lonely stretch of highway we've walked for hundreds of years.
It's because of the monochrome that phrases like "too much diversity" continue to appear. Things like "I couldn't relate to the character" are seen as negatives instead of learning opportunities. The lonely kid who finally finds themselves in a story would go online and see scores of reviews complaining that the book is "too diverse" and "unrealistic" which translates to that lonely kid believing they're only trying to get attention or, even worse, they don't matter.
Queer YA has come a long way, yes, but it still has a very long way to go. "Too much diversity" needs to go away entirely. Normal needs to be a Black, bisexual girl who walks with a cane saving her city from aliens. A deaf Korean trans boy defeating the monsters. Biracial queers with disabilities as the heroes. A Latinx blind nonbinary MC cracking the puzzle and saving the planet from destruction. Giant blockbusters with non-white, non-abled, queer leads. The bestsellers list so dominated by these books that it's normal to see them.
Every kid to having so many books to pick from in which they find themselves in no matter who they are or where they come from or who they love. The dial of "normal" and "default" disappearing entirely.
Is it even possible?
Maybe I'm foolishly optimistic in thinking yes…eventually one day. One can hope.
And listen.
While queer YA needs more and more and more intersectionality, there are already many wonderful books on the shelves which need love and boosting and money. Publishers speak in numbers and dollar signs. Here are but a few of the available and upcoming titles in intersectional queer YA:
ARISTOTLE AND DANTE DISCOVER THE SECRETS OF THE UNIVERSE by Benjamin Alire Saenz
JERKBAIT by Mia Siegert
NOT OTHERWISE SPECIFIED by Hannah Moskowitz
HUNTRESS by Malinda Lo
LABYRINTH LOST by Zoraida Cordova
OTHERBOUND by Corinne Duyvis
EVERYTHING LEADS TO YOU by Nina LaCour
LIES WE TELL OURSELVES by Robin Talley
THE ABYSS SURROUNDS US by Emily Skrutskie
SHALLOW GRAVES by Kali Wallace
WHEN THE MOON WAS OURS by Anna-Marie McLemore
A DARKLY BEATING HEART by Lindsay Smith
THEY BOTH DIE AT THE END and MORE HAPPY THAN NOT by Adam Silvera
IT'S NOT LIKE IT'S A SECRET by Misa Siguira
27 HOURS by Tristina Wright
UNDER THE LIGHTS by Dahlia Adler
SOUND by Alexandra Duncan
ASSASSINS: DISCORD and ISLAND OF EXILES by Erica Cameron
THE GALLERY OF UNFINISHED GIRLS by Lauren Karcz
S. I MISS YOU by Jen Petro-Roy
—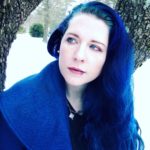 Tristina Wright is a blue-haired bisexual with anxiety and opinions. She's also possibly a mermaid, but no one can get confirmation. She fell in love with science fiction and fantasy at a young age and frequently got caught writing in class instead of paying attention. She writes stories about people who are heroes and monsters and sometimes both. She enjoys worlds with monsters and kissing. One spring day, Tristina married a nerd who can build her new computers and make the sun shine with his smile. Most days, she can be found drinking coffee from her favorite chipped mug and making up more stories for her wombfruit, who keep life exciting and unpredictable. Her debut novel 27 HOURS will be available Fall 2017 from Entangled Teen.

Still trying to figure out the mermaid thing.