As I write this, I'm listening to Halo by Beyonce. I kept hearing it in my head when I was at BEA and BookCon.
Everywhere I'm looking now
I'm surrounded by your embrace
My chest kept getting super tight at BEA and I couldn't understand why, until I started realizing I was becoming overwhelmed with everyone's love and support and belief. I had to keep reminding myself to breathe it all in.
The expo itself was so entirely overwhelming. People had kept telling me "it's bigger than you could possibly imagine" and I was sort of like "pshaw, uh huh." And then… then I got there. And it was bigger than I possibly could have imagined.
The major purpose of the expo for me was to connect with publishers. I was super super nervous to go up and start introducing myself, though! The first booth I went up to was Quirk Books. I was getting all set to introduce myself and hadn't even opened my mouth before Blair Thornburg, who was at the booth, was like "oh, you're Vee!" After that I felt a little braver approaching other booths!
I got to interview 5 amazing authors (here's some snippets & highlights of the interviews!):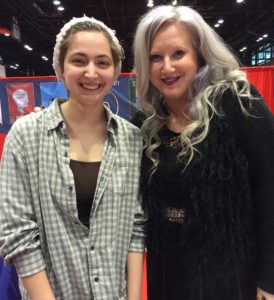 Leigh Bardugo, author of The Grisha Trilogy and Six of Crows. It was such an honor to be able to meet and interview her– Six of Crows is one of my like all time top ten favorite books. Honestly I was sort of blanking out the whole time because I was so psyched to just be doing it, but I think the interview went really well! It will be up for our June blogathon. 🙂
I have a pretty varied peer group, so it would've been weird to write teams or groups of people that didn't reflect that. So it was a pretty natural thing. I felt coming out of the Grisha Trilogy that I actually could've done a better job with representation in terms of, well, everything. The Grisha trilogy is a very white, very straight series of books. So I wanted to move away from that.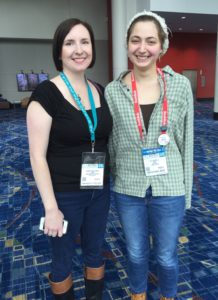 Audrey Coulhurst author of the forthcoming F/F YA Fantasy Of Fire and Stars– we chatted about horses, her first signing, and of course F/F fantasy!
Back when I was querying I had one agent tell me he wanted me to resubmit and he wanted the world to be homophobic, because he thought it would up the stakes if there was more risk for them to be together. But when I read Malinda Lo's book Ash, one of the things that really struck me about that book was that there wasn't any homophobia, it was just a world where it didn't really matter who you fell for, like it wasn't even really talked about. And for some reason it had never occurred to me, like "ooh! I could write a fantasy like that" and so that's… I very deliberately made the choice for it to not be about their gender but it's actually just about the fact that she wants to marry his sister instead, and that's really problematic.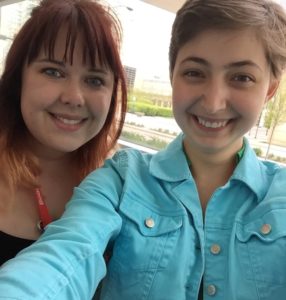 Julia Ember author of Unicorn Tracks– Julia was so so lovely! I got the best swag of the entire conference from her. 😀
Before I wrote my manuscript, and it's my first published manuscript but it is not in any way my first like written book– I hadn't actually written an F/F. Which is quite weird, because I mostly date women. So it was quite strange that I hadn't written an F/F and I really wanted to, and I had this idea that I wanted to write one with a happy ending because I'd just had a really traumatic break up and I needed something that was going to make me better while I wrote it.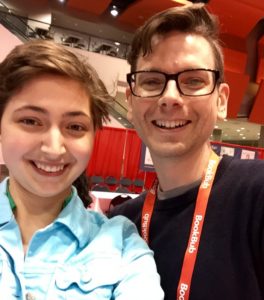 Caleb Roehrig, author of Last Seen Leaving– Caleb and I were both slightly food-deprived and wholly overwhelmed by the massiveness that was BEA, so some of our questions and answers were a little off the wall (frex: I learned some fun facts about the population living around Lake Superior). But we also discussed new narratives in LGBT+ YA and our favorite LGBTQIA+ YA books, so I'm really excited to share that interview.
When I was fifteen or sixteen, this is the book I wish I could've read. There was no such thing as gay interest YA back then– there was barely YA! And I thought, I was like a mystery/suspense junkie and I just wanted to read a book where somebody like me was the hero. And it's been so baffling to see how many books now address LGBT [characters], like the greater spectrum of queer characters, it's so cool, and it's so important! So it was important to me to contribute to that. When I was writing it I worried that no one would be interested in it because it wasn't just a coming out story or it wasn't just, yanno, when I was growing up, gay characters were always tragic figures, or like, offensive stereotypes played for comic relief, so I was kind of like… I don't know! But the reception's been incredible. The way that people've have responded to it has been really positive.
Also:
Listening to @findmereading 's BEA interview with @MikalebRoehrig and I am SO CHARMED. Sneak peek: "Rrrrrrrr" "arrrrrrrr?" "rrrrRRRRRrrr" A+

— Maria (@morehappygirls) May 30, 2016
Anna-Marie McLemore author of the forthcoming When the Moon Was Ours. I was even more overwhelmed that day than I was the day before, so Anna-Marie very kindly put up with my staring off in the distance for minutes on end trying to remember what on earth I was going to say. I also got the first signed ARC of When the Moon Was Ours! I already had quite the haul and Anna-Marie was like "I almost feel bad giving you another book to take home" and I was like "no, literally you don't understand I would get rid of every single one of these books in order to take this one home."
I had to get that voice out of my head that said brown girls, queer girls, trans guys, of color guys didn't get happy endings. I had to get that voice out of my head because it was there. It was there with me when I was falling in love and it stayed with me for a long time. So, I had to get out of the place of thinking that I had to impose about what the world had told me about my life onto these stories.
Michael Waters and I went to the Simon & Schuster party, and then!! (!!!!!!!!) The People Magazine party! Jennifer Weiner invited me after what happened on Twitter, and I'm so so grateful to have had the opportunity! It was such an incredible but surreal experience. The party was held on the top floor of this ridiculously fancy hotel. At one point Maggie Stiefvater just walked in and we were like "UM, okay." And we were pretty sure we saw Jodi Picoult, too. So, yanno, whatever. It's cool. A highlight of the night was meeting Sarah Dotts Barley, the editor at Flatiron, who published the marvelous book If I Was Your Girl. 
Other highlights:
Laurie Halse Anderson kissed me on the cheek when I went to her signing (which basically means we're married now, right? Don't take this away from me).
Shannon Hale was the sweetest. She signed my book "To Vee, who is a super hero" so basically my heart is just </3
The We Need Diverse Books: Love & Loss panel was the best panel I have ever, ever been to. Everyone was such a delight to listen to and said so many incredibly smart things. Edi Campbell did an awesome recap of it, which I highly recommend checking out!
I picked up a number of fantastic looking LGBTQIA+ YA, and I'm so looking forward to reading all of it! 
One of my fav parts of #BEA16?

Friends gave @LaAnnaMarie my number and the games begun.

This went on for a while. pic.twitter.com/rd7ucqIa4Y

— Eric Smith (@ericsmithrocks) May 15, 2016
Eric Smith's phone adventures! After I interviewed Anna-Marie, she told me she'd gotten Eric Smith's number without him knowing and was spamming him with ridiculous pictures. On the last day when I was on my way out of the Expo floor I walked by Eric Smith while he was talking to a group of people about someone having gotten his phone number and guessing who it might be. After I walked past them I stopped, turned around, came back and said "I know who has your number and it's not John Corey Whaley" then turned around and walked away again. So, yanno, if you ever need advice on how to social, I'm here for you.
I got to dissect and discuss my current WIP with Heather Anastasiu on the car trip back (she was my carpool buddy!) and for the first time in months I've been taking time every night to write.
David Levithan. 'nuff said.
Standing in line for my last signing (for Nicola Yoon's The Sun is Also a Star!) I kept tearing up. I couldn't stop reliving all of the amazing things that had happened to me the past few days. I did my best breathing in all of the amazingness.
I'm so ridiculously grateful for everyone who supported me on the way to get to BEA. I'm so grateful to everyone (friends and strangers!) who donated, who shared my GoFundMe, who told me that the haters could suck it, who greeted me excitedly at BEA. You made this one of the best experiences of my life, and one of the most motivating.
Last year, my mother was diagnosed with metastasized breast cancer. I've been her primary caretaker, which means dropping everything in my life when she's having a bad day and being consistently bogged down in frustration or fear. Being a primary caretaker has made me unable to do many of the things I've wanted to do with GayYA. This whole year I've felt useless and pathetic, and I've felt that GayYA has been useless and pathetic.
Because of all your support, I now know others don't see it that way. Because of your support I feel so rejuvenated and am so ready to get the heck to work on all of the GayYA things! I've decided to take a gap year before I go to college, and one of the main things I want to focus on is building GayYA into the best resource possible. I want to do everything I can to push for more and better LGBTQIA+ YA and to make sure it's getting to all the teens that need it. LGBTQIA+ YA changed my life– more than that, it actually saved my life. And I know it can do the same for other teens, as long as we keep getting it published and getting it out to them.
One of the really interesting things was seeing the publishing world for how it truly is for the first time. I was discussing this with some of my friends– in our little corner of the internet you forget just how white, straight, cis and able-bodied the publishing world is. It can often seem like there's nothing left to fight against, and it's just confusing why things aren't better yet, because everyone you interact with on a daily basis already gets it and is pushing for more. But when you're at a place like BEA and actually interacting with the publishing world you're like… wow. Diversity advocates are not the majority, and we still have so much work left to do.
I learned so much and pushed myself places I wouldn't have been able to go before during BEA. I made so many valuable connections and now understand how to connect with publishers so much better than before. I'm going to do all I can to give everything that was given to me back into the community. BEA was an incredible incredible experience, and I am so grateful.
So thank you. Thank you so so much.