Welcome back to our book list series! We get many asks on tumblr for books with a certain identity/genre/etc, and we've started posting our replies on the blog as well as on tumblr. If you are looking for a certain kind of LGBTQIA+ book, send us an ask on tumblr! Here is the ask we got this week:
Anonymous said: Sorry for the very specific ask but if you ever have time, could you possibly list s few books that has queer Asians (particularly females) as protagonists? If that's too specific im sorry!
Please don't apologize! It's a joy to put these lists together, and we absolutely love getting asks like this. We were able to put together a list of 27 titles with LGBTQIA+ Asian characters in YA. Thank you so much to our followers on Twitter who provided so many fantastic recommendations!
Disclaimer: We have not read many of these books and therefore cannot speak to the quality of writing or representation. Please take this list as "everything we could find" rather than "what we recommend." (That said, if you've read one of these books and believe it to be problematic or offensive, please leave a comment or email me at vee.gayya@gmail.com)
Realistic:
Flipping For Him by Jeff Adams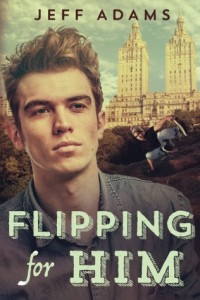 Finding a guy was easy. Keeping him might be harder than running up a tree.
Kevin McCollum is a high school junior with the usual things on his mind: getting good grades, having fun, and finding a boyfriend. The last one was eluding him until he noticed the "parkour guy." After several days of pretending to study while watching the attractive teen jump on rocks, run up trees, and do flips, Shin finally comes over to introduce himself. As they start dating, Kevin should've known it wouldn't be that easy.
Shin's parents only want their son to date Japanese boys. When cultures clash and pressures mount, Kevin has no idea how to subvert traditions and Shin's parents to keep the boy he cares about.
Kevin will need to clear some tricky obstacles to make his modern love story a reality.
Under the Lights by Dahlia Adler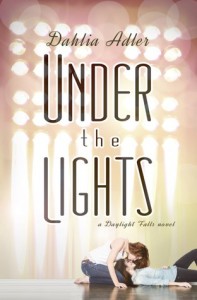 Josh Chester loves being a Hollywood bad boy, coasting on his good looks, his parties, his parents' wealth, and the occasional modeling gig. But his laid-back lifestyle is about to change. To help out his best friend, Liam, he joins his hit teen TV show, Daylight Falls … opposite Vanessa Park, the one actor immune to his charms. (Not that he's trying to charm her, of course.) Meanwhile, his drama-queen mother blackmails him into a new family reality TV show, with Josh in the starring role. Now that he's in the spotlight—on everyone's terms but his own—Josh has to decide whether a life as a superstar is the one he really wants.
Vanessa Park has always been certain about her path as an actor, despite her parents' disapproval. But with all her relationships currently in upheaval, she's painfully uncertain about everything else. When she meets her new career handler, Brianna, Van is relieved to have found someone she can rely on, now that her BFF, Ally, is at college across the country. But as feelings unexpectedly evolve beyond friendship, Van's life reaches a whole new level of confusing. And she'll have to choose between the one thing she's always loved … and the person she never imagined she could.
Vanished by E.E. Cooper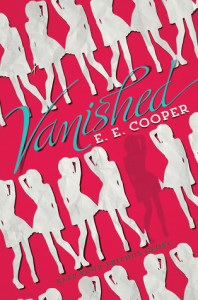 Kalah knows better than to fall for Beth Taylor…but that doesn't stop her from falling hard and falling fast, heart first into a sea of complications.
Then Beth vanishes. She skips town on her eighteenth birthday, leaving behind a flurry of rumors and a string of broken hearts. Not even Beth's best friend, Britney, knows where she went. Beth didn't even tell Kalah good-bye.
One of the rumors links Beth to Britney's boyfriend, and Kalah doesn't want to believe the betrayal. But Brit clearly believes it—and before Kalah can sort out the truth, Britney is dead.
When Beth finally reaches out to Kalah in the wake of Brit's suicide, Kalah wants to trust what Beth tells her. But she's swiftly realizing that nothing here is as it seems. Kalah's caught in the middle of a deadly psychological game, and only she can untangle the deceptions and lies to reveal the unthinkable truth.
If You Could Be Mine by Sara Farizan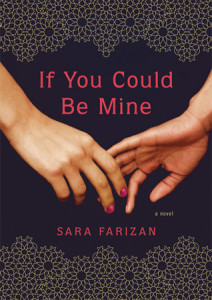 Seventeen-year-old Sahar has been in love with her best friend, Nasrin, since they were six. They've shared stolen kisses and romantic promises. But Iran is a dangerous place for two girls in love—Sahar and Nasrin could be beaten, imprisoned, even executed if their relationship came to light.
So they carry on in secret—until Nasrin's parents announce that they've arranged for her marriage. Nasrin tries to persuade Sahar that they can go on as they have been, only now with new comforts provided by the decent, well-to-do doctor Nasrin will marry. But Sahar dreams of loving Nasrin exclusively—and openly.
Then Sahar discovers what seems like the perfect solution. In Iran, homosexuality may be a crime, but to be a man trapped in a woman's body is seen as nature's mistake, and sex reassignment is legal and accessible. As a man, Sahar could be the one to marry Nasrin. Sahar will never be able to love the one she wants, in the body she wants to be loved in, without risking her life. Is saving her love worth sacrificing her true self?
Tell Me Again How a Crush Should Feel by Sara Farizan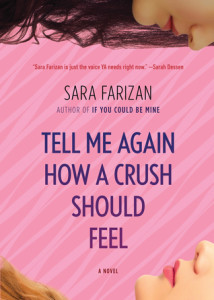 High-school junior Leila has made it most of the way through Armstead Academy without having a crush on anyone, which is something of a relief. Her Persian heritage already makes her different from her classmates; if word got out that she liked girls, life would be twice as hard. But when a sophisticated, beautiful new girl, Saskia, shows up, Leila starts to take risks she never thought she would, especially when it looks as if the attraction between them is mutual.
Struggling to sort out her growing feelings and Saskia's confusing signals, Leila confides in her old friend, Lisa, and grows closer to her fellow drama tech-crew members, especially Tomas, whose comments about his own sexuality are frank, funny, wise, and sometimes painful. Gradually, Leila begins to see that almost all her classmates are more complicated than they first appear to be, and many are keeping fascinating secrets of their own.
Bright Lines by Nandwi Tandini Islam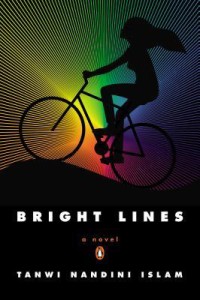 A vibrant debut novel, set in Brooklyn and Bangladesh, Bright Linesfollows three young women and one family struggling to make peace with secrets and their past.
For as long as she can remember, Ella has longed to feel at home. Orphaned as a child after her parents' murder, and afflicted with hallucinations at dusk, she's always felt more at ease in nature than with people. She traveled from Bangladesh to Brooklyn to live with the Saleems: her uncle Anwar, aunt Hashi, and their beautiful daughter, Charu, her complete opposite. One summer, when Ella returns home from college, she discovers Charu's friend Maya—an Islamic cleric's runaway daughter—asleep in her bedroom. 
As the girls have a summer of clandestine adventure and sexual awakenings, Anwar—owner of a popular botanical apothecary—has his own secrets, threatening his thirty-year marriage. But when tragedy strikes, the Saleems find themselves blamed. To keep his family from unraveling, Anwar takes them on a fated trip to Bangladesh, to reckon with the past, their extended family, and each other.
Love is the Higher Law by David Levithan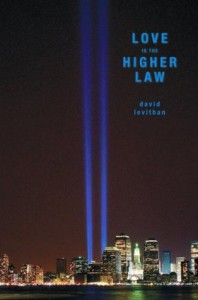 First there is a Before, and then there is an After….

The lives of three teens—Claire, Jasper, and Peter—are altered forever on September 11, 2001. Claire, a high school junior, has to get to her younger brother in his classroom. Jasper, a college sophomore from Brooklyn, wakes to his parents' frantic calls from Korea, wondering if he's okay. Peter, a classmate of Claire's, has to make his way back to school as everything happens around him.
Here are three teens whose intertwining lives are reshaped by this catastrophic event. As each gets to know the other, their moments become wound around each other's in a way that leads to new understandings, new friendships, and new levels of awareness for the world around them and the people close by.
David Levithan has written a novel of loss and grief, but also one of hope and redemption as his characters slowly learn to move forward in their lives, despite being changed forever.
Ball Caps and Khakis by Jo Ramsey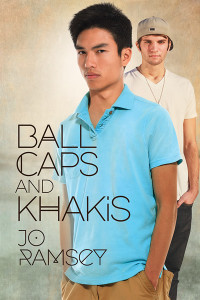 Man-Shik "Manny" Park, grandson of strict Korean immigrants, is trying to protect his friend Jim Frankel from bullies who don't think Jim should be allowed to live in Ludington, Michigan, let alone have any friends. Manny is determined to stand by Jim, even if Jim isn't willing to defend himself.
But Jim's problems aren't the only ones facing Manny. Against his parents' wishes, Manny yearns to be an artist. He's also more attracted to guys than girls, and he's asexual. Only Jim knows these secrets, and Manny knows a few of Jim's too.
Bonded by their shared confidences, Manny supports Jim after he's accused of sending explicit Facebook messages to middle school girls, including Manny's sister. While Manny sets out to prove Jim's innocence, things go from bad to worse. Soon after the incident, Manny and Jim receive intimidating messages, and Jim is put in danger. To help his friend, Manny risks everything to try to learn who's behind the threats and why they want to destroy Jim's life.
The Necessary Hunger by Nina Revoyr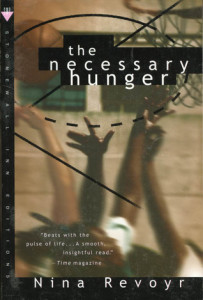 As a star basketball player in her last year of high school, Nancy Takahiro's life is about to change forever. Faced with the college recruitment process and unsure of where her skill will take her, Nancy is not prepared for meeting Raina Webber, an All-State shooting guard whose passion for basketball is matched only by her talent.
When Nancy's father and Raina's mother move in together, the girls are faced with the challenge of negotiating their already intense friendship and rivalry. As Nancy's love for Raina grows and both prepare to leave inner city neighborhood that has nurtured them, they find themselves looking toward a future that is no longer easily defined.
Set against a backdrop of racial tension between the Asian American and African American communities of Los Angeles and infused with tenderness and passion. The Necessary Hungerexplores not only the intricacies of the game of basketball, but also the very nature of the relationships young women create in the face of the odds that are stacked against them.
Boyfriends With Girlfriends by Alex Sanchez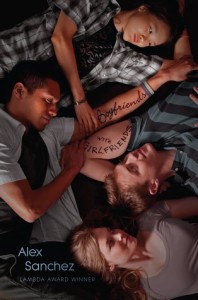 Lance has always known he was gay, but he's never had a real boyfriend. Sergio is bisexual, but his only real relationship was with a girl. When the two of them meet, they have an instant connection — but will it be enough to overcome their differences?
Allie's been in a relationship with a guy for the last two years — but when she meets Kimiko, she can't get her out of her mind. Does this mean she's gay? Does it mean she's bi? Kimiko, falling hard for Allie, and finding it impossible to believe that a gorgeous girl like Allie would be into her, is willing to stick around and help Allie figure it out.
Boyfriends with Girlfriends is Alex Sanchez at his best, writing with a sensitive hand to portray four very real teens striving to find their places in the world — and with each other.
Talking of Muskaan by Himanjali Sankar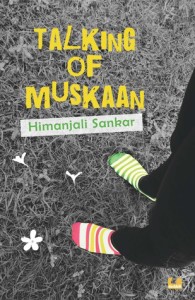 What would you do if you didn't fit in?
Muskaan is in hospital, fighting for her life.
Three classmates—her former best friend Aaliya, the hottie Prateek, and the class topper Subhojoy—talk about Muskaan, and themselves. About school, home and the larger world, the school bus and the basketball court; about secrets that become burdens. And through their stories are revealed the twists and turns that drove Muskaan to try to kill herself.
Funny and tragic by turns, Talking of Muskaan is a warm, moving novel about life and death and the young people caught in between.
Swimming in the Monsoon Sea by Shyam Selvadurai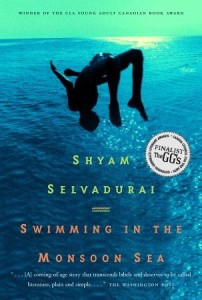 The setting is Sri Lanka, 1980, and it is the season of monsoons. Fourteen-year-old Amrith is caught up in the life of the cheerful, well-to-do household in which he is being raised by his vibrant Auntie Bundle and kindly Uncle Lucky. He tries not to think of his life "before," when his doting mother was still alive. Amrith's holiday plans seem unpromising: he wants to appear in his school's production of Othello and he is learning to type at Uncle Lucky's tropical fish business. Then, like an unexpected monsoon, his cousin arrives from Canada and Amrith's ordered life is storm-tossed. He finds himself falling in love with the Canadian boy.Othello, with its powerful theme of disastrous jealousy, is the backdrop to the drama in which Amrith finds himself immersed.
Shyam Selvadurai's brilliant novels, Funny Boy and Cinnamon Gardens,have garnered him international acclaim. In this, his first young adult novel, he explores first love with clarity, humor, and compassion.
Skim by Mariko and Jillian Tamaki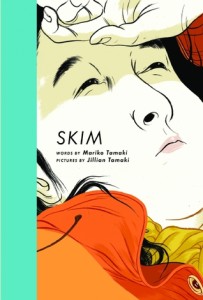 Heartbreakingly funny, moving and vibrantly drawn, Skim is an extraordinary book–a smart and sensitive graphic novel of the highest literary and artistic quality, by and about young women.
"Skim" is Kimberly Keiko Cameron, a not-slim, would-be Wiccan goth who goes to a private girls' school. When Skim's classmate Katie Matthews is dumped by her boyfriend, who then kills himself, the entire school goes into mourning overdrive. As concerned guidance counselors provide lectures on the "cycle of grief," and the popular clique starts a new club (Girls Celebrate Life!) to bolster school spirit, Skim sinks into an ever-deepening depression.
And falling in love only makes things worse…
Suicide, depression, love, being gay or not, crushes, cliques, and finding a way to be your own fully human self–are all explored in this brilliant collaboration by cousins Mariko and Jillian Tamaki. An edgy, keenly observed and poignant glimpse into the heartache of being young.
(You) Set Me On Fire by Mariko Tamaki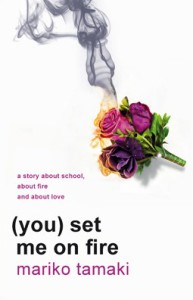 This is a story about college, about fire and also about love.

Allison Lee is seventeen and off to college in the fall. So far, she's been in love once (total catastrophe) and on fire twice (also pretty bad). Both love and fire have left their scars.
Looking a little more burnt chicken and a little less radiant phoenix, Allison takes up residence in Dylan Hall (a.k.a. Dyke Hall) at St. Joseph's College, where she discovers the true gift of freshman year: the opportunity to reinvent yourself. Miles away from the high school she's happy to leave behind, her all-female dorm is a strange new world, home to new social circles and challenges. Allison still feels like the odd girl out…until Shar appears. Beautiful and blinding, Shar quickly becomes the sun at the centre of Allison's universe, drawing her in with dangerous allure.
Will Allison get burned again? And, if she does, what kind of scars will she earn this time?
Afterworlds by Scott Westerfeld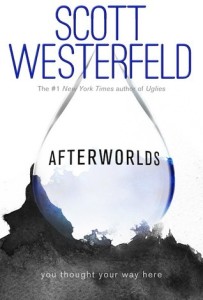 Darcy Patel has put college and everything else on hold to publish her teen novel, Afterworlds. Arriving in New York with no apartment or friends she wonders whether she's made the right decision until she falls in with a crowd of other seasoned and fledgling writers who take her under their wings…
Told in alternating chapters is Darcy's novel, a suspenseful thriller about Lizzie, a teen who slips into the 'Afterworld' to survive a terrorist attack. But the Afterworld is a place between the living and the dead and as Lizzie drifts between our world and that of the Afterworld, she discovers that many unsolved – and terrifying – stories need to be reconciled. And when a new threat resurfaces, Lizzie learns her special gifts may not be enough to protect those she loves and cares about most.
Money Boy by Paul Yee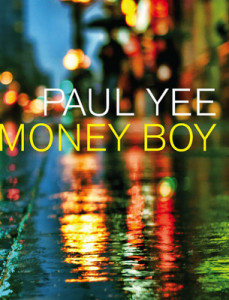 Ray Liu knows he should be happy. He lives in a big suburban house with all the latest electronic gadgets, and even finds plenty of time to indulge in his love of gaming. He needs the escape. It's tough getting grades that will please his army veteran father, when speaking English is still a struggle. And he can't quite connect with his gang at high school — immigrants like himself but who seem to have adjusted to North American life more easily. Then comes his father accesses Ray's internet account, and discovers Ray has been cruising gay websites. Before Ray knows what has hit him, his belongings have been thrown on the front lawn, and he has been kicked out. Angry, defiant, Ray heads to downtown Toronto. In short order he is robbed, beaten up and seduced, and he learns the hard realities of life on the street. Could he really sell himself for sex? Lots of people use their bodies to make money — athletes, actors, models, pop singers. If no one gets hurt, why should anyone care?
Speculative:
To Stand in the Light by Kayla Bashe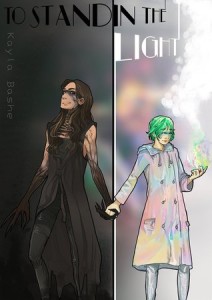 Answering a distress call in the farthest reaches of the galaxy, teenage half-demon Shadow finds a scene of carnage where their superheroine foster parents once lived. Only one thing holds them back from seeking death: the unexpected discovery of a small, scruffy girl. Bean, an acid-green-haired high school dropout, is feral and whimsical by turns. As they travel home, she slowly grows to trust Shadow, and wriggles into their closed-off heart.
Dangerous secrets and painful memories drive Shadow away from New York again and again, but their friendship with Bean only grows. When they return home, though, it's to a grown-up Bean who finds herself falling for her former mentor- and tumbling headlong into much bigger trouble than anyone suspects…
A Hero at the End of the World by Erin Claiborne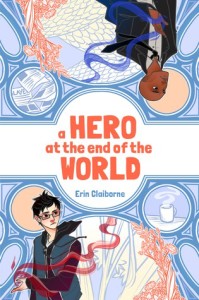 Sixteen year-old Ewan Mao knows one thing for certain: according to prophecy, it's his destiny to kill the evil tyrant whose dark reign has terrorized Britain. Although he's just a normal boy, deep down Ewan is confident that he has exactly what it takes to be a hero. But when Ewan's big moment comes, he freezes. His best friend, the clever and talented Oliver Abrams, defeats the villain for him, and Ewan's bright future crumbles before his eyes.
Five years later, Oliver has a job as an Unusual in the government's Serious Magical Crimes Agency, the life he and Ewan always dreamed of. But a routine investigation leads him and his partner, Sophie Stuart, to uncover a dangerous and powerful cult… one that seems to have drawn his former best friend into a plot to end the world.
A deftly plotted, hysterically funny take on Chosen One narratives, A Hero at the End of the World expertly walks the fine line between satire and sincerity. Its sensitive depiction of a broken friendship and wry take-down of unfairly great expectations will appeal to all readers of modern fantasy.
The Bane Chronicles by Cassandra Clare
Fans of The Mortal Instruments and The Infernal Devices can get to know warlock Magnus Bane like never before in this collection of New York Times bestselling tales, in print for the first time with an exclusive new story and illustrated material.
This collection of eleven short stories illuminates the life of the enigmatic Magnus Bane, whose alluring personality, flamboyant style, and sharp wit populate the pages of the #1 New York Times bestselling series, The Mortal Instruments and The Infernal Devices.
Not Your Sidekick by C.B. Lee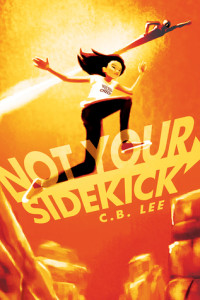 Welcome to Andover… where superpowers are common, but internships are complicated. Just ask high school nobody, Jessica Tran. Despite her heroic lineage, Jess is resigned to a life without superpowers and is merely looking to beef-up her college applications when she stumbles upon the perfect (paid!) internship—only it turns out to be for the town's most heinous supervillain. On the upside, she gets to work with her longtime secret crush, Abby, who Jess thinks may have a secret of her own. Then there's the budding attraction to her fellow intern, the mysterious "M," who never seems to be in the same place as Abby. But what starts as a fun way to spite her superhero parents takes a sudden and dangerous turn when she uncovers a plot larger than heroes and villains altogether. (Expected publication: September 8th 2016 by Duet Books)
Seven Tears At High Tide by C.B. Lee
The sea holds many secrets …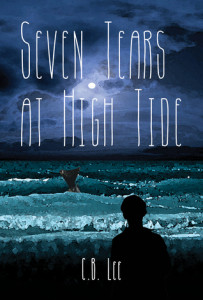 Kevin Luong walks to the ocean's edge with a broken heart. Remembering a legend his mother told him, he lets seven tears fall into the sea. "I just want one summer—one summer to be happy and in love."
Instead, he finds himself saving a mysterious boy from the Pacific—a boy who later shows up on his doorstep professing his love. What he doesn't know is that Morgan is a selkie, drawn to answer Kevin's wish.
As they grow close, Morgan is caught between the dangers of the human world and his legacy in the selkie community to which he must return at summer's end.
Huntress by Malinda Lo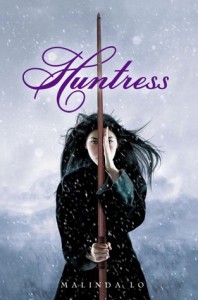 Nature is out of balance in the human world. The sun hasn't shone in years, and crops are failing. Worse yet, strange and hostile creatures have begun to appear. The people's survival hangs in the balance.
To solve the crisis, the oracle stones are cast, and Kaede and Taisin, two seventeen-year-old girls, are picked to go on a dangerous and unheard-of journey to Tanlili, the city of the Fairy Queen. Taisin is a sage, thrumming with magic, and Kaede is of the earth, without a speck of the otherworldly. And yet the two girls' destinies are drawn together during the mission. As members of their party succumb to unearthly attacks and fairy tricks, the two come to rely on each other and even begin to fall in love. But the Kingdom needs only one huntress to save it, and what it takes could tear Kaede and Taisin apart forever.
The exciting adventure prequel to Malinda Lo's highly acclaimed novel Ash is overflowing with lush Chinese influences and details inspired by the I Ching, and is filled with action and romance.
The Abyss Surrounds Us by Emily Skrutskie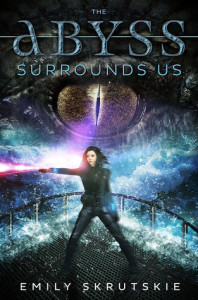 For Cassandra Leung, bossing around sea monsters is just the family business. She's been a Reckoner trainer-in-training ever since she could walk, raising the genetically-engineered beasts to defend ships as they cross the pirate-infested NeoPacific. But when the pirate queen Santa Elena swoops in on Cas's first solo mission and snatches her from the bloodstained decks, Cas's dream of being a full-time trainer seems dead in the water.
There's no time to mourn. Waiting for her on the pirate ship is an unhatched Reckoner pup. Santa Elena wants to take back the seas with a monster of her own, and she needs a proper trainer to do it. She orders Cas to raise the pup, make sure he imprints on her ship, and, when the time comes, teach him to fight for the pirates. If Cas fails, her blood will be the next to paint the sea.
But Cas has fought pirates her entire life. And she's not about to stop.
Shallow Graves by Kali Wallace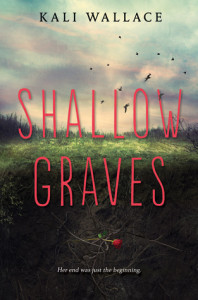 Breezy remembers leaving the party: the warm, wet grass under her feet, her cheek still stinging from a slap to her face. But when she wakes up, scared and pulling dirt from her mouth, a year has passed and she can't explain how.
Nor can she explain the man lying at her grave, dead from her touch, or why her heartbeat comes and goes. She doesn't remember who killed her or why. All she knows is that she's somehow conscious—and not only that, she's able to sense who around her is hiding a murderous past.
Haunted by happy memories from her life, Breezy sets out to find answers in the gritty, threatening world to which she now belongs—where killers hide in plain sight, and a sinister cult is hunting for strange creatures like her. What she discovers is at once empowering, redemptive, and dangerous.
Webcomics:
Valley of the Silk Sky by Dylan Edwards
Valley of the Silk Sky is a queer YA science fiction webcomic, written and drawn by Dylan Edwards. VoSS chronicles the adventures of a crew of queer scientists as they search for new medicinals and try to avoid being eaten in the often-dangerous Pocalo Valley.
The comic updates on Wednesdays, with informational world-building posts in between each chapter.
Witchy Comic by Ariel Ries
In the witch kingdom Hyalin, the strength of your magic is determined by the length of your hair. Those that are strong enough are conscripted by the Witch Guard, who enforce the law in peacetime and protect the land during war. However, those with hair judged too long are pronounced enemies of the kingdom, and annihilated. This is called a witch burning.
Witchy is the story of a young witch named Nyneve. Terrified of the Guard, and of being enlisted, she hides her long hair from everyone but her mother.
Witchy updates every Monday (or Tuesday, depending where you live).
Some Did Rest by Niki Smith
"In the aftermath, the government declared that parents who had lost their only child would receive free treatment to reverse vasectomies and tubal ligations conducted by family planning authorities."
Born under a strict one-child policy, a generation of children grow up in the shadow of siblings they never knew, and with whom they can never hope to compete.
This comic was originally inspired by the thousands of students killed in the 2008 Sichuan earthquake. China's "one child policy" is most well known, but more than a few countries have imposed population control and compulsory sterilization on their citizens. Some Did Rest explores the lasting impact of a natural disaster in such a society.
SOME DID REST updates every Monday.
Moon Cakes by Suzanne Walker and Wendy Xu
Long-lost childhood crushes Nova Huang and Tam Lang have reunited for the first time in ten years. They have a lot more to deal with this time than just being the only two Asian kids in school (who also happen to both have magical abilities). The comic focuses on their relationship as they struggle through bills, family, and weird horse demons in ways that only a witch and a werewolf can.
Triadin – The Education of Rogar
Do you know of another YA book or graphic novel with a major LGBTQIA+ Asian character? Drop your recommendations in the comments below!