We're thrilled to be hosting the last post of Pat Schmatz's book release blog tour. Pat's new book, Lizard Radio, is out in stores today! You should make sure and pick up a copy– not only is it a phenomenal read, it is also our pick for GayYA's October Book Club. 😀
Check out all the stops on the blog tour, and enter the giveaway here!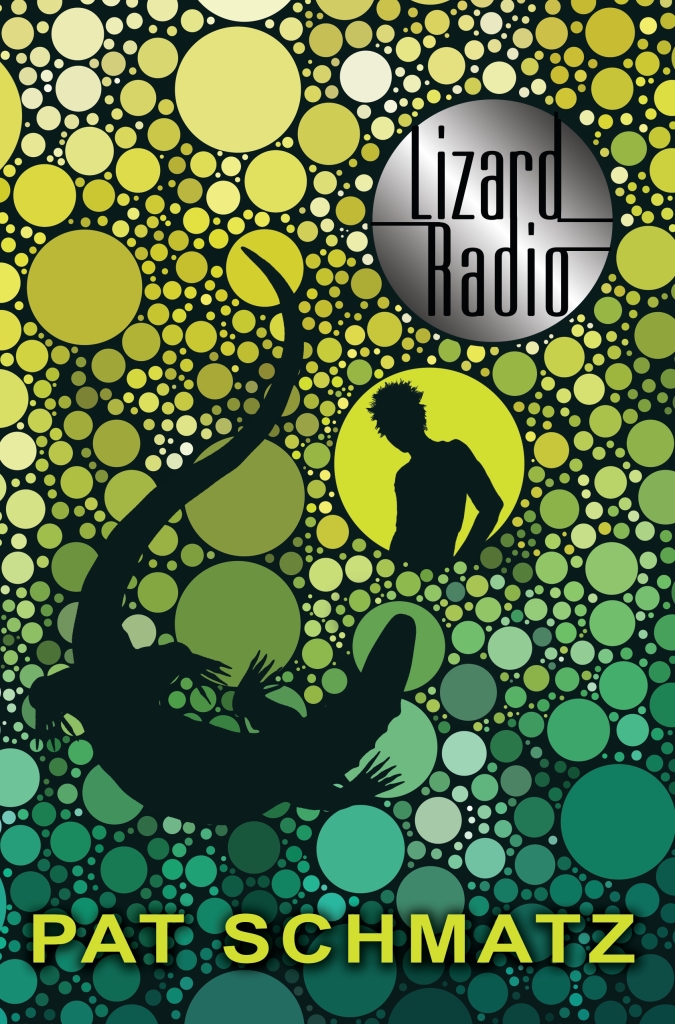 Fifteen-year-old bender Kivali has had a rough time in a gender-rigid culture. Abandoned as a baby and raised by Sheila, an ardent nonconformist, Kivali has always been surrounded by uncertainty. Where did she come from? Is it true what Sheila says, that she was deposited on Earth by the mysterious saurians? What are you? people ask, and Kivali isn't sure. Boy/girl? Human/lizard? Both/neither?

Now she's in CropCamp, with all of its schedules and regs, and the first real friends she's ever had. Strange occurrences and complicated relationships raise questions Kivali has never before had to consider. But she has a gift—the power to enter a trancelike state to harness the "knowings" inside her. She has Lizard Radio. Will it be enough to save her? A coming-of-age story rich in friendships and the shattering emotions of first love, this deeply felt novel will resonate with teens just emerging as adults in a sometimes hostile world.
---
Hello Gay YA. When I started writing Lizard Radio, you did not yet exist. Now you do, and I do, and the world is changing.
I cannot tell you what a relief it was to write a book about a teen who is like me. Kivali is not me, but the ease of writing a teen with much of my core, essential experience of the world was amazing. It was a gift I could not have imagined when I started writing for teens at the age of 24.
I was out as a lesbian but I didn't have a word for my experience of gender. Some words came close – androgynous, butch, dyke, tomboy – but they weren't quite right. Radical feminism gave me a solid political and emotional foundation for my personal life, but when it came to working with kids at that time, anything gay was poison. I was carefully closeted in my writing, and kept any queer content in code.
I didn't have to do that. I could have been fully myself from the start. But you see, I wanted to break into the business. I wanted to sell books. I didn't know how to write my own experience in a way that people would buy or read. I thought it would always be like that.
It's not like that anymore. It really isn't.
I first heard Kathleen and Vee of Gay YA read at an open mic for young writers almost a year ago. They blew me away. Their writing was technically terrific, yes. But the words they were writing? That's what got my attention. They were truly fierce. They made me want to be better, to do better. They made me write better.
I am so grateful for this generation. I can't begin to tell you. They are giving me, at age 53, inspiration to keep learning and blasting away old ideas, to speak my truth, to try and be as fierce and bold as they are. I don't think I'll ever be able to do it. I'm too encumbered by years of silencing myself, of being silenced by others. But I can try.
Lizard Radio is me standing over here on the island of my youth, waving furiously at the queer kids and trans kids and the young activists of all kinds – hollering to them "Hey, I'm here! See me? I'm oldish now, but I was once like you are and I'm still like you are and you are raising me these days as much as I'm raising you and THANK YOU."
This world is still difficult, still dangerous. As of this writing in mid-August, 13 trans people have been murdered in the U.S., almost all people of color under the age of 30. Then there are all the young people who kill themselves, or those who shut up, duck and cover, pass when they can and stay silent when they can't, those who are just trying to survive childhood and high school and emerge into the world unscathed. It's safer on Main Street now, but not in the back alleys. We have some new safety in numbers, but we're also a threat in our numbers and the backlash is wicked.
My dream is that Lizard Radio helps at least one young person take a step toward living their truth, knowing they should and will be loved and appreciated for exactly who they are (whatever and whoever that may be). This book is my first uncoded effort to stand up and say, "Hello my young friends, I am here and I stand with you, bringing all of my privilege of race and education and the security that comes with the invisibility and respectability of aging. We need you. I need you. Bring on your activism, your social media networking, your voices and your truth. Don't let them shut you up, okay? Do what you need to stay safe, but do not let them shut you up. At the very least, speak the truth in your own mind until the day comes when you're safe to speak it out loud. Then speak it, and speak it loud."
—
Pat grew up in rural Wisconsin and has lived in Michigan, California, and Minnesota. In addition to writing, she's interested in language study (ASL, Italian, Japanese and Spanish), drawing/cartooning, travel and anything outdoors. She occasionally teaches writing on-line and in person, and is always happy for a chance to visit a middle school or high school classroom. Her #1 favorite hobby, relaxation and adventure has been the same since she was little – stories. Stories in books, music, art, dance – it's all about the story. Find her on Twitter or Facebook.