We're so happy to be revealing the cover of Pat Schmatz's newest novel, Lizard Radio! Lizard Radio will be released September 2015. I could go on for quite awhile about how excited I am for this book, but I think you'll experience the excitement yourself, as you learn more about this book, without any prompting.
First, here is the newly released blurb! FEAST YOUR EYES.
Lizard Radio by Pat Schmatz:
Fifteen-year-old bender Kivali has had a rough time in a gender-rigid culture. Abandoned as a baby and raised by Sheila, an ardent nonconformist, Kivali has always been surrounded by uncertainty. Where did she come from? Is it true what Sheila says, that she was deposited on Earth by the mysterious saurians? What are you? People ask, and Kivali isn't sure. Boy/girl? Human/lizard? Both/neither?
Now she's in CropCamp, with all of its schedules and regs, and the first real friends she's ever had. Strange occurrences and complicated relationships raise questions Kivali has never before had to consider. But she has a gift—the power to enter a trancelike state to harness the "knowings" inside her. She has Lizard Radio. Will it be enough to save her? A coming-of-age story rich in friendships and the shattering emotions of first love, this deeply felt novel will resonate with teens just emerging as adults in a sometimes hostile world.
Aaaaaaaaaaaaaaaaaaaaaaaaaaaaaaaaaaaaaaaaaaaaaaaaaaaaaaaaaaaaaaaaaaaaaannnnnnnnnnnnnddd………….
here is the cover!!!!!!!!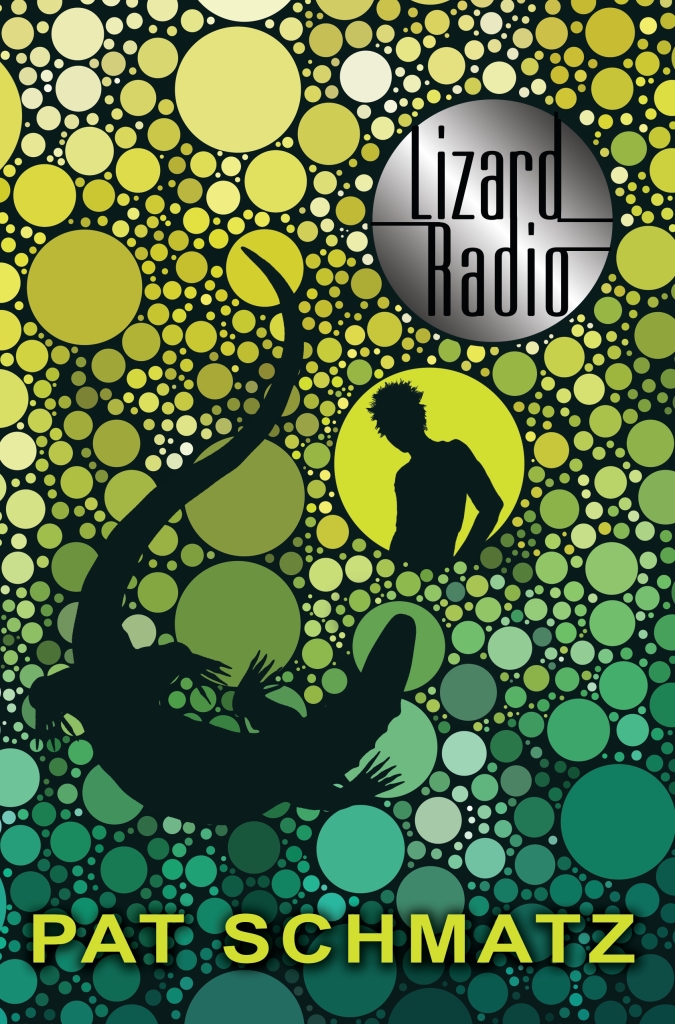 Eeeee! I love it a lot! For some reason I have always been a huge fan of circles, so this design pleases me greatly. And I LOVE the silhouettes and the colors and aaaaugh. I'm looking forward to having this on my shelf.
I also got the chance to ask Pat a few questions!
Vee: What can you tell us about Lizard Radio? What should we expect?
Pat Schmatz: In Lizard Radio, you can expect many blurred lines. Kivali Kerwin, the protagonist, duels with CropCamp authority on questions of independence, power and leadership. New friendships and feelings push Kivali to question everything about herself, her background, her nature and her future.
V: Talk to us a bit about the world of Lizard Radio– it seems pretty futuristic, but still maintains some things from our culture, like the gender-rigidity. There are also many terms in the blurb that are piquing my curiosity. Without giving away too much, can you tell us a bit about the world we'll step into when we open this book?
PS: Lizard Radio takes place in "a world similar to ours, with some genetic twists and decisional turns." It is not necessarily futuristic. It is one of the ways I can imagine our own world going, or having gone. In this world, it is mandatory for all teens to attend three months of an educational work camp between their 15th and 18th birthdays. Camp certification is their official transition into adulthood.
Kivali is a "bender" – meaning she landed between 48 and 52 on the mandatory gender-testing scale. She chose not to transition, and barely passed post-decision-gender training. Her guardian Sheila unexpectedly sends her to CropCamp just a few weeks after her 15th birthday, to learn about raising organic crops. What Kivali doesn't bargain for are the extracurricular lessons in love, sex, loyalty and power.
V: Let's talk about the cover! What are your thoughts on it? How does it relate to the book?
PS: I love the cover! Kivali and the Komodo dragon whisper to each other among shimmering circles that capture the essence of Kivali's Lizard Radio – the fantasy-flavored hum, the shifting shadows, the chitter and moan. Waiting to see cover design is one of my favorite parts of the book process, especially when the designer comes up with something beyond what I could have dreamed.
V: Lizard Radio sounds like nothing we've ever seen in YA before. There are not many books that have nonbinary or gender-variant characters in them, and none of the ones that I can think of are in alternate realities?. How did the idea for this book come to you, how did the book start to take shape? 
PS: There are many aspects of this story that have been roiling around in me for a long time – things I've been afraid to write about, or not sure how to start. Kivali snuck in some years back when I was doodling around between books. For several weeks, I drew pictures of a lizard. The lizard began to mutter about being a lone lizard dropped in a hostile world. I kept drawing. One day, the lizard appeared wearing headphones and saying "Hello – hello? Are you there? The signal's weak." I began to study lizards, especially Komodo dragons, and Kivali began to reveal herself – at first, mostly in poetry. From then on, it was a matter of learning to tune in and listen.
——–
DO YOU UNDERSTAND MY EXCITEMENT NOW???? I MEAN. YA'LL.
Make sure and add Lizard Radio on Goodreads.