by Georgie
Having read Laura Lam's Pantomime – and loved it – I was super excited to read its sequel, Shadowplay, which follows Micah Grey's journey as a fugitive after the tragedy at the end of the last book.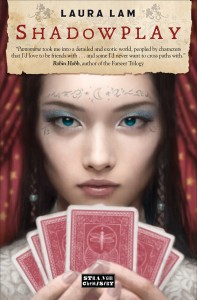 Pantomime's closing moment saw Drystan, the white clown from the circus, telling Micah that he knew a magician who they can trust. At first their only problem is being on the run from the policiers, but more dangerous things soon start to happen. Micah's being tracked by a Shadow who is absurdly skilled at following him. And when they get to the Kymri Theatre where the magician Jasper Maske lives, he starts to have visions of another time. The world-building in this novel was absolutely stunning, and every single page was full of colour and mystery and tiny hints that led up to one of the most shocking endings I've read in a long time.
Seriously, the ending. My mouth was genuinely hanging open. Just as I thought that all the problems had resolved themselves, more danger came into the picture, and all the little clues fell into place to reveal a darker, more sinister picture than I'd expected. This book managed to be haunting and enchanting at the same time, with Micah and Drystan's romance woven into the heart of the story alongside mythology and magic. My only quibble with Pantomime was that it felt quite densely written which made it hard to follow at times – but, happily, Shadowplay was gripping from the first page to the last, and continued to have an exceptionally strong narrative voice that stands out from the rest of the YA market.
Again, the fact that Micah is intersex was clear throughout the book but really wasn't made prominent at all, which was wonderful. There are so many LGBTQIA+ novels where the author has obviously tried too hard to tick that diversity box by including queer characters, but it gets awkward and forced and that character only has one dimension which is their sexuality or gender (or both). Laura Lam has done an awesome job in making Micah's attitude to his gender realistic: he's self-aware, but at the same time doesn't dwell on it because it's something that he's dealt with for his whole life.
If you liked Pantomime, you'll fall in love with Shadowplay. Almost like actual love. You'll think about it the whole time and maybe dream about it a little bit. It's one of those possessing books where the world it's set in is so carefully and imaginatively built that it seems like a real place, and this novel is your route to get back there.
I suppose I could sum up this review by saying that in my head, I compared it to Narnia.
So that's really all you need to hear.
Georgie Penney is a teen writer and bookworm from England. At the moment she's working on a gay YA novel of her own and can be found procrastinating on Twitter (@missgeorgie) or else ranting on her blog (georgiepenney.weebly.com).