We have the great happiness of hosting our first ever exclusive cover reveal for The Tear Collectors by Billy Jolie. The Tear Collectors is a self published YA novel featuring a gay teen!
THE TEAR COLLECTORS is the story of three teenage misfits whose lives entangle over the course of one summer; where secrets revealed give way to an explosive finale of love, angst, and casualty.
Changes that accompany divorce can be hard. For Farrah, she's forced to spend the summer at Crystal Lake with her alcoholic mother, but this is just the beginning of her problems. As her new life slowly unravels, an inner demon from her past surfaces and threatens her sanity. Binge and purge – it's a lot easier for Farrah to cope when she's ten pounds skinnier. And by summer's end, she discovers looks can be a real killer.
Being openly gay isn't easy for 17-year-old Brendan White. When his high school guidance counselor all but demands his disenrollment, he knows he'll be in trouble at home. Fearing his father's wrath, Brendan flees and finds himself at the edge of a cliff, contemplating a swan dive. He's lost all hope, but a redheaded stranger appears and begs him to reconsider. Their chance encounter alters his future irrevocably.
The best way to piss off your Upper East Side parents is to narrowly escape an arrest for drug possession. Blaze's antics find him exiled to his grandmother's lake house for some fresh air rehab. There, he meets a couple of damaged souls and assumes a new role – protector. But even Blaze can't derail what's inevitable.
We're putting the reveal under a read more, though if you've clicked through from Twitter or another source it will not show– the cover may be triggering for those who've struggled with eating disorders, body image, or people who are triggered by non-explicit nudity. 
With that covered….
…here is the cover!
The Tear Collectors is available now!
We also had the privilege of getting to talk a little bit with Billy Jolie about his book!
Welcome. Tell us a little bit about your new book. 
First, thank you for having me! I think it's really amazing that GAY YA is raising awareness for LGBT books and LGBT characters. It's very inspiring.
The Tear Collectors is the story of three teenage misfits whose lives entangle over the course of one summer; where secrets revealed give way to an explosive finale of love, angst, and casualty.
Sounds intense! What are the characters like? 
Farrah, Brendan, and Blaze are the main protagonists, and each of them has a very strong voice.
Farrah's parents have recently divorced and she's meant to spend the summer with her mother at their lake house, but her real issue is an inner demon – Farrah has an eating disorder that's threatening to unravel her life.
Brendan is the heart of the story and connects the characters together. He's gay and just coming to terms with his sexuality, but his parents are ultraconservative and he clashes with his father, who refuses to accept his lifestyle.
Blaze finds himself at the lake as well, but for a different reason. He's been in trouble and needs an escape to figure things out. He quickly develops an unlikely relationship with Brendan and assumes the role of protector for his newfound friends.
Why would our readers be interested in this book?
I think it's so important that queer stories, queer characters be told with prominence, and not in a way where it's sidelined or ignored or relegated to a secondary backstory. The Tear Collectors does not shy away from that. Brendan is loud and proud, and his relationship with Blaze is real.
When I was growing up, I wish I'd had a story like this to relate to, which I think is one of the reasons I decided to write it.
That aside, The Tear Collectors is a wild ride! It's entertaining, it reads like a movie, and it will have you on the edge of your seat. You won't believe what happens to these characters, and the hard choices they're forced to make.
The cover art is jarring. Why did you choose it?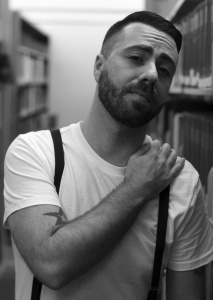 It is jarring, very much so, but I wanted something that grabs your attention and doesn't let you go. I kept asking myself, what's the strongest visual in the book? There are several, like Blaze's red hair or the mason jars, but it was the transformation of Farrah's body that truly stuck with me.
I like the title. How did you come up with it?
You know, I'm not really sure. I was at work one day and it suddenly came to me, unsolicited. It was just there. There's a scene in the book, two actually, that I won't spoil, that speak directly to the title. I wrote those scenes after coming up with it. The title is sort of a metaphor to an overall theme of the book.
What sparked the idea for the book?
The book's setting is at Crystal Lake. This is a real place in Upstate New York. When I was younger, I would spend my summers there with my grandmother. The lake really represents my favorite memories as a kid. This story was a way for me to go back, rather dramatically. It's an odd love letter to that timeframe in my life.
If your book was made into a movie, who would you want to play the main characters?
That's a fun question! I can easily answer for my male characters. For Brendan, I would love to see Logan Lerman in the role. He has such a profound sensitivity about him. I really enjoyed his performance in The Perks of Being a Wallflower. For Blaze, I think Ansel Elgort could do him justice. He's pretty charming, and we'd have to dye his hair red for the part. Farrah is a little tricky. Visually, Olivia Cooke (from Bates Motel) is how I see her appearance. She'd be good. Or Kacey Rohl from Hannibal.
You dedicated the book to your friend. Can you tell us about her?
Yes! It's dedicated to my friend, Stephanie. We went to school together. I knew when I was writing the book that I was going to do that for her as a surprise, and as a thank you.
High school wasn't easy for me. I was bullied and picked on for being gay, even though I technically wasn't "out" at the time. I don't think it's easy for a lot of LGBT youth.
One day, we were at lunch, and I was getting made fun of, rather brutally, and Stephanie decided she couldn't take it anymore. She stood up in that crowded lunchroom in front of everyone and yelled at my tormentors and really put them in their place. I'll never forget that.
What gets you in the mood to write?
Definitely music. Mostly film scores. It's easier when there are no words. This way I don't get distracted from the writing, but the mood is still there. I wrote a lot of the more intense scenes of the book to the Under the Skin soundtrack. It's beautifully eerie, like Crystal Lake was at night.
Who is your favorite author?
I seem to gravitate to those that court controversy. I enjoy Bret Easton Ellis.
Do you have any advice for aspiring writers?
Don't talk about wanting to write. Sit down and actually do it. Love it for the creative freedom. Don't do it for the money. And never give up, even if you're staring at a pile of rejection letters. It's all part of the process.
What's next? Do you have other published novels?
I'm working on a new book now. It's still very early in the process so I can't say much, but it will have a transgendered main character that I am pretty excited about. It's sort of a Bonnie & Clyde type story. We'll see where it goes.
My first novel, The Lust Garden, is also available. It's not YA, but one of the supporting characters is openly gay.
Thanks for talking with us!