At the end of Caught in the Crossfire I was convinced I would not last until Searching for Grace… and the end of Searching for Grace has left me in the exact same state. I believe the email I sent Juliann said something along the lines of "I NEED TAKING THE STAND LIKE YESTERDAY."
Like the first book in the Crossfire Trilogy, Caught in the Crossfire, Searching for Grace is an amazingly unique and honest portrayal of a teen walking the line between his sexuality and his faith. As some of you know, I have walked a similar path. The experience is not much talked about in queer literature. It was very validating to read Caught in the Crossfire, and I hoped that the quality of representation would not decrease in the second book: I was not disappointed. Most books where religion and sexuality collide, the queer character turns their back on religion and their religious community. Which is am important thing to have represented to be sure— but not everyone goes down that path. I admit, I was worried that this book would start taking Jonathon down that road. I was looking for a book that went even more into the complexity of this situation: and that's what I got.
Spoilers for Caught in the Crossfire below (Check out my review of Caught in the Crossfire here): 
At the end of Caught in the Crossfire, we leave Jonathon determined to come out to everyone back home. But when he gets home, he finds his resolve wavering. The bubble of camp has been severed, his mother refuses to acknowledge his identity, and homophobia runs rampant in his school. He remains silent, and closeted. But soon, rumors start spreading about what happened at Bible Camp.
Searching for Grace is a much harder book than Caught in the Crossfire. For me, the second book always cements my love for the characters, and this time was no exception. So when you add that love to them going through harder things… well.
Dawn and Simon, my favorite characters from the last book return, and the equally enchanting characters of Mason and Sketch are introduced. Nerdy and artsy and funny (sooo many Dr Who references…), I found myself grinning almost whenever they appeared on the page. Jonathon's character grows, and the way he reacts to every situation seems completely honest and realistic.
The book was a balance between light and dark, humor and horror. Throughout the book, scenes are weaved in in which you have no idea what is happening, only that it's something terrible, and Jonathon is in a hospital. Throughout the book I found myself unhappy with that, as I thought I knew what it was that had happened, and I really didn't like it. But it wasn't what I expected at all. And unlike most books that reveal a "twist" near the end, this one does not depend on it to make the rest of the story good.
Overall, Juliann Rich's writing continues to ring with honesty in a difficult subject matter that has not been explored before. Readers of Caught in the Crossfire will not be disappointed with Searching for Grace.
On a side note, Kathleen and I were able to attend Julianns's and Rachel Gold's joint book launch at the fabulous bookstore of Addendum (aka the only place you will ever need to go to find the YA you want…and 50% of the time it's signed) and well they had a TARDIS Photo-Op: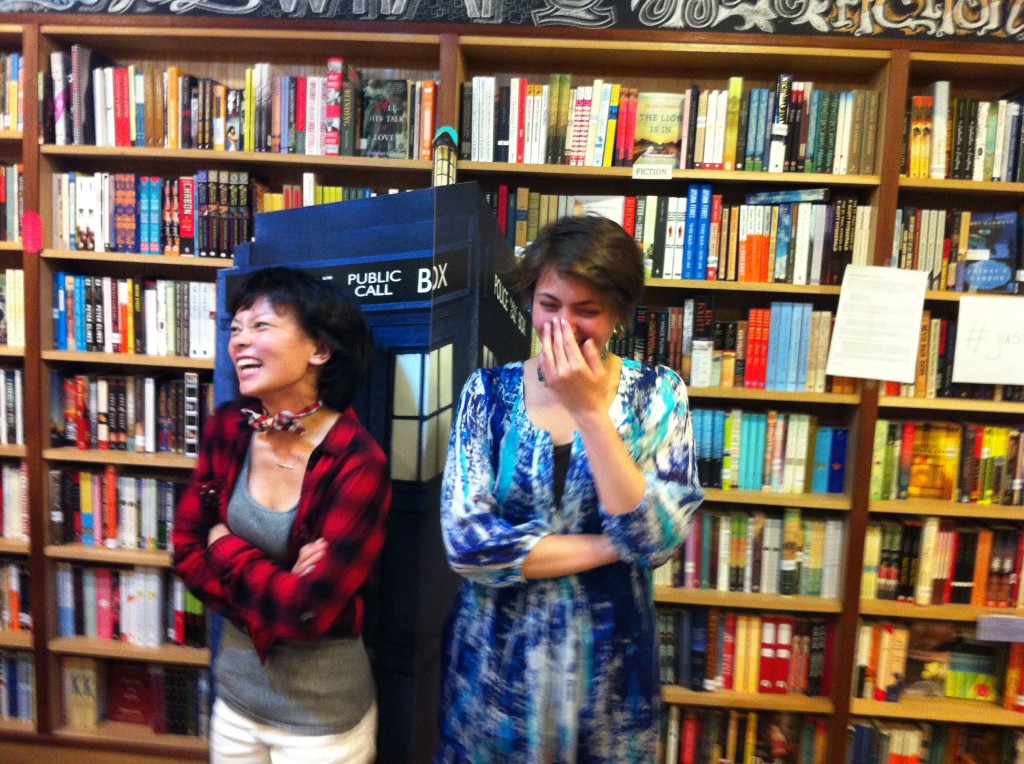 We had a final pose! But it is currently sideways right now. It'll be in our re-cap of the event.
Also! We are now in possession of this TARDIS. Oops. 🙂
-Vee/Victoria, co-webmistress of GayYA.org
Buy Searching for Grace here, Visit Juliann Rich here, and keep up with me on twitter @rausicabklvr! 
Check out Juliann's Guest Post on how she chose a title for Taking the Stand, and The Intersection of Art and Advocacy.