Looking for a good Halloween read? Fed up with the excessive cishetero-ness of most book lists? We've got you covered!
To start you off, here are some realistic mystery/thriller novels with gay, bi, lesbian, and trans protagonists: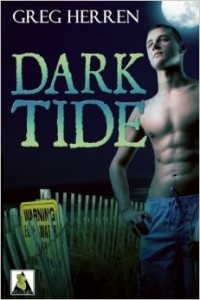 Dark Tide by Greg Herren (Bold Strokes Books, 2014)
For Ricky Hackworth, a summer job to save money before he leaves for college is a necessity. When he lands a job as a lifeguard at the Mermaid Inn in Latona, Alabama, on the beautiful Gulf Coast, it's like a dream come true. But once he moves into the Inn, he starts hearing stories about the lifeguard from the previous summer…and how he vanished without a trace right in the middle of the summer. Before long, Ricky realizes the Inn and the town are hiding some dark secrets…secrets someone is willing to kill to protect, and Ricky has to find out the truth before he, too, vanishes without a trace.
The Cutting Room Floor by Dawn Klehr (Flux, 2013)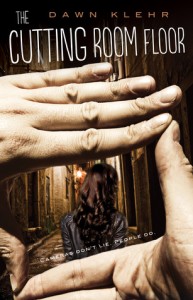 Behind-the-scenes secrets could turn deadly for Desmond and Riley.
Life in the Heights has never been easy for seventeen-year-old Riley Frost, but when she's publicly dumped and outed at the same time, she becomes an immediate social outcast at her high school. So Riley swears off romance and throws herself into solving the shocking murder of her favorite teacher, Ms. Dunn.
Riley turns to her best friend, budding filmmaker Desmond Brandt, for help. What she doesn't know is that Dez has been secretly directing her life, blackmailing her friends, and hoping his manipulations will make her love him. When his schemes go too far, Dez's web of lies threatens to destroy both of their lives.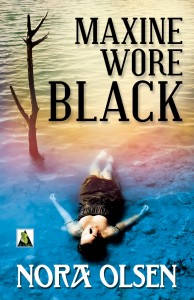 Maxine Wore Black by Nora Olsen (Bold Strokes Books, 2014)
Maxine is the girl of Jayla's dreams: she's charming, magnetic, and loves Jayla for her transgender self. There's only one problem with Maxine—she already has a girlfriend, perfect Becky.
Jayla quickly falls under Maxine's spell, and she's willing to do anything to win her. But when Becky turns up dead, Jayla is pulled into a tangle of deceit, lies, and murder. Now Jayla is forced to choose between love and the truth.
Jayla will need all the strength she has to escape the darkness that threatens to take her very life.
Far From You by Tess Sharpe (Disney Hyperion, 2014)
Nine months. Two weeks. Six days.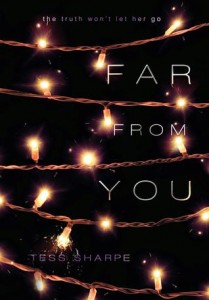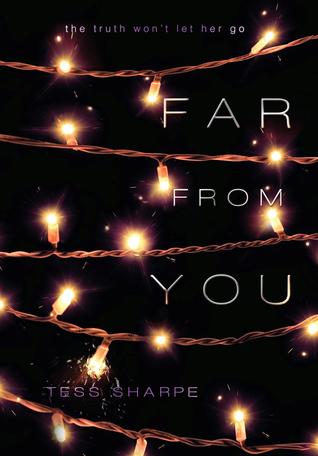 That's how long recovering addict Sophie's been drug-free. Four months ago her best friend, Mina, died in what everyone believes was a drug deal gone wrong – a deal they think Sophie set up. Only Sophie knows the truth. She and Mina shared a secret, but there was no drug deal. Mina was deliberately murdered.
Forced into rehab for an addiction she'd already beaten, Sophie's finally out and on the trail of the killer – but can she track them down before they come for her?
Maybe a gay ghost story is more your speed? Or a short story collection led entirely by lesbian girls? Perhaps you're looking for a bi side character? From ace side characters to gay main characters, we've got you covered. Here are all your creepy, queer, paranormal Halloween reads: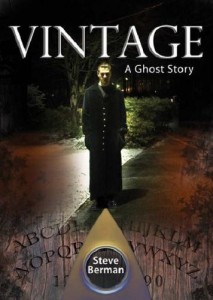 Vintage: A Ghost Story by Steve Berman (Harrington Park Press, 2007; Lethe Press, 2008)
In a small New Jersey town a lonely boy walking along a highway one autumn evening meets the boy of his dreams, a boy who happens to have died decades ago and haunts the road. Awkward crushes, both bitter and sweet, lead him to face youthful dreams and childish fears. With a cast of offbeat friends, antiques, and Ouija boards, Vintage offers readers a memorable blend of dark humor, chills and love.
A finalist for the Andre Norton Award for best speculative fiction young adult novel.
Unspoken by Sarah Rees Brennan (Random House Books, 2012)
Kami Glass loves someone she's never met . . . a boy she's talked to in her head ever since she was born. She wasn't silent about her imaginary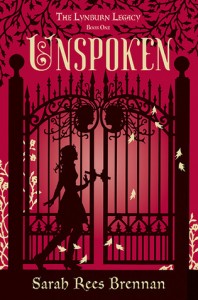 friend during her childhood, and is thus a bit of an outsider in her sleepy English town of Sorry-in-the-Vale. Still, Kami hasn't suffered too much from not fitting in. She has a best friend, runs the school newspaper, and is only occasionally caught talking to herself. Her life is in order, just the way she likes it, despite the voice in her head.
But all that changes when the Lynburns return.
The Lynburn family has owned the spectacular and sinister manor that overlooks Sorry-in-the-Vale for centuries. The mysterious twin sisters who abandoned their ancestral home a generation ago are back, along with their teenage sons, Jared and Ash, one of whom is eerily familiar to Kami. Kami is not one to shy away from the unknown—in fact, she's determined to find answers for all the questions Sorry-in-the-Vale is suddenly posing. Who is responsible for the bloody deeds in the depths of the woods? What is her own mother hiding? And now that her imaginary friend has become a real boy, does she still love him? Does she hate him? Can she trust him?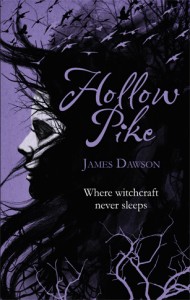 Hollow Pike by James Dawson (Orion Children's Books, 2012)
Something wicked this way comes…
She thought she'd be safe in the country, but you can't escape your own nightmares, and Lis London dreams repeatedly that someone is trying to kill her. Lis thinks she's being paranoid – after all who would want to murder her? She doesn't believe in the local legends of witchcraft. She doesn't believe that anything bad will really happen to her. You never do, do you? Not until you're alone in the woods, after dark – and a twig snaps… Hollow Pike – where witchcraft never sleeps.
The Dark Woods: A Lesbian YA Short Story Collection by Sarah Diemer and Jennifer Diemer
THE DARK WOODS is a bewitching collection of young adult short stories, ranging from science fiction and fantasy to paranormal, all featuring a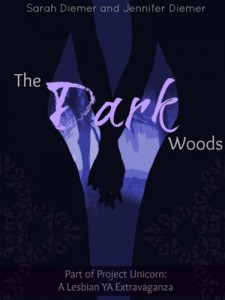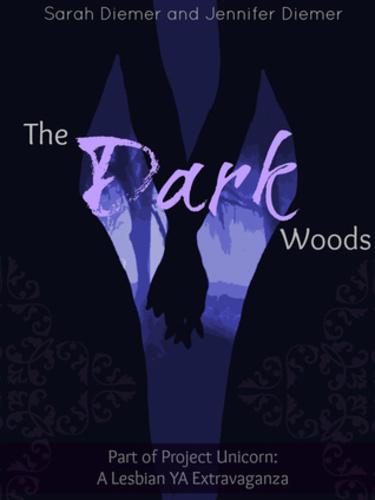 lesbian heroine. This collection is part of Project Unicorn, a fiction project that seeks to address the near nonexistence of lesbian main characters in young adult fiction by giving them their own stories.
This collection contains:
– Witch Girls (Dark Fantasy)
The wild witch girls lurk at the edge of the woods, waiting to snatch away any girl who's less than good. Gran's warnings are the same every day: be good, or the witch girls will take you. But what if you want to be taken?
– Surfacing (Fantasy)
When Alice's brother John takes a mermaid out of the sea and drags her into the woods to die, Alice must find the courage to stand up to the worst bully she's ever known in order to save a life.
– Curse Cabin Confession (Paranormal)
When Robin invites her girlfriend, Malinda, up to her family cabin for the weekend, it's not just for a romantic time. Robin has a confession to make: she's not exactly human.
– Wolves of Leaving (Paranormal)
After challenging the Alpha–and losing–Cadie begs the girl she loves to forsake all they've ever known and escape the tyranny of the pack.
– Devil May Care (Paranormal)
When Corrine is forced to summon a demon to find a missing loved one, the afternoon turns stranger than expected.
– A Craving (Fantasy)
Snow knows little of the world, having spent most of her life within the safe confines of the cottage she shares with seven little men, her protectors. But every day, a young girl comes to the door, offering her an apple, and every day brings Snow one step closer to taking a bite.
– Natural (Paranormal)
Terra feels confused and alone–until she meets a mysterious girl in the forest, standing next to her favorite tree…
– Haunt (Paranormal)
Every moonrise, Tam and Ailsa defy the laws of time and space to meet in the forest and kiss beneath the stars.
– Dreaming Green (Science Fiction)
Mirelle catches a mysterious seed during a spacewalk, and, though it is forbidden, she dares to plant it, nurture it, and let it grow.
– Mirrors (Fantasy)
Bewitched by an old compact in an antique store window, Maisy is startled to realize that the reflection in the mirror is not her own.
The Boy Who Couldn't Fly Straight by Jeff Jacobson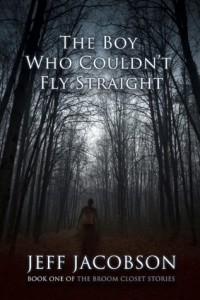 Will Grace and her evil coven continue kidnapping teenagers in the greater Seattle area, or will the local witches, determined to live in peace and secrecy, be able to stop them?
Closeted high school sophomore Charlie Creevey and his mother Elizabeth live in the shadows of the Sierra Nevada Foothills, where they tend to their fruit orchards and vegetable gardens, generally keeping to themselves. That is, until one afternoon in late August, when a German shepherd crashes through their living room window and demands that the boy be handed over.
Barely escaping with their lives, mother and son flee California and head to Seattle, where Charlie discovers the secret Elizabeth has been keeping from him his entire life: that he hails from a family of witches, and will soon be initiated into the craft.
Charlie moves in with an aunt and an uncle he barely knows, then has to adjust to a new school and a new life. Soon after, the coven strikes again, barely failing to capture him.
At the same time, Charlie tries to deny that his feelings for popular high school junior Diego Ramirez have become something more than friendship. He learns the hard way that ignoring what his heart wants obstructs his development as a witch, making him defenseless against Grace and her growing threat.
Will Charlie refuse to accept who he is, or will he acknowledge the truth, in order to stay alive and protect the people he loves?
Guardian of the Dead by Karen Healey
"You're Ellie Spencer."
I opened my mouth, just as he added, "And your eyes are opening."Seventeen-year-old Ellie Spencer is just like any other teenager at her boarding school. She hangs out with her best friend Kevin, she obsesses over Mark, a cute and mysterious bad boy, and her biggest worry is her paper deadline. But then everything changes. The news headlines are all abuzz about a local string of serial killings that all share the same morbid trademark: the victims were discovered with their eyes missing. Then a beautiful yet eerie woman enters Ellie's circle of friends and develops an unhealthy fascination with Kevin, and a crazed old man grabs Ellie in a public square and shoves a tattered Bible into her hands, exclaiming, "You need it. It will save your soul." Soon, Ellie finds herself plunged into a haunting world of vengeful fairies, Maori mythology, romance, betrayal, and an epic battle for immortality.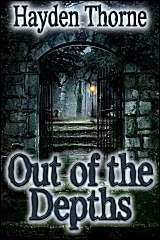 Out of the Depths by Hayden Thorne
It has been a year since Konstancji's lover passed away, but rather than move on with his life, Konstancji hires one young man after another to sit for him as he obsessively works on a statue. What's apparent is the fact that each sitter dies and is replaced with a new one, his grieving family compensated generously.
What no one's aware of, though, is the purpose of the statue, which is the means through which Konstancji hopes to bring his beloved back from the dead.
Have a favorite queer YA Halloween read that we missed? Drop it in the comments below!