SILHOUETTE OF A SPARROW is GayYA's July Book of the Month. We are giving away a signed copy in our monthly raffle, which you can enter HERE!
Upon opening Silhouette of a Sparrow, I took its first-person narrative as a tragic misstep, which is the case in many YA novels I have read (or, attempted to read).  I was pleasantly mistaken, and by chapter 2, I was hooked.
Silhouette of a Sparrow is narrated by 16-year-old Garnet Richardson, a bird-lover with a curious mind and an honest voice, who is sent to stay with relatives, the Harringtons, over the summer while her mother cares for her war-torn father.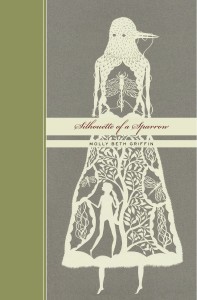 Garnet, who has been brought up by her mother to be the future lady of a middle-class 1920s household, is happy for the opportunity for independence and adventure.  With the help of her aunt, Mrs. Harrington, Garnet acquires a job at a local hat shop, where she chances a meeting with a dazzling flapper named Isabella.
The two hit it off immediately, and in pursuing Isabella, Garnet steps outside of the life she knows and glimpses lower-class '20s society in Minnesota, befriending the colored doorman of the hotel where she stays and carefully deceiving the haughty Harringtons, who would disapprove of her growing relationship with the girl they view as a "common, low-class slut".
As the summer burns on, Garnet learns about blue-grey herons, woodpeckers, and the life of Isabella, who "looks at her the way she looks at birds."  At the same time, her cousin Hannah grows suspicious with each misstep, and letters from home–her father's condition, her expectant boyfriend's "important" question for her–plague her mind with doubts about her future and the choices to come.
As a teenaged lesbian, I had not seen myself portrayed on the page until age sixteen; this is only the third book that I have read in which a character of my orientation appears.  I found Garnet to be well-written and relatable, portrayed as a human being and not simply for her sexuality.  Each character in the story is a shade of grey with their own flaws and strengths, and each makes a visible journey throughout the book.  (I especially liked the character development of Garnet's cousin, Hannah Harrington, who caught my eye the second her scowl graced the page.)  I saw myself and those around me in the characters, despite living 90+ years after the story is set.
Molly Beth Griffin paints an easily-readable, well-researched picture of summer in Minnesota, the roaring '20s, and love without labels.  Garnet and Isabella and their story are portrayed with gentle honesty and a brave humanity.  Silhouette of a Sparrow is a flighty summer romance, and above all a "wonderful novel about independence and first love." (–Marsha Qualey). 10/10 would recommend.
Book review written by Kathleen, co-webmistress of GayYA.org.
—
Learn more about Silhouette of a Sparrow.
Enter our Book of the Month Giveaway for a chance to win a signed copy!