Female sexuality in young adult and new adult fiction is a topic that has interested me for many years, and something that I've been wanting to write about for just as long. I'm glad I waited until now, because last month was a gold mine for arising issues relating to the topic. On twitter, social occurrences and media treatment of said occurrences sparked the trend of #YesAllWomen and #WeNeedDiverseBooks. While the events that initiated both hashtags were either disheartening or devastating, women used social media to prove that their opinions mattered. I also had the opportunity to attend RT 2014, a convention where nearly all attendees were women.
It's been a good year for me in terms of diversifying my own writing as well. In March, I completed a lesbian novella that is a companion story for THE WICKED WE HAVE DONE, my NA novel that debuted a few months ago. I've also been drafting a YA lesbian romance that's on the verge of being finished. Both of these stories have been brewing in my head for several years now, and it's my sheer luck that I wrote them at a time when reading communities are very actively rallying for more LGBTQ fiction.
But I am wary of this progress in publishing. I am skeptical of it, and I think we have a long, long way to go.
Since my debut novel is new adult, I can say that I'm from the realm of the crazy category, one of the newest additions to labelling in the publishing world. The category of new adult is so fresh that no one really knows its potential yet, but that it's influenced by both adult romance and young adult. One thing is for sure—if you go onto Amazon's bestseller's list for New Adult and College, you will see lots and lots of white, heterosexual couples on covers. You will also see a ton of male abs.
In the current marketplace, it seems that a new adult novel would drown without a sexy male love interest to hold it afloat. That's not to say that a NA romance must be hetero-exclusive, but NA LGBTQ is incredibly limited. The subgenre of NA LGBTQ literature may more accurately be titled NA G.
Male/male romances are for sure set to become a trend in New Adult. Why? Because New Adult is heavily influenced by adult contemporary romance, erotic romance, and erotica, and within those genres, M/M romance is wildly successful. Which is fantastic (!) and very exciting to at least see one aspect of the queer community having representation within the realm of romance and new adult.
But that's all it is… one aspect.
This year, I attended RT Con in New Orleans. In the midst of shoveling food in my mouth and meeting online friends, I attended both LGBTQ and NA panels. There was one author (one!) on the queer panels I attended or researched who identified as an author mainly writing lesbian fiction (and she was a YA author). While there was a panel strictly for M/M romance, there wasn't one for F/F romance. And in most of the adult LGBTQ panels, the focus was set on M/M romance or M/M/F ménage. I didn't see a single advertisement for lesbian romance on any of the walls in the convention hotel, nor on any of the book swag I received. In a panel about the future of New Adult, where an agent, an author, and editors spoke about how New Adult was evolving away from static contemporary romantic plotlines, an editor said that she was actively looking for M/M New Adult romance because of its potential to explode in the marketplace. However, she was wary about F/F romance. Not to say that she wouldn't acquire it, but lesbians are a much harder sell.
I won't place the blame on anyone for that statement. Publishing is a business, and publishers acquire books they believe they can make a profit on, end of story. There are 10,000 gay romance titles on Amazon listed under ebooks, and 2,300 lesbian romance titles. We know that it's still rather taboo in our culture to be queer. But why are queer women less desirable to read about in romance?
I don't know everything on this subject, and I'm not going to pretend to, but I would argue that straight women are the majority of romance novel consumers, and many straight women are uncomfortable imagining a sexual scenario where a man isn't involved. Furthermore, they'd rather read about two gay men having sex than two women.
I think that the romance genre is a wonderful thing. I think the fact that thousands of women flocked to a Marriott last month is phenomenal and empowering. I personally read about one heterosexual romance title a month and often enjoy them, especially when they have a blatant feminist edge. But here's the thing—if the publishing community, self-published writers, and readers continue to *only* embrace romance with male love interests or multiple male love interests when there is a female protagonist, we are perpetuating a notion that women can only be sexual creatures when men are in the picture. Being sexy for ourselves or for other women isn't acceptable, but men being sexy strictly for other men is.
When the #YesAllWomen hashtag began trending after the devastating shooting in Santa Barbara, many women spoke up about their experiences of sexual violence and sexual validation as a teenager. I cannot tell you how many tweets I read where women (even queer women) admitted to feeling the need to dress or act a certain way to feel accepted by the men in their life, and the men and boys they wanted to impress. Many of these women began being socialized this way when they were teenagers.
This is why the categories of young adult and new adult and the way we portray young queer women are so important.
Up until this year, I hadn't read a YA LGBT title with a sexually active lesbian heroine. I'd read several LGBT titles that were sweet lesbian romances, but none that even suggested sex between two girls. I'm sure a handful of titles existed, but they were incredibly hard to find.
This year, I am happy to say that it's become a little easier for me. I have read and have been recommended new young adult books with lesbian sex scenes or implied sex, books that include sex not out of obligation to diversify literature, but for the sake of authentic, steamy, heart-pounding romance. Are there enough of these books? Absolutely not, but at least there is a sense of representation.
This crop of young adult and new adult books with lesbian sex and foreplay, implications of lesbian sex, and sexually active lesbian characters are important not just for queer teens, but for teens and young adults in general. We are offering teens literature implying that men aren't the only ones molding human sexuality. Sex without men isn't something to be uncomfortable over, but something that can be erotic or enticing–something to celebrate, explore, and empower all women, regardless of our own sexual orientation.
Have a favorite sexy young adult or new adult lesbian romance? Share it with us in the comments!
Sarah Harian grew up in the foothills of Yosemite and receiv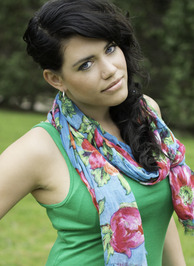 ed her B.A. and M.F.A. from Fresno State University. When not writing, she is usually hiking some mountain or another in the Sierras, playing video games with her husband, or rough-housing with her dog.
https://www.goodreads.com/sarahharian