Review by Alex Mccoy
Craig and Harry, ex-boyfriends, are trying to break the Guinness World Record for longest kiss. Peter and Neil, who've been dating for a while, are trying to figure out whether they're too familiar with one another. Ryan and Avery have just met and are tentatively (but excitedly) starting something new. And Cooper just wants to stop being so lonely and feeling so misunderstood. In *Two Boys Kissing*, the stories of each of these boys are told from the unique perspective of a group of gay men that have lost their lives to AIDS in the generation that came before the teens.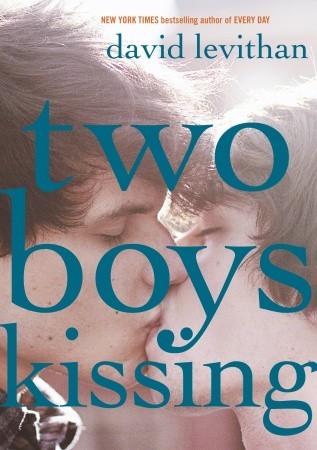 Admittedly, at first it was difficult for me to keep each of the characters separate in my head and remember who's who. Having the focus on so many characters that appeared to be all male, all in the same age-range, and all gay, made this book initially confusing, for me. But as the tales unraveled and more details were revealed about each of them, suddenly it was much easier to tell each boy apart and realize that they are, in fact, different people with very different backgrounds. It felt like I was developing a relationship with them all, getting to know them gradually. And, in the end, I appreciated this experience and realized that I had come to care about each of these boys.
The style of narration made everything incredibly personal. The eerie outside voice observing and commenting on the lives of these boys was heartbreaking but worked well to parallel the past and the present. Having this extra perspective pointed out the fact that humans have been and always will be the same. Human beings live and love and hurt and dance. And while humans stay the same, the fight for LGBT rights has certainly progressed–it's quite easy to see that from the narrators' experiences. However, it's also clear, in the stories of the boys, that there is still more work to be done.
David Levithan is one of my favorite authors, and this book, which is filled with beautiful imagery and prose and characters, proves why he's such a great author. His choice of style and narration are, as is the case with most of his other novels, surprising and refreshing. And there were places in this book that made me pause for a moment because I could relate so well to what had been said that it was painful or exciting.
Loosely based on the true story of a couple of young men who broke the world record for longest kiss just a few years ago, *Two Boys Kissing* is a book that deals not only with coming out but also gender identity, family, and navigating relationships. It is a beautifully crafted story with an intriguing narrator and cast and I would definitely recommend it to anyone.