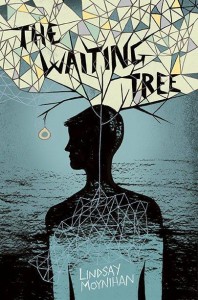 The Waiting Tree by Lindsay Moynihan
Every teenager on the planet deals with it — Drama. School drama, family drama, relationship drama, and it's all dramatic. But in the debut novel The Waiting Tree by Lindsay Moynihan, Simon Peters's drama is anything but typical. Thankfully, it's not dramatically cliche, and is instead dramatically hopeful
When Simon's parents are suddenly killed in a traffic accident, he and his older brothers can't find a way to keep their lives on the smooth path that now has a rift. Paul, the oldest, takes on the nickname of The Captain but cannot find a way to steer his younger siblings back into smooth waters. Luke is forced to give up his pre-med plans, taking on a job as a local mechanic and as family peacemaker. Simon drops out of school to enter the working world of Stop 'n Save as well as the role of caregiver to his mute twin brother, Jude. What holds the family together is the house in which they grew up and where they gather each day to harass each other as brothers do, to argue over money, to discuss Jude's needs, and to remind each other that they have to continue to grow up faster than any of them had planned.
Outside of the house, Simon's world isn't much calmer or any clearer. Simon met his best friend Stephen years ago; through concise flashbacks, Moynihan does a wonderful job of just letting the boys easily and calmly fall in love. It's cute and sweet, beautiful and simple. Their relationship secretly moves on without a long, drawn out, dramatic, questioning sexual revelation built on internal and external drama which makes this novel so refreshing. Moynihan makes a point of making the aftermath of coming out the crux of the novel, not the coming out story itself.
When Stephen's father finds the two boys in a compromising position, their small Louisiana town shuns them. While Stephen's exile is physical and he is shipped off to the Waverley Christian Center, Simon deals with emotional exile from his oldest brother as well as a casting out from his own church. Simon has to tow the line at home, which means getting job to help with the bills and taking over his mother's job of taking care of Jude. Paul makes it clear that it's his way or the highway for the twins, forcing Simon to choose between keeping the family together and making himself happy.
But Simon misses his old life. He misses Stephen the most, feeling him slipping away in the censored letters he writes from the Center. He misses his freedom, dreading his shifts at the store, even though he works with Tina, a young woman battling her own demons who tries to help Simon fight his. He misses his mother who always knew how to reach Jude through his silence. Simon also misses his church although his internal struggle to reconcile his sexuality with his religion is minor. He hopes God still listens to his prayers, even tries to find another church to accept him when the family church rejects him a second time.
When Simon accepts that he deserves happiness and love from his family, his boyfriend, and his church, he goes after it. He gets tired of waiting for forgiveness and for acceptance. Simon goes after reconciliation and closure, not realizing that it also means more loss. There's also a little drama (would it be a YA novel without it?) but Moynihan uses it convincingly and realisitically. Simon's journey isn't easy. But, then again, love and family and life never is.
Meg Shea first became a bookseller in May 2001. This is her first review on GayYA, her first time posting on WordPress, and her first time reading a novel from NetGalley. It was also her first experience with a Kindle but she has always loved first-time authors — congrats, Ms. Moynihan!