We're starting a series of weekend giveaways, with great books featuring LGBTQ characters or authors! We'll be posting Twitter polls to determine what we give away, so keep watching our feed to make sure we're picking your favorite books.
First Up: Ink Exchange(print) and Old Habits (eBook) by Melissa Marr, featuring the m/m couple Niall and Irial.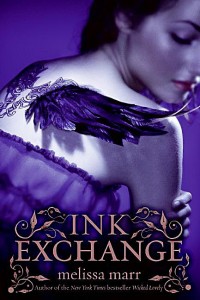 On Ink Exchange:
"Unbeknownst to mortals, a power struggle is unfolding in a world of shadows and danger. After centuries of stability, the balance among the Faery Court has altered, and Irial, ruler of the Dark Court, is battling to hold his rebellious and newly vulnerable fey together. If he fails, bloodshed and brutality will follow." (Read More….)
On Old Habits:
"Melissa Marr returns to the ravishing world of Faerie with a story set between her bestselling novels Ink Exchange and Fragile Eternity.
Recently anointed king of the Dark Court, Niall struggles to forge a new relationship with his subjects—and with the former Dark King, Irial, his once-friend, once-enemy, and now possible-advisor."
To Enter to win Old Habits:
Post your favorite Niall/Irial quote in the comments! Haven't read the books? No problem, you can also enter with the title of the book featuring your favorite m/m pairing in YA.
To enter to win a signed copy of Ink Exchange:
Tweet us (@theGayYA) with one way Gay in YA has been important in your life or someone else's.
Contest Rules:
Ink Exchange drawing open to US residents only, Old Habits drawing open to anyone. Entrants are allowed one entry per drawing, ie one entry in the Ink Exchange drawing and one entry in the Old Habits drawing. Winners will be chosen at random and announced Tuesday, May 17th.
Contest Closes: Monday, May 16th at 11:59 PM CST.