by Amanda MacGregor
I've worked in the book field for 16 years. I've worked as the children's lead bookseller at Barnes & Noble; at The Children's Book Shop, an independent bookstore in Brookline, Massachusetts; as a children's librarian; in a high school library; and as a librarian in a public library. I've been reviewing YA books professionally for almost as long (and my list of places I've worked for is nearly as long—The Horn Book, SLJ, VOYA, the long-defunct KLIATT, & Children's Literature). I recently left my library gig, as we're moving, but while there also spent 4 years running a young adult book club. You can also find me at Teen Librarian Toolbox where I mainly write reviews, focusing heavily on LGBTQIA+ YA books.
So why tell you all that? Because in all of those jobs, over all of those years, one of my main objectives has been to promote LGBTQIA+ YA books and help them get into the hands of all teens, but especially teens who really need them. Whether that meant requesting them as a reviewer, displaying them, booktalking them, including them on reading lists, being seen reading them, or choosing to highlight them, making them visible and emphasizing their importance has always been my goal. I talked about this a little in the May 2014 School Library Journal article, "LGBTQ & You: How to Support Your Students." I wanted to elaborate a little bit on some of the ways librarians (and booksellers and teachers) can help these books reach queer kids and what else supporting teenagers means.
Some ways you can highlight LGBTQIA+ YA books are:
Booktalks: At the high school, I did booktalks once a semester for the language arts classes. I made sure to include titles that represented many groups and specifically would say, "This book has a gay main character." I would tell the classes that books with queer characters were one of my main areas of interest and that it was important to support queer kids. I also often reminded kids that I was there to make sure they were reading, not judge what they were reading.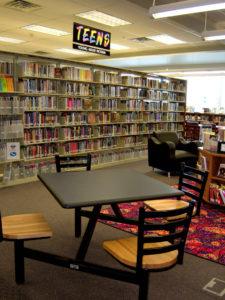 Displays: Many of my displays were for LGBTQIA+ specific days/months, like LGBT History Month, or National Coming Out Day. In addition to signage that clearly indicated what the display was for, I would include reading lists that kids could take and would leave them out by the computer that was available for them to search the catalog, so they could grab them in semi-privacy if they needed to. I listed resources at the bottom of those lists, like help lines or a reminder that the school had a GSA. I would also put some part of the display on the desk where I worked—maybe statistics, or a featured book, or more information. I spent a lot of my days with kids draped all over my desk, just hanging out, and wanted to put materials in front of as many eyes as I could. In addition to creating displays or reading lists specific to LGBTQIA+ events or content, I also made sure all displays always included books with queer kids, whether it was a display featuring new books, or just the books that sat on top of the shelves, or a display about romances, or supernatural stories, or whatever. I wanted to be specific and pointed—making it clear that I was highlighting LGBTQIA+ books and understood their importance—as well as just integrate those books into all other displays and not drag them out for only "special" displays or only show their importance occasionally.
Reading lists: While at the high school, I made a collection of 12 binders with reading lists in them. They were arranged by genre or theme—science fiction, multicultural, sports, etc.—and updated continually. They featured the title, book cover, summary, and call number. I also put sheets at the end with just titles and authors so kids could grab them to keep. I did have one binder specific to LGBTQIA+ YA, but of course made sure all of those same titles were also folded into the other binders' reading lists, too. For the most part, after time, the students got comfortable asking me for recommendations, but I wanted to make sure there were plenty of resources for students who didn't want to come up and ask for help.
Be seen reading LGBTQIA+ YA: I didn't get a lot of time to read at the desk, but when I did, I tried to make a point with what I was reading. I'd read books with Muslim characters on the cover hoping the Somali kids would see this and discover the books and/or want to talk. I'd read books about queer kids hoping teenagers remembered I'd booktalked it or recognized the title/author enough to know the content. And I'd read Ellen Hopkins books hoping kids would see that I liked those books too and that it was okay to check them out from me instead of constantly stealing them. I also tried to bring up what I was reading while checking out books to a kid, especially if I knew that that particular kid maybe could benefit from knowing about the book.
Some other things you could do: You can connect with your school's gay-straight alliance—maybe go in and do some booktalks, or partner with them for some displays, or even just have their advisor know that you're supportive and a good resource. You can remember to recommend LGBTQIA+ YA titles no matter what the request is; that's to say, sure you'll recommend them if someone comes in specifically looking for one of those books, but remember if they want a sports story or a romance or a fantasy story to grab books with LGBTQIA+ characters, too. You can make sure your collection includes as many books with queer characters as possible. Despite a huge increase in numbers, there still aren't a ton of books with queer characters, so be sure to be aware of what's available and order it in. You can post the results of GLSEN's School Climate Survey where kids can read it. You can make sure you call out kids who toss around hateful terms while in the library (or your classroom etc.). Do teachers in your school have Safe Space stickers up on their doors? Make sure they know you're working to support these kids from the library side of things. Also, remember that kids talk. They'll share these books with others who need them. They'll pass along the word that you're an ally, that you know how to help them find the stories they may be seeking.
What else can you do? Educate yourself. Listen. Learn. Be aware of the messages the stories send—is your LGBTQIA+ collection outdated and full of tragedies? Learn the correct language. Pay attention to your students' preferred names and pronouns and respect that. Also, spend a little time thinking about what you'll want to say in various scenarios. If you make it clear that you're an ally, if you start to make connections with kids, your conversations WILL go beyond talking about books. I've had kids come out to me before they told anyone else. I've had kids tell me they came out to their parents and were told they would go to hell. Or were kicked out. Or told me they were miserable and suicidal. On the flip side, I had kids who would come running in to tell me about finally kissing a girl, or about their parents being totally cool and supportive, or about taking part in Pride events. Some of those conversations are more sensitive than others. Some of those conversations may be the very first time a kid is saying some of these words aloud. What you say matters. How you react matters. Those of us who work with teenagers know that our jobs go beyond what you might expect out of a teacher or a librarian. So knowing what books are out there is important, and doing everything you can to make sure those books are available to kids who need them is important, and showing teenagers that you see them, respect them, and care about them is so important. There are so many small ways we can make libraries safe spaces and provide access to these LGBTQIA+ books, and those small ways can have a big impact.
—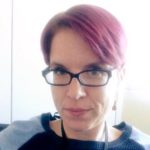 Amanda MacGregor spends all of her time thinking about, talking about, and writing about YA books as a reviewer, librarian, and blogger at Teen Librarian Toolbox. She lives just outside of St. Paul, Minnesota. Find her on Twitter @CiteSomething.
by Edith Campbell
Back in October 2015 my daughter shared news with me about the book Large Fears by Myles Johnson and Kendrick Daye and I was so excited that I posted about it on FaceBook. I was easily engaged by the artwork and intrigued by the story of a young black boy who daydreamed about escaping to Mars where he could be free to love the color pink. Just above the image of the book, I wrote, "I'm really glad to know about this book! I would say there are so few books for queer black boys, but there are just too few books for all our marginalized young people." My excitement about this self-published book was met with scornful remarks from Meg Rosoff, the person recently named winner of the Astrid Lindgren Award with the committee recognizing Rosoff for "empathizing with young people" and for being "utterly loyal to them".
Rosoff stated
"There are not too few books for marginalised young people. There are hundreds of them, thousands of them. You don't have to read about a queer black boy to read a book about a marginalised child. The children's book world is getting far too literal about what "needs" to be represented. You don't read Crime and Punishment to find out about Russian criminals. Or Alice in Wonderland to know about rabbits. Good literature expands your mind. It doesn't have the "job" of being a mirror."
The public debate that ensued focused on the purpose of children's literature, the need for diversity and on the need for books for queer black boys. Regardless of Rosoff's privileged agenda, we need more LGBTQIAP writers of color who can write from their own experience to develop stories that speak directly to the heart, mind and soul of LGBTQIAP teens while opening a window for cis gendered, heterosexual teens into the lives of people around them.
Rosoff, like too many others consider that anyone can read and enjoy Alice in Wonderland, Pippi Longstockings or other classic pieces of literature and that should suffice. When you constantly see yourself reflected in the Straightness and Whiteness books, you have no idea what it's like for others who don't. You don't realize that seeing a brown child who is free to roam the world, imagine new opportunities and fight monsters will inspire another brown child who has no idea that they can, or should or will. You have no idea what it's like for a brown child to crave flavor and texture they can appreciate, that they can wrap themselves in and feel as though it's meant just for them. So many marginalized authors have written about how much they've always enjoyed reading, but their true enjoyment came when they read a book that matched their ethnic, religious or disability experience. We need to find our home, our place of belonging, when we read.
Queer Native kids and kids of color remain invisible in books for children and teens. Books sound like such a simple and easy place to give identity or even comfort to young people who may not find it elsewhere, but they're not. Books for children and teens are a microcosm of a society dominated by straight white supremacists who feel the need to be careful about children's books; to dominate.
The Library & Book Trade Almanac reported 19,894 YA books published from 2011-2014. Of those nearly 20.000 books the following are the ones I've been able to identify that contained queer protagonists and were written by queer authors who are Native American or of color and published by traditional publishers. (Actually, none were written by Native Americans.) You'll immediately see there is nowhere near hundreds or thousands of them.
.o9% from 2011-2014
I may have missed a few (please add them in the comments) but not enough to significantly change this percentage. There's no accurate way of knowing what percent of teens of color are LGBTQIA, but I'd bet dollars to doughnuts that they're tremendously underrepresented by this paltry .09%. Surely we know that Paul Yee is not the only gay Asian male writer, that there are queer women of color who write young adult books, probably Native Americans too. There's no need for anyone to stretch their imagination to realize how publishers are failing young people as they maintain oppressive policies towards our young people and not exerting the effort, not changing the practices and not rewriting the policies that prevent marginalized authors from getting published. Teens matter too much to make them think they're invisible.
We need more, don't we? More books that allow Native Americans and teens of color to explore gender identity, express sexual expression while letting all readers see the normalcy, complexity and possibilities of being queer.
Indeed, there are too few books for our marginalized young people but don't just throw your hands up and walk away. Read and talk about the queer books you do enjoy. Mention them to your friends, on Twitter or wherever people are talking about books and not just LGBTQIAP books but any books. Ask your local library or bookstore for what you want to read. Do not accept that they don't carry books with queer characters of color because if we don't ask for the books, no one will know we want them.
This isn't just about books; this is about making people visible, about providing dignity and equity to all teens.
"Children's literature serves the important role of mediator between children, cultural knowledge, and socialization by adults. Moreover, because children's literature has long maintained this traditional role in society, it possesses both symbolic and real power." (Harris, 1990)
In asking for safe harbor for brown kids, queer and Native kids in the quiet hidden spaces of books, I long for safe, magical and open real life bathrooms and homes and night clubs and cities where these same brown kids can love and live and dance. It's painful to think of the angels we've gained this month, may they be blessed and may they bless us all.
Thank you, GayYA! While I want to wish you many more years of fighting the good fight, I hope you won't have to do that much longer. May our work turn completely to celebrating good works.
I'm a cis gendered, she/her female who appreciates the opportunity to speak in this space. In my work for diversity in children's books for teens of color, I respect the places where we intersect as much as the places where our identities our unique. We all have so much work to do.
Bogart, Dave, ed. (2015).  Library and Book Trade Almanac. Information Today, Inc,, New Jersey.
Harris, Viola (1990). African American Children's Literature: The First One Hundred Years" Journal of Negro Education, Autumn, 1990.
—
Edith Campbell is a mother, librarian, educator and quilter. She promotes literacy in its many forms to teens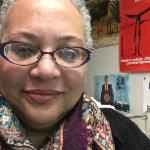 and she does this through her blog, CrazyQuiltEdi and in her work as an Education Librarian at Indiana State University in Terre Haute, Indiana. Edith currently serves as the Indiana State Ambassador for the United States Board on Books for Young People, Guidelines for Selecting Multicultural Materials Task Force of the Association for Library Services to Children and is part of the Digital Public Library's eBook Curation Corps. She is a past member of YALSA's Best Fiction for Young Adults selection committee, the WNDB Walter Award Committee and the CYBILS Nonfiction Awards Committee. She has recently been elected to the 2018 Printz Committee.