Bisexual Awareness Week Series Day #2 – Previous Posts: Introduction — Duality, YA, and Crumpled Stickers

by Angélique Gravely
I didn't start actively reading LGBTQ+ YA until I was almost a college graduate. By that time, I had more or less accepted my bisexual attractions and my desire to be a YA writer so I dove into LGBTQ+ YA in search of inspiration for the queer stories I now felt drawn to write and, in all honesty, in search of reflections of parts of myself and my story I hadn't been able to acknowledge as a teen. While I did find some inspiration and some pieces of my teenage self in the YA I read, what I found more often was the absence of major pieces of my story.
Where were the Black church kids in LGBTQ+ YA? Where were the Black girls who went to Christian schools and loved God and fell for boys but also fell for girls? Where were the Black Christian kids trying to make sense of their sexuality while surrounded by white Christians who could only half understand their sense of conflict? Where were the kids wondering if Black church had space for bisexuality or if they would be excommunicated from both Christianity and the Black community for their attractions? Where was the intersectionality that had made coming out feel so convoluted to me?
As a bisexual writer who had just started coming out, I was already discouraged by the lack of easy-to-find bi+ representation in YA, but seeing how little of that representation and LGBTQ+ representation in general included Black religious teens made me feel not only discouraged but also unwelcome. Maybe, the types of characters and plots that I wanted to write weren't wanted in YA. Maybe, my story and stories like mine weren't wanted.
My dive into LGBTQ+ YA seemed to suggest that if I wanted to write bisexual characters and be published, my characters should more often than not be white, and if they weren't white, they had to be non-religious. If I wanted to write queer Christian characters, they should also be white, preferably evangelical though possibly Catholic, and also preferably gay not bi. And if I wanted to write Black teenage characters, whether religious or LGBTQ+, they had to fit the stereotypical media mold of Black adolescence rather than reflect parts of my adolescent experiences as a suburban Black bisexual girl who wrestled with her multi-gender attractions while attending predominantly white fundamentalist Christian schools and going to conservative, lightly charismatic Black churches.
As discouraging as these unspoken messages about who is allowed to exist in YA were and are to me as a writer, they can be downright harmful to bi teenagers looking to find themselves in the stories they read. The lack of intersectional bisexual characters in YA contributed to my feeling that I was an anomaly who should be ashamed of experiencing multi-gender attractions because bisexual was a label for people who didn't look like me or experience the world the way I did. Based on what I read as a teenager, bisexual Black Christians didn't exist. It was even debatable whether or not any bisexual people really existed. If I was a teenager reading YA today, while I might be more inclined to believe that bisexual people exist, I still would probably not believe that Black bisexual Christians do. Because as much progress as we have made as far as bi representation since I was a teenager, we still have a long way to go.
That's why my hope is that as we push for more bi+ representation in YA, we not only demand accurate representation but also nuanced representation. I know my experiences as a Black bisexual Christian who attended Christian schools and went to church willingly for most of her adolescence are very unique but I also know I'm not the only bisexual person in the world who has lived parts of that nuanced experience. I know there are black bi teens growing up in churches all over the country. I know there are bi+ teens attending Christian schools who are determined to keep their faith despite their multi-gender attractions but don't know how they're going to do it because they haven't seen it done in fiction or reality. I know there are black bi teens in predominantly white neighborhoods and schools and religious communities who are struggling to express the tension they feel between their faith and race and sexuality. And they deserve to see themselves in YA, too.
I look forward to a day when it's easy to find Black bi Christian characters in YA. I also look forward to the day when Black bi characters of other faiths are more widely represented in YA because I want all Black religious/spiritual bi teenagers to be able to find themselves in YA the way I still hope to find my teenage self someday.
—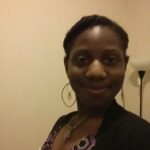 Angélique Gravely is a Philly-based bisexual activist & writer trying to come to terms with all of the labels she's taken on and find the energy to finish all the YA stories she's started. You can find her reflections on her intersectional experiences and observations on her blog.
During Bisexual Awareness Week, we want to use our space on GayYA to support bi, pan, and non-monosexual/romantic voices. Last year, we decided to host Awareness Week Series over the various LGBTQIA+ Awareness Weeks throughout the year. Though we hope to include everyone on the site at all times, we wanted to dedicate a concentrated space to people from a specific community to talk about how they're represented in YA. The response from the community was phenomenal– we got to feature many fantastic and thought-provoking posts, and watched as the community fostered some nuanced discussions via our identity-centric Twit Chats. I personally remember feeling amazed as I read the posts that were sent in and scrolled through the Twit Chat hashtag. I realized I wasn't alone in my feelings of discontent regarding the representation of my identities, or my hopes for what that representation could look like in the future. I got to meet and connect with so many smart and passionate people.
So of course, we had to do the Awareness Week Series again.
This week we'll feature several posts from various bi/pan/non-mono contributors, an interview with two bisexual authors, and a #biweek bookmark printout for libraries and booksellers (and anyone else who wants it!!). We'll also be discussing Bi YA all week long on the #BiYAChat hashtag. We'll be posting prompts & questions, but please feel free to use it to talk about anything related to Bi YA Books!
If you have any questions, comments, or concerns, tweet us @thegayya or email me at vee@gayya.org
-Vee, admin and co-founder of GayYA
Bisexual Awareness Week Day #1 – Previous Posts: Introduction
by Shelly Z
I've begun to see that there is a strange duality when it comes to my pride. I wear it openly online, and in person only to those who I know extremely well. I attended Pride for the second year this summer, and I am struck again and again by the duality upon reflection.
A key highlight of Pride for me is seeing the colourful stickers that attendees wear to ID or to just celebrate. The only day I wear my "Proud" sticker is on Pride. I wear it and share smiles with everyone who passes me, smiling at the different but equally important labels that I see. Of all the different stickers, from "bae" to a sticker with a poop emoji on it, I visibly noticed one missing, no variation of bi or bisexual was in sight. At the end of the day, I saw the only "bi" sticker of the event; on the ground, trampled and forgotten.
If I believed in symbolism, it would make the perfect image for how I feel. But since I do not, I will leave you with this. I am proud of who I am, and I am proud to belong in a community. But I sometimes find it shameful to claim my specific identity, as it seems so binary despite what I know to be true of the complexities gender. It is often hard to reconcile my own thoughts to the label I find describes me so well. I also find it difficult to proclaim this identity, instead of within close whispers among friends. I will never forget the multiple times I was coerced into coming out, and the shame that quickly followed. I am not a secretive person, but I tend to keep my ID hidden. I am contradictory; I am ashamed of how ashamed I am.
The weird duality that I feel towards my sexuality is not as prevalent in YA. In the novels I read, there is a common theme: "am I gay?", the main character will often question. In a best selling fantasy YA novel, a companion to a contemporary best-seller, the main character sees only two options in his sexuality, gay or straight. The novel was wonderful, and I enjoyed it while reading, but I found myself later questioning why the main character never explored the idea of anything but straight or gay, ignoring the complexity of sexuality.
In another novel wrongly pitched to LGBT teens despite having no intention to fulfill any LGBT romances (an interesting marketing feat), the bisexual love interest is greedy, wanting the main character to be hers exclusively but also wanting to remain in a relationship with another character. While this may not be unusual in polyamorous relationships (disclaimer: I have never been in one and may miss some of the subtleties and nuances of one), the novel framed this relationship as something negative, one of the bi character's flaws.
Where does this leave bisexual characters in YA? I have no idea. I can only state what I think I'd like to see. More bi characters reclaim their label, specifically open-minded teens that separate their label from the binary it might say about gender. Books that emphasis the beauty of pride, but not excluding the majority of bisexuals who make up the LGBT community. Novels that show teens in healthy polyamorous relationships. Teens that navigate who they are in a world that says they can only be one or the other.
Maybe next year, I will reclaim my label and pick out a new sticker for myself. Maybe I will finally embrace the label I've most identified with, but have been too scared to share with the world. Maybe the trampled sticker will no longer be found on the ground, but on my chest instead.
—
Shelly Z. is a reader, writer and blogger. She schedules interviews and round-ups new releases on Adventures in YA Publishing, a 101 best site for writers selected by Writer's Digest, and is a blogger at Read.Sleep.Repeat. She rants as much as she reads. You can find her on twitter at @shellysrambles where she rants about fluffy reads, her library job, and other things that she loves.